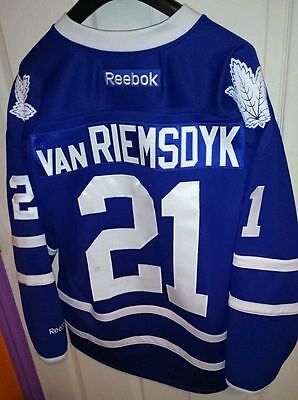 Real Jerseys
eBay is full of cheap Chinese counterfeit hockey jerseys. This section I'll describe an official Reebok Premier Jersey.
Letters, numbers and patches will be smooth. (No bubbles)
On the bottom left there will be a rectangle with the NHL logo and the size of the jersey. Fake ones don't have this. (see image below)
Check the tags (if it has any). Official jerseys will have a holographic tag attached. However be careful, some jerseys have a similar holographic tag. To distinguish between real and fake, tilt the tag and it should change from NHL to LNH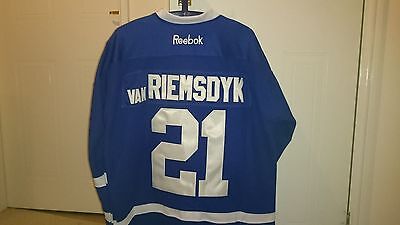 Fake Jerseys
In this section I'll describe fake jerseys and inform you on key words they use to trick you. However, some sellers may not know they are selling fake jerseys but many do.
Letters, numbers, and patches are bubbly.
They have poorly attached fight straps on them.
The 'Reebok' on the top is poorly sewed.
Sized in inches (48, 50 etc) not Small, Medium or Large.
The Authentic Player Jerseys are the ones that get faked. These jerseys are very expensive so be very skeptical if you find one for £20. They cost hundreds of dollars and tend not to sell for low.
Many sellers will try to lure you in with words like 'player version' or 'fight strap'. You should be cautious when purchasing, especially in the UK, for Authentic Player Version jerseys as they are a lot more rare here.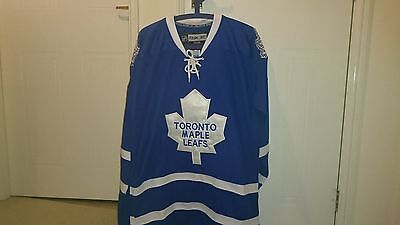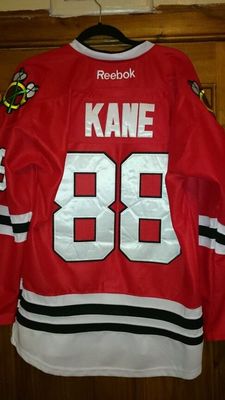 As you can see in the above photos, the numbers appear to be creased and bubbly. This clearly indicates that they are unofficial jerseys.