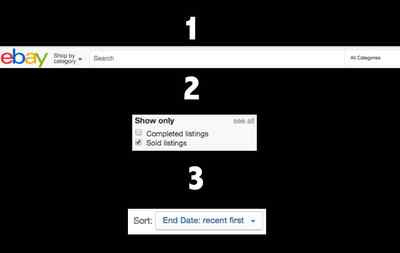 Step 1
Search for your item in the search bar at the top of the ebay homepage.
Ensure that you are as specific as possible and refine the category in order to display only what you want to see.
Step 2
Scroll down to 'Show only' on the left hand side toolbar. Click 'Sold listings'. Every item displayed will then be those that have already been bought and sold.
Step 3
Sort by End Date: recent first in order to see which item sold most recently. This will be useful when pricing your item to sell. The most recent price provides you with an idea of how much your item will sell for and how you should sell your item if you wish to sell for this price.
Example pages of Sold listings
All sold iPhone 3GS's over £100 in the UK: http://www.ebay.co.uk/sch/Mobile-Phones-Communication-/15032/i.html?_from=R40&_udlo=100&_udhi=&LH_Complete=1&LH_Sold=1&_nkw=iPhone+3GS&_sop=13

Sold Sofa Bed's Worldwide under £500: http://www.ebay.co.uk/sch/i.html?_from=R40&_sacat=0&_udlo=&_udhi=500&_nkw=sofabed&LH_PrefLoc=2&LH_Complete=1&LH_Sold=1&rt=nc