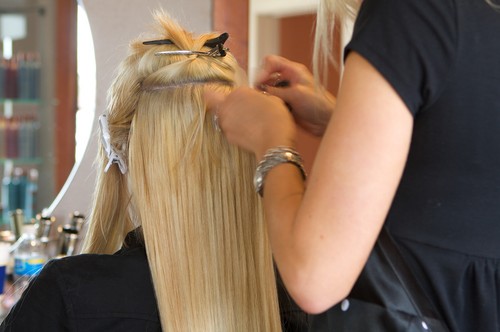 Human hair extensions are pieces of real human hair that attach to the wearer's own hair in order to add length and volume. Celebrities regularly wear hair extensions to change their appearance, whether adapting to a particular film role or appearing in the spotlight for an event. Professional, permanent extensions can be added by a salon stylist only, and are fairly costly. However, there are many at-home options for extensions that can last anywhere from a few hours to a few days. This allows people to experiment with different styles while avoiding hefty salon fees.
Before buying human hair extensions, however, it is important to understand a few fundamentals. First, quality to a large extent determines durability: buyers who want extensions that retain their beauty with repeated use should know what to look for, and have reasonable expectations about what fits into their price range. In addition, it helps to familiarise oneself with the different attachment options available, as well as some basics for selecting colour, length, and texture. With a bit of knowledge about human hair extensions, consumers can find an excellent product that is within their budget.
Advantages of Human Hair Extensions
People choose human hair extensions for the strength and beauty of natural hair. Human hair extensions can be washed, dyed, cut, and styled just as one would one's own hair. They are heat resistant up to about 220 degrees Celsius, so they can be blown-dry, curled, and straightened. While synthetic hair extensions are available, human hair extensions are generally more durable and lustrous than their synthetic counterparts. It is important to use suitable hair care products to keep your extensions in the best shape.
Two Types of Processing
When shopping for human hair extensions, one of the first considerations is how the hair has been processed, as this determines quality to a large extent. There are two basic ways of processing human hair to make extensions: cuticle-intact, and cuticle-stripped.
The cuticle is the outermost protective shaft on a hair strand. Cuticle cells overlap in a shingle formation, with some layers as deep as five to twelve cells. This clear barrier is responsible for guarding the hair's delicate inner structure, including the medulla and the cortex, against all forms of damage, as well retaining water and giving the hair fibre its strength. Finally, one of the most important aspects of the cuticle from an aesthetic standpoint is its shine. A healthy cuticle gives hair a smooth, radiant appearance.
Cuticle-Intact Processing
In general, higher-quality hair extensions have the cuticle intact. The natural benefits of the hair cuticle are retained in the extensions, making them more durable. Cuticle-intact extensions should maintain their strength and sheen through repeated washing and styling. While usually more expensive than cuticle-stripped extensions, cuticle-intact extensions are a better choice for long-term wear.
Cuticle-Stripped Processing
Lower-quality, and generally lower-cost, hair extensions tend to have the cuticle removed in order to create a finer, more flexible product from thick hair. The result is that the hair loses all the benefits of a cuticle: damage protection, moisture retention, and sheen. Manufacturers add a synthetic coating meant to protect the hair; however, over time this coating breaks down, resulting in extensions that are brittle and dull.
Cuticle-stripped extensions are not always a poor choice, however: because they are less expensive, they can be a perfect option for short-term use. Those who wish to buy human hair extensions as a fun, occasional addition to their styling options may find that these more affordable products fit perfectly. In some cases, cuticle-stripped hair is even softer than cuticle-intact.
Determining Whether Extensions are Cuticle-Intact or Cuticle-Stripped
When shopping for human hair extensions, there is a simple way to determine whether they have an intact cuticle or not. When run between the forefinger and thumb in one direction, cuticle-intact strands feel smooth, while in the other direction they offer a slight resistance. This is the result of the cuticle's shingle-like structure. Strands that lack a cuticle feel smooth in both directions.
Uniformity of Length
Another factor in quality human hair extensions is uniformity of length. Ideally, all the strands should be of relatively equal length, with a minimum of stray strands breaking off at shorter lengths. Shoppers can check for this by running their hand along underneath the extension, looking for shorter strands that break away. It is a sign of lower quality when there are strands breaking away in the upper portions of the extensions.
Towards the ends, it is normal and even desirable to see more variability in length: a bit of layering at the bottom creates a more subtle line, rather than a blunt cut.
In general, extensions labelled "double-drawn" are slightly higher quality than "single-drawn", as single-drawn contain more shorter hairs, while double-drawn are of more uniform length.
Remy and Non-Remy Human Hair Extensions
When shopping for human hair extensions, one word that appears frequently is "Remy" or "Remi". This is not the name of a manufacturer, but rather a term used to describe a high quality hair extension.
Remy Hair Extensions
There are a few criteria that make Remy (sometimes spelled Remi) extensions high in quality. The hair from an extension comes from a single donor, and the strands are arranged according to growth. This means that the direction of the cuticle shaft is uniform, which prevents matting and tangles. Production control ensures that Remy extensions are of uniform length. They may have been dyed, but are nevertheless shiny and manageable.
The Remy designation used to indicate that extensions were cuticle-intact; however, the criteria has loosened over the years, with some buyers preferring cuticle-stripped. Therefore, not all Remy hair extensions are cuticle-intact; buyers should verify how the hair has been processed.
Remy hair may come from different origins, including Russia, Europe, India, and Asia.
Non-Remy Hair Extensions
Non-Remy hair extensions have been made from bulk hair; because of this, the hair in these extensions does not all go in the direction of growth. This lack of uniformity causes the hair to quickly become matted and tangled. In order to prevent this, some non-Remy extensions have the cuticles stripped and a laminate applied. While these extensions may look glossy and beautiful at first, the shine wears off after a few washings, leaving raw hair that is brittle and unmanageable.
Virgin Hair Extensions Explained
Virgin hair is considered the highest quality available for hair extensions. Virgin hair is Remy hair with the additional caveat that it has never been coloured, bleached, or permed. It is cut off the donor as a single ponytail, and the cuticle is intact. Most virgin hair is dark in colour; light virgin hair is quite rare. Because of their quality, virgin hair extensions tend to last the longest of all human hair extensions.
Temporary, Semi-Permanent, and Permanent Human Hair Extensions
While permanent hair extensions are attached by a professional only, temporary and semi-permanent extensions can be applied at home. There are a few different options, depending the look and level of permanence desired.
Techniques for Permanent Hair Extensions
Permanent extensions are applied in one of three ways: bonding, weaving, or fusing.. However, these techniques all require a skilled professional to handle the necessary chemicals, and are performed in a salon only. That said, it is possible to purchase the supplies oneself in advance, as long as the stylist consents.
Microtube Extensions: a Semi-Permanent Solution
Those wishing to attach extensions that stay in for days at a time should consider microtube extensions. These extensions are clamped onto existing hair via a keratin tube or ring, with minimum damage to one's own hair. This process takes a little know-how, but when familiar with the technique, it is possible to do at home. The disadvantage with microtube extensions is that they tend weigh on the hair, and may be too heavy for fine hair to support.
Attachments for Do-It-Yourself Human Hair Extensions
There are a range of choices available for those wishing to add temporary hair extensions as a playful way to vary their hairstyle. Whether coloured accents or a more traditional piece to add length or volume, temporary extensions are an excellent accessory, allowing the freedom to change one's look without much commitment.
| Extension Type | Description | Application Process |
| --- | --- | --- |
| | Strands are attached to a strip with small clips attached; adds length and volume | Simple attachment involves placing successive pieces around the back of the head, using the clips to attach to hair at the scalp |
| | Hair is gathered in a ponytail with a drawstring; adds length to an updo | Wearer's hair is first tied into a ponytail, over which extension is affixed |
| Weft | Strands are attached to a strip of cloth; good for adding length and volume | Similar to clip-ins, only the cloth strip is glued to the hair at the roots using a latex glue |
Choosing a type of temporary extension partly depends on the buyer's intention, and the comfort level they have with different application processes.
Choosing a Colour for Human Hair Extensions
While it may be nearly impossible to find a perfect match for one's own hair colour, extensions can be blended with the hair's natural colour to create the illusion of highlights. If buying extensions in person, shop assistants can offer recommendations for the buyer's hair.
When purchasing online, this process is a little more difficult. Some retailers offer a program where the buyer can purchase a colour ring featuring samples of each shade and decide which one best suits them. Alternatively, buyers can send a clipping of their hair to the retailer or upload a photo online for matching. Finally, manufacturers' websites feature pictures of each shade, and shoppers can find the shade that appears closest to their own. Colours may appear differently, however, depending on the computer screen and brightness, so this is not a foolproof method.
Once they find a colour that matches, it may help buyers to keep in mind that each extension shade has a number which is fairly standard across the industry, potentially with a slight variation between brands.
Choosing a Length for Human Hair Extensions
In addition to blending colour, it is vital that the extensions' length be blended with the wearer's hair. Human hair extensions are available in a number of different lengths, but buyers should be aware that choosing a length is also connected to the texture, whether straight, wavy, or curly. Curly extensions fall roughly 5 cm shorter than straight extensions of the same length, but offer more volume. Wavy extensions usually fall about 3.8 cm shorter than straight extensions.
When in doubt, choose a length that is slightly longer, as the ends can always be trimmed off.
Choosing a Texture for Human Hair Extensions
The last factor when considering human hair extensions is texture. Textures are roughly grouped into three categories: straight, wavy, and curly. For a natural look, buyers should select a texture that matches the texture of their own hair as they wish to wear it.
Where to Buy Human Hair Extensions
Human hair extensions are available from a number of sources, including beauty supply shops, salons, and wig shops. The advantage of in-person shopping is the personal assistance for finding the right extensions to achieve the buyer's goals, and the opportunity to see and feel the products firsthand. Shopping online for human hair extensions, however, opens a tremendous range of options; buyers can shop directly from manufacturers or through Internet merchants specialising in hair extensions, while online auctions like eBay feature a vast array of choices at competitive prices.
Buying Human Hair Extensions on eBay
With over 100 million users, the eBay community gives you access to an enormous range of human hair extension choices. What's more, you can compare products with the click of a button, so finding the best hair extensions for you is easy. Start your search on eBay's home page by typing in keywords such as "wavy brown Remy hair extensions". The more specific your keywords, the narrower the search results are. You can further refine them by selecting a colour, price range, attachment style, and more.
Always pay close attention to product details before making a final selection. Read the item description, and note postage fees and the seller's return policy. You can ask the seller a question through eBay if you need clarification or more details.
Last but not least, get to know the seller a bit by checking their feedback score and browsing comments left by past customers. You want the best quality hair extensions for your money, so it is important to find a reliable seller who delivers what they promise.
Conclusion
Human hair extensions are a way to add volume, length, and even a playful touch to one's hair. They can be permanent, semi-permanent, or temporary, with the choice depending on the wearer's styling goals and budget. Before shopping for extensions, buyers should know how to assess quality, be familiar with different types of permanent, semi-permanent, and temporary options, and understand how to select colour, length, and texture.
The highest quality and most durable extensions are cuticle-intact, uniform in length, and arranged so that the cuticles of various strands run all run in the same direction. Virgin hair is especially prized because it has not been chemically processed. However, less expensive options are suitable for temporary use. Choosing a type of attachment depends on how permanent the style is meant to be, and the user's skill in the attachment process. Permanent extensions require salon attachment. Finally, buyers should opt for length and texture that blend with their hairstyle, and a colour that either blends, highlights, or contrasts, depending on the desired look.
With a little savvy, buyers can find a hair extensions to add beauty and style to their own hair.