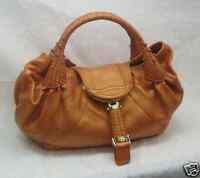 HELLO
MY FENDI "SPY" BAG
HERE IS ANOTHER OF MY FAV DESIGNER HANDBAGS !
JUST LOOK AT IT ! IT IS FENDI "SPY" LARGE SHOPPER STYLE BAG , ALL CELEBRITIES IN THE WORLD LOVE IT ! I LOVE IT TOO ! IT COMES IN DIFFERENT COLOURS AND I HAVE SEEN A LOT OF THEM ON EBAY RECENTLY ! - BROWN , BLACK , RED , WHITE , CREAM , PINK -ANY COLOUR YOU WISH REALLY
IT IS A LOVELY BAG WITH QUALITY FINISH - I`M A PROUD OWNER OF A LIGHT BROWN ONE AS SHOW ON THE PICTURE ABOVE , IT GOES WELL WITH EVERYTHING REALLY - JEANS , SKIRTS ,CASUAL OUTFIT OR GLAM NIGHT OUT THIS BAG IS PERFECT FOR ANY OCCASION
WELL GO AND GET YOUR ONE AS SOON AS POSSIBLE BECAUSE YEAR 2008 IS A FENDI SPY YEAR -
HOPE YOU FIND THIS GUIDE USEFUL IF YES THEN PLEASE VOTE "YES" - YOU MIGHT BE A FENDI LOVER JUST AS ME !
THANKS
DON`T HESITATE TO HAVE A QUICK LOOK AT MY OTHER GUIDES
XXX