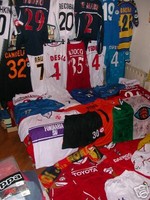 I'm an Italian collector, member of italy mwsc.it (MATCH WORN SHIRT COLLECTOR), the better forum of italian collectors. There are many defferences between replica and authentic shirt.
An authentic shirt is a shirt that goes out directly from the warehouse or from the dressing room at the end of the football match.

Replica shirts are sell in a sport shop.

From 1996, players of serie A and B use shirts whit "Lega calcio" patch on right sleeve (the patch isn't sold in shop); so, the first difference to recognize if a shirt is authentic or not is the presence of this patch (the patch can be sewed or applyed on the sleeve); until this season, the Lega Calcio patch is changed: it is made in velvet and can be only applyed.

There are also other differences to recognize an authentic shirt, differences that change from a team to another.

These informations have been collected from a italian group of shirt collector.
AUTENTC ITALY PATCH SERIE A TIM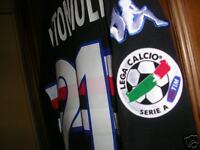 FAKE ITALY PATCH