Please search Google
'GAUK Auctions' to find us, read more like this.
How to Identify Silver Hallmarks & Maker's Marks
The full guide can be found in the massive new knowledgebase at gauk Artifact - it can be found by typing in '
gauk Artifact
' into your favorite search engine.
"In One Second I Had Made £2,120 on Paper... Then I Went Through the Rest of the House and Discovered I Had £14,498 HIDDEN in my Basement!"
With all the programmes these days pointing out the treasures that people have lying around the house it's as important as ever to identify what the items are.
Cash in the Attic featured a little old lady the other week who raised over £17,000 from essentially what she considered junk!
I do hope you find this snippet informative and please vote for the article. Times are hard now so anything to help people raise some desperatly needed cash has to be a good thing!
The guide is huge and covers:
British Marks
Denmark Marks
Dutch Marks
Finland Marks
French Marks
Italian Marks
Mexican Marks
Norwegian Marks
Swiss Marks
World Hallmarks
Glossary
Silvercare
If You Have Pottery or Silver That You Can't Figure Out Where It Came From, This May Be The Most Important Guide You'll Read...
What hidden treasures are lying around your house or at your local antique store?
BRITISH HALLMARKS
Hallmarking History
Hallmarking was originally introduced in 1300 by a Statute of Edward I and is probably the earliest form of consumer protection.
Hallmarking is necessary because when jewellery is manufactured, precious metals are not used in their pure form, as they are unworkable. Gold, Silver, and Platinum are always alloyed with copper or other metals to create an alloy that is more suitable to the requirements of the jeweller. Such an alloy needs to be strong, workable and attractive.
Due to the high value of gold, platinum and silver, there are significant profits to be gained by reducing the precious metal content of an alloy at the manufacturing stage. Even an expert cannot determine the quality or standard of precious metal items by eye or touch alone. Base metal articles plated with a thin coat of gold or silver are indistinguishable from the same articles made wholly of precious metal until subjected to expert testing.
With volume manufacturing, enormous profits can be made from undercarating. Without compulsory independent testing there is huge potential for deception and fraud.
The UK Hallmarking system has offered valuable protection for over 700 years. Compulsory Hallmarking protects all parties; the public who receive a guarantee of quality, the manufacturer who is given quality control and protection from dishonest competitors at a very low cost and the retailer who avoids the near impossible task of checking standards on all his goods.
Brief History of UK Hallmarks
Hallmarking is the world's first known instance of consumer protection law, in the UK it dates back to about 1300 AD.

A typical set of antique British silver hallmarks showing (left to right) ; Standard Mark, City Mark, Date Letter, Duty Mark and Maker's Mark
This group of marks tells us that this piece was made of Sterling, in the city of London, in the year 1789, during the reign of King George III, by the silversmith Thomas Wallis.
Note - British hallmarks come in sets, the rule of thumb is, if you do not have a complete set including:
Standard mark, city mark, date letter and maker's mark [+ a duty mark if 1785-1890], the item is
either from another country or a piece of silverplate with a hallmark-like trademark.
Here is a comparison of British Silverplate Marks to British Sterling Hallmarks:
BRITISH SILVERPLATE MARKS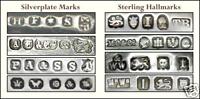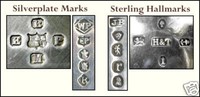 STANDARD MARKS
The Standard mark indicates the purity of the silver.
A - Sterling .925
B - Britannia .958, used exclusively 1697 - 1720, optional afterwards.
C - Sterling .925 for Glasgow
D - Sterling .925 for Edinburgh
E - Sterling .925 for Dublin
For hundreds of other marks you need to read the free guide over at: Government Auctions UK Silver Hallmarks
Silver Hallarks
Pottery Marks
Pewter
Glass
Memorabilia
Clocks
There is simply too much information to reproduce it all in this eBay Guide
Don't forget to vote for this guide!