Identifying fake SanDisk Ultra SD cards

In the following photographs, the fake is on the left and the genuine card is on the right.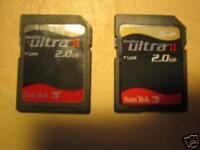 At first glance, the cards look identical. It's only when you take a close look that you can spot the differences.
1. The rim at the bottom of the card. On the genuine card, this has a small indentation. On the fake, it is solid.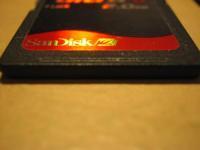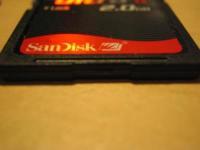 2. The sticker on the card. The fake uses a shiny, silvery print as the backprint of the entire sticker. So the words SanDisk, Ultra, Lock, 2.0GB and the bottom SanDisk logo all have a 'shiny' appearance. On the genuine card, only the 'Ultra' branding is like this. The SanDisk logo at the bottom is printed in white, and the top SD logo has a non-shiny golden background.
3. On the rear. The first thing you should notice with a geniune card is that the capacity is printed on the rear, and there is an embossed SanDisk logo engraved into the plastic. The fake card does not have any of these markings. There will also be a serial number. My particular card is MADE IN CHINA, and the fake is MADE IN TAIWAN.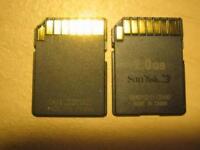 4. It's worth noting that my fake card came retail boxed, and really did look the part. It came in a cardboard outer, with a plastic card case, and paperwork and documentation claiming to be from SanDisk. The real card came in a (really, really, really difficult to open) heat-sealed plastic pack.
My only advice - don't buy flash memory off eBay. I hope this little guide helps.