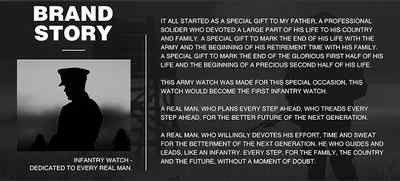 It all started as a special gift to my father, a professional solider who devoted a large part of his life to his country and family. A special gift to mark the end of his life with the army and the beginning of his retirement time with his family. A special gift to mark the end of the glorious first half of his life and the beginning of a precious second half of his life.

This army watch was made for this special occasion, this watch would become the first Infantry watch.

A real man, who plans every step ahead, who treads every step ahead, for the better future of the next generation.
A real man, who willingly devotes his effort, time and sweat for the betterment of the next generation. He, who guides and leads, like an infantry. Every step, for the family, the country and the future, without a moment of doubt.

Infantry watch - dedicated to every real man.

Category
Infantry Series
Flagship Series
Aviation Series
Infiltrator Series
Pacifistor Series
Watch Accessory
Army Accessory

Founded in 2011, Infantry Co. is a group of passionate and adventurous individuals. We are passionate about styles, and our passion is what drives us to come up with exciting products time after time. It is also what drives us to work tirelessly until we are totally satisfied with our products.
When it comes to design, we believe in adventurous approach. We will never stop experimenting with bold ideas for two reasons: first, because our belief is that originality can only come from the paths that were never taken. Second, because trying bold ideas is fun.
The mission of Infantry Co. is to make good styles universally available. And this is the mission everyone at Infantry Co. is dedicated to accomplish.