Being robust and hardwaring Inflatable boats have gained a reputation for being tough and low maintenance, but low doesnt mean NO maintenance!
However if you spend a few hours here and there taking a little care over your pride & joy it should stay in fair shape for a decade or more.
UV rays from the Sun (look it up in a dictionary if its unfamiliar to you in the UK) are all inflatable boat tubes deadliest enemy, prolonged exposure to sunlight will dramatically shorten the working life of any tubes, in particular PVC but even Hypalon is not immune to the great orange balls harmful rays. The Suns rays will fade and discolour the materials and commence an irriversible breakdown of the fabric itself leading to eventual failure..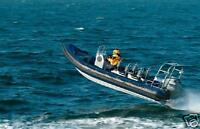 So what basic things should you do to try and prevent tube problems?
If at all possible always deflate the tubes when the boat is in storage or likely to remain unused for any length of time, or, if you must keep it inflated whilst not in use invest in a good quality well fitted cover, this will keep not only the Suns harmful rays at bay but keep the tubes free from boatyard dust & dirt and prevent Seagul droppings ruining your boat whilst not in use, if well made and fitted it will also keep rainwater out of the cockpit.
If at all possible after use at sea always wash off the salt from hull and tubes with copious amounts of fresh water and ensure the tubes and boat are dry before putting on the cover, as water trapped beneath a cover might well lead to water staining of the tubes and possible osmosis damage to gelcoats.
At least twice a season clean the tubes with a proprietry fabric cleaner such as Polymarine DuoClean and apply a fabric finisher such as Polymarine Inflatable Boat Finish.
If you plan to leave the boat on a wet mooring for more than a few days then it may well be advisable to apply a flexible antifouling paint, such as Polymarine SP54 to prevent algal groth and barnacles, which will destroy Hypalon, attching themselves to your tube.