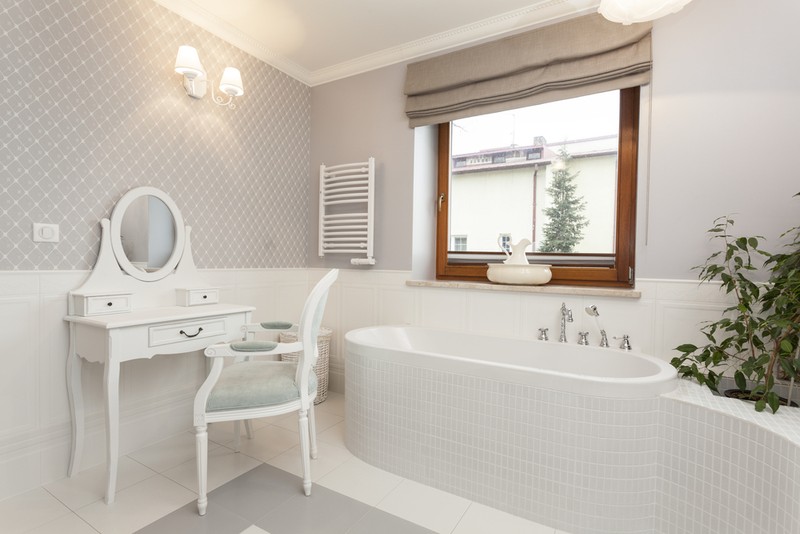 The bathroom should be the peaceful safe haven in your busy home, where you can escape and unwind to pamper yourself - if you have time!

An attractive bathroom suite can only go so far, what you need is a vanity unit that can work as both a home for all your beauty products and still look great incorporated into the room.

You Should Consider:
Space:
Vanity units are by no means small pieces of furniture, so think carefully about size and placement.
Plumbing:
You should consider seeking advice from a plumbing professional while installing, this is because some vanity units may require pipework to be moved to accommodate them.
Room:
Vanity units are great for both the bathroom and the
bedroom
; it all depends where you prefer to get ready. Bathroom vanity units require you to stand but will feature a sink and plenty of cupboard space, whereas the traditional unit for the bedroom will consist of a mirror, drawer, table and seat.
Style:
Are you looking to adopt a regal look in your bathroom or embrace smooth curves and a more modern feel? Whatever your style choose a vanity unity that matches your room's decor.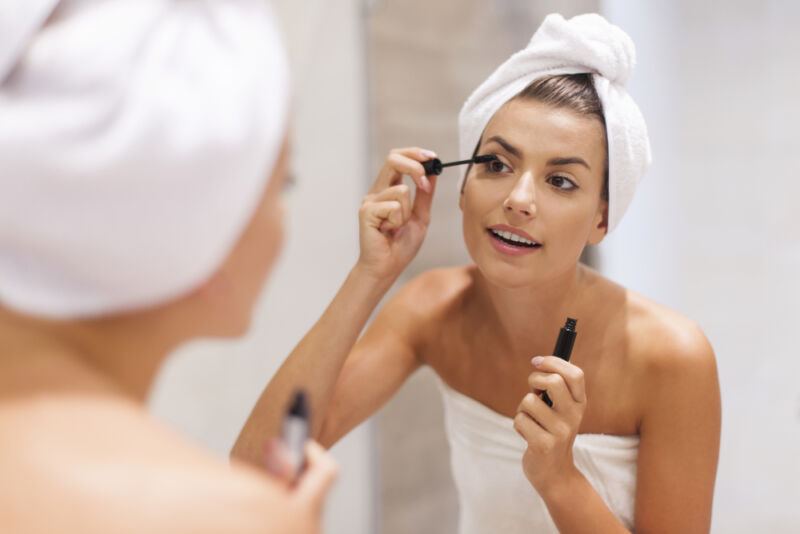 Be Vain
The traditional vanity unit will usually encompass the sink, drawers and a cupboard, as well as a mirror to preen yourself in after your morning
shower
.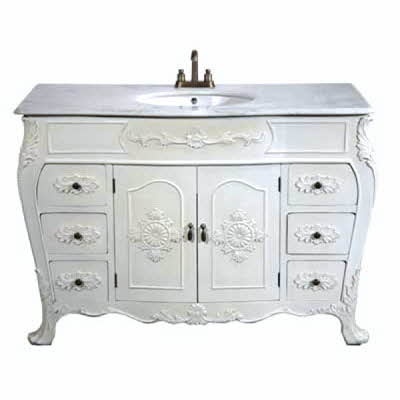 Regal Royalty
If you're looking for a royal look then this style of vanity unit is definitely fit for a Queen and embraces everything feminine and beautiful. Team this with cream tiles, marble effect floors and gold bathroom accessories to really encompass everything regal.

Dress up your unit with your favourite perfume bottles and trinket boxes and you'll feel like a Disney princess, as you brush your teeth each morning.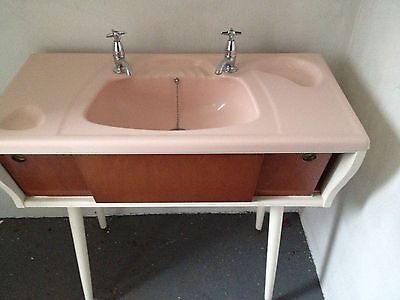 True Vintage
If you love the idea of capturing a vintage look in your home and already have a retro bathroom suite installed (or inherited when buying your house) you can complete the look with a matching vanity unit. You can find plenty of these vintage units in good condition on eBay, to be collected and installed in your own bathroom.

Always look for a unit that has no chips in the ceramic work or deep scratches on the wooden panels. The rest can be touched up with a lick of paint and varnish and then installed by a professional to complete your bathroom.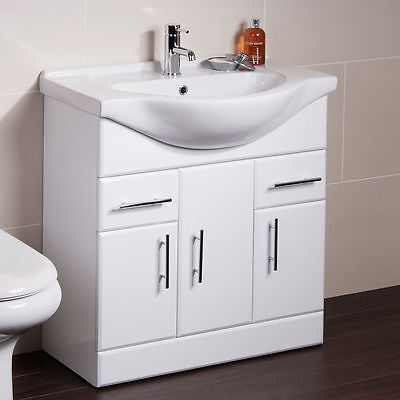 Make it Modern
If you're not into all the frills and trims that come with a more ornate vanity unit then you should opt for something featuring clean lines and a simple colour palette.

When time is tight in the morning and you simply want to get ready and go these sort of units work best because they can keep everything in one place. Embrace modern design with a crisp white unit featuring plenty of compartments to keep your beauty products hidden away when not in use.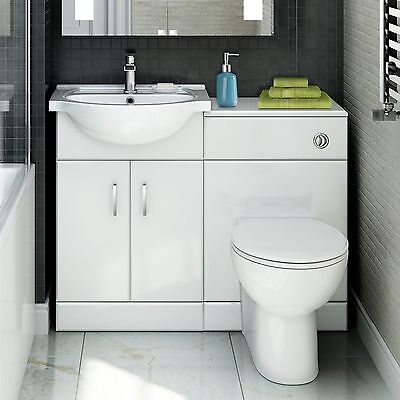 Something Smaller
However, many of us might find it hard to fit a vanity unit in our bathrooms so must opt for something similar but more practical. There are some fantastic designs out there which encompass your sink, cupboards and toilet all in one neat unit with the option for you to hang a large mirror above to make the room appear bigger. These types of vanity unit will require the assistance of a plumber to ensure everything fits properly and that pipes are aligned correctly
Do It Yourself
If you still can't find what you're looking for online or in the shops, then creating your own vanity unit couldn't be easier...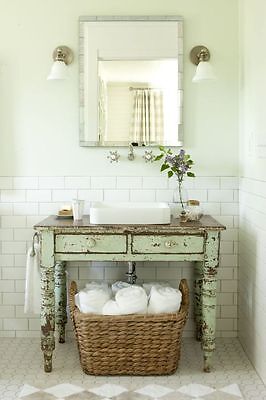 Vintage Vanity
Don't believe you can't have that vintage vanity unit, in a small bathroom space. Get crafty and create one yourself with a distressed vintage table or dresser (scour charity shops for second hand pieces you can distress yourself) and use an
electric jigsaw to cut out a space for the sink.
The following tutorial shows you just how to distress a wooden piece of furniture using paint, sandpaper and some furniture wax to finish. You can create your own vanity using a side table or a dresser.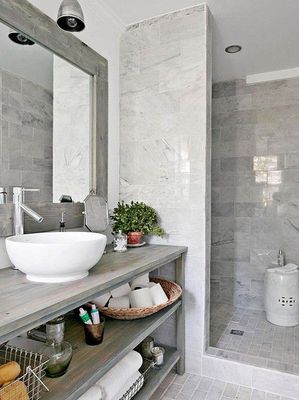 Shelf Stacking
You don't even need to go through the hassle of fitting drawer units and attempting to cut out space at the back of the unit for pipes and fittings. Simply pick up three large wood offcuts to create a shelving unit around the sink and cut out space for it to sit neatly within the top shelf.
Fill your finished shelves with neatly folded
towels
and baskets for your beauty products and you have a simple vanity unit that looks great and is relatively easy to put together.
Organisation is Key
Once your new unit is installed you don't want it to be immediately cluttered and covered with beauty products that could be stored away neatly when not in use. Try out some of these easy organisation techniques and stay clutter free.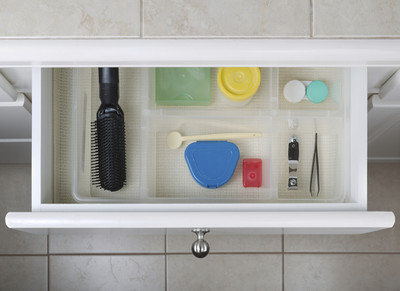 Basket Case
Small baskets or tubs simply placed in a drawer are the easiest way of keeping everything separate and organised.

Painting tins in pretty colours or decorating them with washi tape and then placing them in the drawer is another good way of organising your beauty products. You could even take a cheap kitchen utensil organiser and use that to separate items, after all, the drawer will be closed most of the time.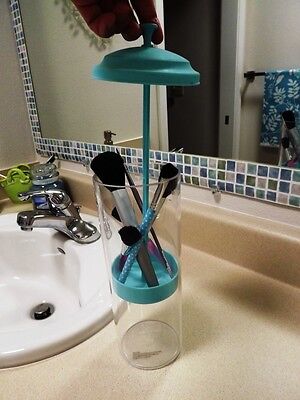 Organising Doesn't Have to Suck
If you prefer to apply your make up in the bathroom light but are concerned about storing those delicate make up brushes in such a damp environment then why not store them in a straw holder which should keep them nice and dry, while looking great at the same time?

You can pick these up in classic metal effects or retro plastic designs, depending on your decor, and pop your brushes inside.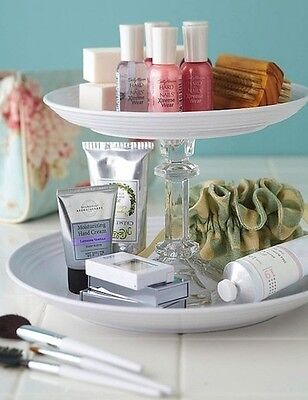 So, when it comes to choosing that vanity unit you should have plenty of inspiration to help you make a decision, before handing over your hard earned cash. Use your unit to make your bathroom space work better for you - and to hide those unsightly bottles and jars you only use once in a while, but can't bear to throw away.