The latest creation from INTEL - the new pinless Pentium 4 CPU range. Thinking of upgrading your aging PC? Or thinking of buying a new pre-assembled Pentium 4 PC - beware of the pitfalls and common misconceptions.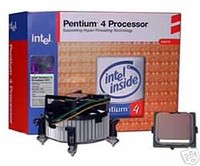 The new Pentium 4 CPU are very power hungry processors - any fault in your PC's power supply, or an incorrect / insufficient voltage to your CPU power rail may result in your computer re-booting, crashing or behaving in an unexpected manner which can result in losing your unsaved data, blowing your motherboard or buring your CPU.
Power supplies must comply with either the ATX 12V or SFX 12V design guiddelines and supply additional current on the 12V power rail through a 2 by 2 connector.
All Pentium 4 processor-based systems require either the standard 2 by 10, 20 pin ATX power connector or the new 24 pin ATX power connector in addition to the 2 by 2, 4 pin 12V connector.
Consult the motherboard documentation to determine power supply requirements.
For more information, please research your motherboard manufacturers website for the experience of other users who have chosen the motherboard you would like to buy, and learn from their experiences and benefit.
Good luck!