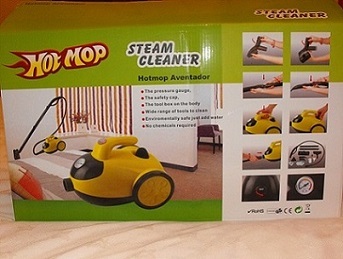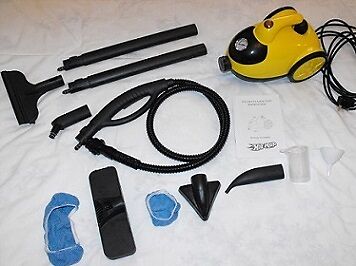 Is a Hot Mop Aventador Steam Cleaner worth Buying?
I recently bought myself a Hot Mop Aventador Steam Cleaner off eBay for under £40.
Due to health problems I wanted something to clean the dirt from the grout between the stone tiles of my kitchen and bathroom floor.
I had been cleaning the grout using a hard brush and cream cleaner and thought that the Hot Mop Aventador sounded perfect for the making the job less of a hassle.
The item is described as a 1500 watts 'pro steam cleaner' and the following statements are on the eBay description:
The Most Powerful Digital Steam Cleaner
"The cleaning power on the Aventador is mind blowing"
'Captures more dirt.
Concentrated Steam Jet expels more dirt than any other steam cleaner'
Unfortunately the statements on the eBay description are not true and the cleaning capabilities using the steam jet gun accessory are not even adequate for cleaning the grout.
The instruction booklet is written in poorly translated Chinese and is quite faded and the writing is small making it difficult to read.
An older person with bad eyesight might not be able to read it and miss the warnings signs about the dangers of hot steam.
I filled the Aventador with 300ml of water and 1 hour and 45 minutes later the red light still hadn't gone off showing that it was ready to use although the pressure reading was into the red.
When I pressed the button on the steam handle a fair amount of steam came out but it was just steam and there didn't seem to be very much power going out through the 2mm diameter expulsion hole of the steam jet accessory.
I wasn't expecting jet wash water pressure that you use at home to clean your car but I did expect more than it provided.
I have used high pressure hoses to clean multi million pound Tornado Aircraft at RAF Lossiemouth so I am no stranger to using cleaning devices.
The kitchen floor tiles were cleaned once using the floor brush and microfibre floor brush sleeve and it did a fairly good job of doing that.
Stone floor kitchen tiles aren't completely smooth like bathroom wall tiles are and it did manage to clean the dirt from between the minute crevices.
I also used the steam jet accessory to clean the taps on the bath and it did a really good job of this leaving them shiny and streak free.
But I had bought the Hot Mop Aventador to clean the grout which it failed to do even adequately.
My advice would be to not waste your money on an Hot Mop Aventador Steam Cleaner and a buy a stiff bristle hand brush and some bathroom cream cleaner as this does the job much better because:
a) You don't have to wait forever for a brush to heat up and it is ready to start cleaning straight away.
b) It isn't costing you a small fortune to use in electric.
c) Although hard work scrubbing the floor is really good exercise for you (unless you have health problems).
d) A Hot Mop Aventador Steam Cleaner will cost £30 to £40 whereas a hand brush and cream cleaner will cost you less than a fiver!
Overall I would rate the Hot Mop Aventador Steam Cleaner 3 out of 10.
Would I recommend one to a friend: No
I don't know if my Hot Mop Aventador Steam Cleaner is faulty or not but I returned it to the seller (at my own cost) for a refund and a full refund (of the original price & postage) was given.
The seller never mentioned if it was faulty or not but I have my money back so can't complain.
Please remember that I have only used the Hotmop Aventador for 3 cleaning jobs and the marks out of 10 and this review are based purely on these three cleaning jobs and I didn't use it for cleaning glass or steaming clothes or cleaning carpet or for any other purpose.
You might be lucky and get one that actually works properly!
I hope that you have found this guide useful and please don't forget to vote as it is free to do so and only takes a moment.
The more votes I receive the more inclined I am to spend my valuable free time writing more eBay Guides and Reviews for you.
Many thanks.
If you have less than 5 feedback unfortunately you won't be able to vote (Sorry eBay rules and not mine!)