Buying used Amplifier to get lovely sound saves the money, but it can be tricky...
Some of the sellers are not entirely honest when selling NAD Power Amplifiers - they gives the promise it's work ok. And it's work, but not entirely in 100% working order - it takes ages before starts on. Sometimes you can find on sale "for parts, or not working" with statement that say the amplifier is not starting - red LED light remains on at all times. At least the seller doesn't cheat. Anyway those symptoms means some Electrolytic Capacitors are not working properly any more - Protection Circuit is not letting to power on to prevent potential damage. Don't worry - it doesn't have to be that way. All you need is basic soldering experience, or knowing somebody who can do it for you.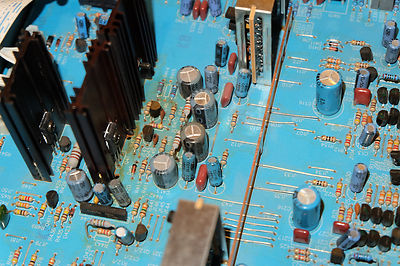 Add a caption
Colour of the caps does say a lot about them... All Caps shown here should have blue sleeve.
Electrolytic Capactors getting old...
Yes, pretty faster if their quality isn't perfect. Here we have JH Caps - so nothing to fancy about, rated at only 85°C. After some period of time they losing their specification (capacity rating & ESR) and Protection Circuit take action. Some of those Capacitors are already bulging, some of them has color changed of their sleeves, few of them doesn't show any symptoms, but trust me - still may be out of order. Take a look on the photo - there is three Caps on the front of the black Radiator - they are part of Protection Circuit, right one is definitely out of order.
On the right side of the same Radiator you can see another one turns grey already - it is really worth to change those one as well.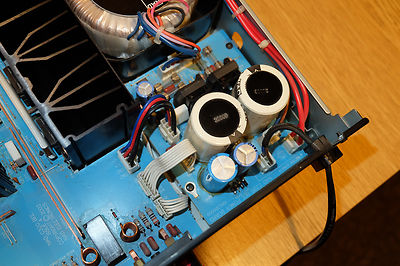 Add a caption
Old Caps on power supply PCB were first to come out...
Let's make a change...
Good idea - even on eBay you can find any value of Capacitors that's needed for this Amp with 105°C rating. That's make you sure they will resist ambient temperature more easily and will take much longer before they starts to drying. Change them all - that doesn't cost fortune but surely give for your Amplifier minimum one decade more of life!
You can download your Amplifier's Service Manual from the web and buy all needed Caps before you even open the chassis.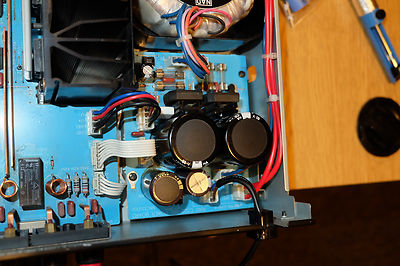 Add a caption
After replacement of all Capacitors the Power Supply Circuit Board has back where it should be...
First work done...
Way to go! Power supply board needs to be removed from chassis to get the work done. All Caps on main PCB goes a lot easier - as we have big service entrance from the bottom main PCB doesn't have to be pulled out at all.
Nearly end...
I've noticed in my NAD C 320BEE someone has replaced some of the Caps recently - but he used Capacitors rated at 85°C again, and the same JH brand - again... Wasn't take a minute and I was knew they will gone out.

OK - what was changed after that? I'm not going to talk about how this affect the sound - you have to find this yourself, all I can say I'm surprised! But what's happen with Protection Mode? Before change I had to wait about 15 minutes before Amp starts on. After change - instantly after self test! Even if I leave off and disconnected from mains for a week it is just powering on!
The juice was worth squeeze. The NAD Power Amplifier got new life and works just perfect. And runs on demand as it should running. I was used Nichicon Caps, and Panasonic for the biggest in power supply - but it is your choice what you place in it.

Thanks for reading,
Tom