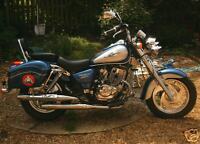 Hi,I bought a Jinlun 125 from LIA Imports back in May. I last owned a bike 34 yrs ago and didnt bother to take my test. I had fancied a bike for sometime but was put off being restricted to a 125 as all of the 125s I had seen were a bit small.
I was looking on e-bay and came across the LIA site.I couldnt believe my luck when I saw the size of the 125-11. I immeadiatley took the plunge and bought one. The service from LIA is 1st class,the price of the bike AMAZING .I have never looked back.I ve got my youth back again!!!!!!!!!!(Im 57).
Every where I go people take notice of the bike and cant believe its only a 125.its had many admiring glances .In the near future I intend to add a few custom touches,not that it needs many.
Now my car has taken a back seat (pardon the pun) as my bike gives me so much pleasure.
Gordon Wilkinson.
.