Jaguar Cars Part 1 - Wheel Classics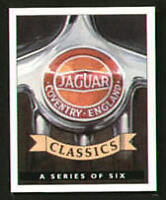 This is one of many illustrated classic car guides I've created for the community. I hope you enjoy it. If you wish to find out more about the classic Jaguar car art featured in this guide please click here.
This guide includes the following Jaguar models:
Jaguar XK120 1948 - 1954
Jaguar D-type 1954 - 1956
Jaguar XK150 1957 - 1961
Jaguar MkII 1959 - 1957
Jaguar 420 1966 - 1968
Jaguar E-type 1961 - 1975
Jaguar XK120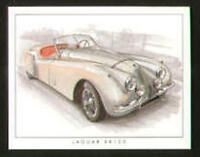 William Lyons originally envisaged the XK120 as a limited production run of only two hundred aluminium-bodied sports cars but when introduced at the London Motor Show of 1948 it soon became apparent that this would be incapable of satisfying demand. Launched alongside the car was Jaguar's new engine, the now legendary XK six cylinder. This unit, with a cubic capacity of 3,442cc (210cu.in.) and twin overhead camshafts produced 150bhp at 5.500rpm and was capable of propelling the two-seater bodyshell of the XK120 very quickly indeed. In terms of performance the car had few rivals. In 1949 a standard production model was timed at 126.5mph (204km/h) with the hood and sidescreens in place. Production ceased in 1954 on arrival of the XK140.
Jaguar D-type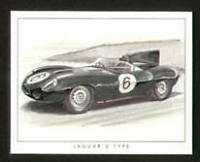 The D-type has a very special place in history. Built for a specific purpose, to carry on where the C-type left off as a Le Mans winner par excellence, it achieved this objective outstandingly. Winner at Le Mans three times in a row the car became an instant classic and is considered by many to be the ultimate post-war sports racer. Incorporating much that had been learnt from the C-types, the D-type embraced aircraft technology in the construction. The gorgeously contoured aluminium body was actually the chassis, a fully stressed monocoque. Fitted with the XK twin overhead cam six-cylinder engine of 3,442cc (210cu.in.), maximum power output was 250bhp and top speed 170mph (247km/h). D - type production totalled a mere 71 cars.
Jaguar XK150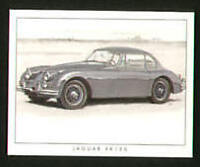 Introduced in May 1957 the XK150 represented the last manifestation of the XK concept. Very different from its predecessors, the most obvious change was a considerable straightening of the wing-line, whereas it had swept in such an exaggerated fashion on previous models. A one-piece windscreen further modernized the car's appearance and a four inch wider bonnet allowed greater access to the engine. Braking was greatly improved, in place of the barely adequate traditional drums, the XK 150 adopted all-round disc brakes which were developed on the C and D-type racing cars. Offered in drop-head or fixed-head specifications, some 75% of XK150s were exported. The ultimate model, introduced near the end of production was the 3.8 litre (232cu.in.) triple carburettor version.
Jaguar Mk2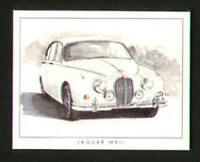 Jaguar introduced the Mark II saloon with the option of 2.4, 3.4 or 3.8 litre engines at the 1959 London Motor Show. This new Jaguar was basically a refashioned Mark I with a wider rear track and better handling. The model established Jaguar as a mass producer of luxury cars, in excess of 100,000 left the line during eight years of production. The famous six-cylinder twin overhead camshaft engine was beautifully smooth and in 3.8 litre form (3.78cc, 231cu.in.) produced 220bhp at 5,500rpm. It endowed the streamlined Jaguar with a swift 0-60mph (0-96km/h) acceleration time of 9 seconds and a maximum speed of 125mph (201km/h). The Mk2 saloon range was superseded by the lower specification 240 and 340 models in December 1967.

Jaguar 420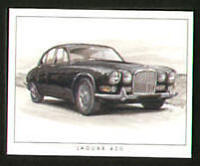 The Jaguar 420 saloon was introduced in October 1966. It derived the name from the engine, a special four carburettor version of the 4,235cc (258cu.in.) XK unit producing 245bhp at 5500rpm and 283lb.ft of torque at 3,750rpm. Based on the S-type but with front end styling similar to that of the Mark X, the 420 offered some very definite improvements over the MkII models. Handling for example was superior as was the braking system and the larger engine, although no quicker than a 3.8 Mk II achieved everything more effortlessly. Produced for only two years, the 420, along with the S-type and 240 / 340 ranges were replaced in October 1968 by the new XJ6, superior in every respect but lacking just a little of the old-world charm of earlier models.
Jaguar E-type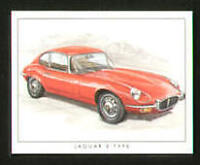 Launched in March 1961, the Jaguar E - type was an immediate sensation. Its XK engine was a 6-cylinder twin overhead cam-in-line unit and featured hemispherical combustion chambers. 3,781ccs (231cu.in) were fed by triple SU carburettors and delivered no less than 220 bhp at 5,500rpm. The result, a stunning 150mph (241km/h) and 0-100mph (0-161km/h) in just 19 seconds, a figure which few contemporary cars would match. E-type production fell into three distinct phases: the 3.8 litre models from 1961 - 1964; the 4.2 litre cars from 1964 - 1971, and the V12 engine models from 1971 - 1975. When replaced by the Jaguar XJS model, a total of 72,507 E-types had been produced of which 38,515 (or 53 percent) were coupes.
Thank you for reading my guide and I hope you found it interesting!