Jaguar Cars - Part 2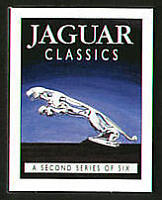 This is one of many illustrated classic car guides I've created for the community. I hope you enjoy it. If you wish to find out more about the classic Jaguar car art featured in this guide please click here.
This guide includes the following models:
Jaguar XJ6/XJ12
Jaguar Mk 7
Jaguar Mk X/420G
Jaguar S-Type
SS Jaguar 100
Jaguar XJS
Jaguar XJ6 / XJ12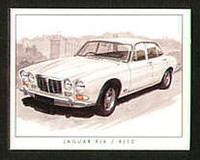 Jaguar XJ saloons made an enormous impact on the motoring world of the late 1960s and 1970s. Stylish and fast, with excellent handling, their level of refinement was years ahead of other manufacturers' achievements. Engine options were initially a 2.8 litre or the familiar 4.2 litre XK unit, both available with manual or automatic transmission. 1972 saw the launch of the XJ12, which was basically the same car but for a magnificent V12 engine of 5.3 litres, further raising standards of performance and refinement. In 1975 Jaguar re-launched an "economy" version of the XJ (2.8 litre cars discontinued 1972) but this time as a 3.4 litre car. Also that year came the two-door coupes based on the short-wheelbase floorpan and available in 4.2 litre or V12 form.
Jaguar Mk VII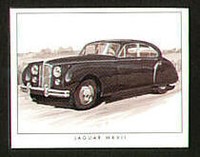 Introduced at the London Motor Show of 1950, the extravagantly proportioned MkVII was the first Jaguar saloon to use the legendary XK twin-cam engine. Priced at just below £1,000, it was also a 100mph (160km/h) car and the last Jaguar series to boast a separate chassis. A full six-seater, optional extras included automatic transmission and overdrive. Updated in 1954 and re-designated the Mk VIIM, high-lift camshafts raised the power output from 160 to 190bhp and a closer ratio gearbox helped make the best of it. The Mk VIIM was replaced by the Mk VIII, distinguished by its one-piece windscreen and revised cylinder head. The same bodyshell was retained for the Mk IX of 1959, which was fitted with the 3.8 litre engine and disc brakes as standard.
Jaguar Mk X / 420G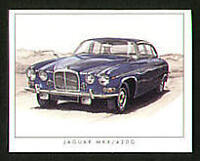 The first of a new generation of Jaguar saloons, the Mk 10 was technically more advanced than anything before it. Introduced in October 1961, it featured Jaguar's new independent rear suspension, which gave a comfortable ride with excellent handling. The MkX used the familiar 3.8 litre XK engine in its most powerful 265bhp form and performance was impressive, especially considering the car's unladen weight was around 2 tons. Testing a manual car with overdrive in 1964, Motor magazine recorded a top speed of 120mph and 0-60mph in 10.8 seconds. From October 1966 the Mark X became the 420G (G for Grand). Hardly any different from the Mark X, it had a slightly face-lifted exterior with a chrome strip along its sides and a new grille to match the 420.
Jaguar S-Type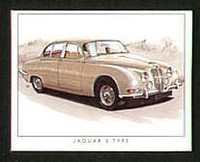 The S-Type saloons were the result of grafting Jaguar's independent rear suspension system onto the MkII shell. Introduced in 1963, the S-Type fell clearly between two of the company's existing models, the Mk X and the Mk II combining numerous elements of both. Mechanically, the S-Types were similar to the Mark IIs except that the 2.4 litre engine was not available. This was due to the fact that they were 3cwt heavier than the Mk 2 and it would not have given the new car a sufficiently brisk performance. The whole idea of the 3.4 litre and 3.8 litre S-Types was to produce a car that was more manageable than the Mk X and more luxurious than the Mk II, with better ride because of the independent suspension.
SS Jaguar 100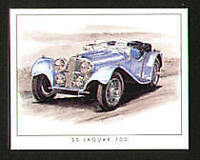 William Lyons and William Walmsley set up the Swallow Sidecar Company in 1922 to manufacture sidecars for motorcycles. However, Lyons' flair as a body-stylist soon found expression in the Swallow-bodied Austin 7 and this was followed by a succession of motorcars based upon mechanical components made by Standard. SS Cars, as it became known in 1935, never looked back and was renamed Jaguar Cars Limited in 1945. Produced between 1935 and 1939, the SS Jaguar 100 has become one of the world's most classic sports cards. Capable of 100mph (hence "100") the model was fitted with a 2.7 litre six-cylinder engine (3.5 from Autumn '37). It represented a beautiful and reliable touring two-seater with graceful lines. An important car for Jaguar, the SS 100 is now legendary.
Jaguar XJ-S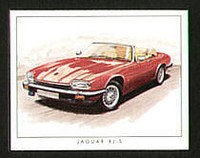 In the September of 1975, Jaguar, who were famous for their value-for-money saloons and brisk Le Mans-winning sports cars broke with tradition by replacing the E-Type with the XJ-S. A much heavier and plusher 2+2 GT, it was Jaguar's first new sporting car since 1961 and a true 150mph motorcar. Better described as a high speed tourer than a sports car, it gave in return for the loss of an ultimate power-weight ratio, a standard of comfort, silence and ride that had not been offered in a similar car. The styling of Jaguars had always been individual and the continued use of a front engine position meant the XJ-S still had real Jaguar curves. With the XJ-S we have the last Jaguar to be designed under the aegis of the immortal trio of Lyons, Sayer and Heynes and without doubt, a classic.
Thank you for reading my guide and I hope you found it interesting!