The Rarity for Japanese Konami Cards differs slightly from English Cards as there are actually more "Types" of Card. Also Japanese Cards have never been printed with 1st Edition - Instead cards that are re-released have "Replica" beneath the Right of the Picture (eg . All Cards in the Premium Pack 3 Set , Premium Pack 4 - Dark Magician Girl , etc etc ...) :-
RARITY......
Normal - Non Foil - standard card
Normal Rare (Secret Common) - Looks Identical to a Normal , but only inserted 1 copy per box of 30 packs (List of Numbers below)
Rare - Silver Writing - Non foil Picture
Super Rare - Normal Writing , but Foil Picture
Ultra Rare - Gold Writing + Foil Picture
Ultra Secret - Same as Ultra rare but Silver Writing ( Only Early Promo Cards such as ........Flame Swordsman Version 2 , The Original Blue Eyes Ultimate Dragon , Limited Edition One Set......)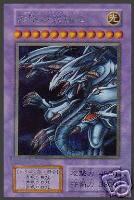 Year 2000 Tokyo Dome Promo - Blue Eyes Ultimate Dragon - THE ORIGINAL Konami VERSION.......!!!
Secret Rare - Silver Writing + Patterned Foil Picture
Parallel Rare - At 1st Glance these can look like an Ultra Rare(In dimmer Light) , but they have a glossier finish on the Front , and a criss-cross rainbow pattern when moved in brighter light over the WHOLE card ..........(There have been plans to Start Releasing US/UK Parallel Rares - The 1st of which was intended to be the 2005 Tournament Promo - but I do not think this was ever released)
Platinum Rare - Only the Genuine Japanese God Cards (DM4-01, DM4-02 and DM4-03 ) - have been released in this Format . The Picture is Like a Secret Rare , but they also have a Light Parallel effect on the Rest of the Card + Silver Foil Writing "Not For Sale" beneath right of Picture - These are probably the MOST faked cards Occasionally in Japanese AND Often in English -
Ultimate Rare - Power Symbols , Type and Picture are all Embossed and Metallic + Gold Writing , often referred to as "3D" . Often on the back of the card you can see the outline of the Picture , where the Foil has been Pressed onto the card - THIS IS NORMAL , and not a "Fault" .......( These Have Now Started to be released in English Sets)
Konami Normal Rare List ..(Names May Vary from English Release)
I have listed these as they look no different to a Normal Card - but they can be very hard to find - and some quite expensive...........
Volume 3 - Reaper of the Cards
Volume 3 - The Evil spirit of an Attic
Volume 5 - Fake Trap
Volume 6 - Baby Dragon
PS-04 - LABYRINTH WALL
CA-12 - CRY OF THE LIVING DEAD
TB-33 - WICKED GOD OF A THOUSAND EYES
SM-10 - CURSED GYURA
LN-23 - DARK HERO: ZOMBIRE
SC-09 - RED CYCLOPS
MA-11 - INJECTION ANGEL LILY
PH-08 - THE SEA GOD'S HANDMAIDEN
301-026 - Reaper on the Nightmare (2 Versions - Black or White Writing at top of Card
302-021 - Neko Mane King
303-027 - Cat's Ear Tribe
304-015 - Different Dimension Dragon
304-016 - RULER OF HEAVEN SHINATO
304-017 - BLACK FLARE KNIGHT (Misprinted as #302-017 - Recognized Konami Error)
304-018 - Mirage Knight
304-019 - Different Dimension Dragon
304-020 - Exodia Necros (V.Rare ......!!!!!)
305-009 - Outstanding Dog Marron
306-011 - Sasuke Samurai #3
307-034 - Getsu Fuhma
308-003 - Sealmaster Meisei
309-003 - Kozaky
DL1-034 - The Forceful Sentry
DL4-134 - Toon Index
DL4-135 - Toon Defense
DL5-052 - Injection angel lily
DL5 -051 - Yatu Garasu
Tony (banyera)
ADDED 12/5/08 - (Courtesy of Sakamoto-san - domo arigatou gozaimasu)
Japanese Sets Between RDS-JP ,SOD-JP , etc , up until TAEV-JP ........did NOT have Normal Rare (Secret Common Cards).
These re-started in TAEV-JP (Tactical Evolution) - There are 4 x Secret commons / Normal Rares Per set , in the following 5 sets :-
TAEV-JP...................TAEV-JP031, TAEV-JP060, TAEV-JP062, TAEV-JP078
GLAS-JP....................GLAS-JP024, GLAS-JP046, GLAS-JP060, GLAS-JP080
PTDN-JP....................PTDN-JP055, PTDN-JP072, PTDN-JP077, PTDN-JP080
LOTD-JP....................LODT-JP036, LODT-JP061, LODT-JP062, LODT-JP080
TDGS-JP....................TDGS-JP033, TDGS-JP058, TDGS-JP079, TDGS-JP080
Appologies but will add names as soon as possible..........!!!
Another thing that has happened is the addition of a NEW type of CARD :-
HOLOGRAPHIC RARE :-

Hope this small update is of help to collectors of Japanese Yugioh.
IF you found this useful , please remember to vote......THANKYOU