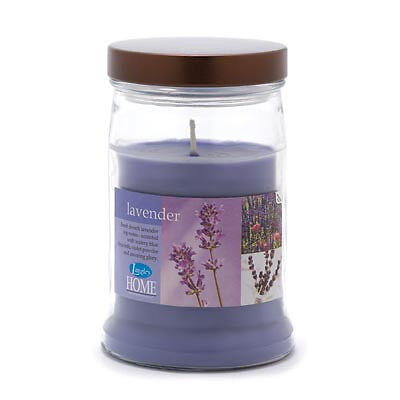 Jar candles are an ideal way to bring ambience and scent into the home. Being stored in a jar means there are no drips to clean up and no need to purchase a candlestick. A jar also protects the flame from breezes making these candles a suitable choice for outdoor use. Shapes, sizes, colours, and scents can be found to match any room, decor, mood, or occasion. Jar candles can be used as a small personal enhancement, as a table centrepiece, or as an impressive collection.
Jar Candle Scents
The majority of jar candles are scented, and unlike some of the larger pillar candles, the scent is usually permeated throughout the wax. Synthetic fragrances may be used, but, more often than not, essential oils are mixed to create scents. Some scents are warm and welcoming, some are designed to refresh and invigorate, while others are relaxing or romantic in nature. Many scents are made with a combination of oils to produce top, middle, and low notes, just as in perfumes. Choose scents to suit room, occasion, or mood.
| | |
| --- | --- |
| Christmas scents | Pine, cedar, mistletoe, cinnamon, chestnut, and nutmeg are often used. Designed to bring scents reminiscent of Christmas. |
| Floral scents | Relaxing and romantic. Rose, frangipani, jasmine, ylang ylang, lavender, and magnolia are just some of the floral fragrances used. Suitable for bedroom, bathroom, and living and dining areas. |
| Seasonal or nature designed | Refreshing spring, ocean, forest. Usually refreshing or cleansing. Sometimes more herbaceous or earthy. |
| Fruity | Cherry, blueberry, apple, and citrus fruits are common. Cheering and refreshing. Sometimes used with a vanilla base. |
| Herbaceous | Rosemary, thyme, mint, and green tea are examples. When pure essential oils are used, they may offer some therapeutic qualities along with the scent. Pregnant women should avoid inhaling too much rosemary. |
| Woody | Sandalwood, cedar, pine, fir, frankincense, and myrrh are common woody scents. May be used alone or in combination with other fragrances. May be cleansing, romantic, or calming. Often used for meditation. |
| Food based | Vanilla is often used either alone or as a base. Fresh cookies, coffee, apple pie, gingerbread, spices, and candy are some food fragrances found. Welcoming, warming, and cheering. |
Types of Jar Candles and Waxes
Jars are available in many sizes and may or may not have lids. Some people prefer jars with lids either for their looks, or in the belief that the scent will last longer when contained. Paraffin wax, soy and organic plant wax, and gel wax are the most common waxes used. Colours are usually matched with a scent. Jars may be any size and shape. Lids may be made of glass or may be metal screw top lids. Sometimes jars may also have handles attached.
Paraffin Wax Jar Candles
Paraffin is often chosen by candle makers for its low cost, long life, colour holding ability, and scent preservation. Unless stated otherwise, it can be assumed that the wax used in a jar is paraffin.
| | |
| --- | --- |
| Small shaped jar candles with lids | May be homemade or branded. Many shapes, sizes, and colours available. Suitable for any location or mood. May be labelled with pictures or plain. Usually in clear glass. |
| Medium to large jar candles with lids | As above. |
| Jars or tumblers without lids | Available in a variety of colours, scents, shapes, and sizes. May be labelled, printed, or plain. Glass may be clear or coloured. |
| Gift Packs | May contain a single candle or several candles of the same or differing colours and scents. |
Soy Wax Jar Candles
Soy, or soya, wax is considered by some candle makers to burn more cleanly than paraffin wax and to have a better scent throw. Soya and other vegetable wax jar candles can be found in some select online or brick and mortar stores, although few places carry the wide variety available on eBay. Many soy jar candles are homemade and most are highly scented.
| | |
| --- | --- |
| Small lidded jar candles | Available in a variety of colours and scents. Jars may be of a standard shape or varied. A wide range of colours and scents can be found. Usually labelled. |
| Medium to large lidded soy candles | Larger jars offer the same wide range of options as small jars but last longer. |
| Soy jar candles without lids | Available in a wide range of sizes, colours, and shapes. Jar shapes may often be more unusual than the standard lidded jars. |
| Homemade soy candles in original jars | Retro, vintage, and sometimes antique jars may be used by homemade candle makers. Ideal for collectors. |
| Blended Soy jar candles | Usually a blend of soy and paraffin, or soy and beeswax. |
| Organic vegetable wax jar candles | Can be found with or without lids. Suitable for those looking for something environmentally friendly, but as a change from soy wax. |
| Unscented jar candles | Not as readily available as scented candles. Suitable for those who find scented candles overpowering, but who like the look of jar candles. |
Gel Jar Candles
Gel wax is made from mineral oils and is transparent in colour. Nearly all clear gel jar candles will have objects embedded in them. This makes them very decorative and scents are often chosen to match the embedded objects.
| | |
| --- | --- |
| Small gel candles with lids | Often in fruity scents with fruits embedded, although any objects and fragrances may be used. |
| Medium to large gel candles with lids | As above |
| Festive gel jar candles | Christmas and Halloween themes readily available. Suitable for gifts or as table displays. A variety of scents and sizes can be found. |
Accessories
Some candle collectors may become interested in making homemade jar candles, or melting down wax to refill a purchased jar candle when it has expired. Tip: Clean out old wax from a jar by placing it in the freezer for a short time (not too long or the glass will crack). The wax then usually pulls away from the glass easily. Wicks, waxes, colourings, fragrances, and jars are all available on eBay.
| | |
| --- | --- |
| | Kits make a useful starting option as instructions are normally included. Soy wax is a clean and simple wax to work with for beginners. |
| Waxes | Paraffin and soy readily available as are colourings |
| Wicks | Tabbed wicks are usually used for jar candles and can be found in a variety of sizes to suit jar size. Wooden wicks may also be used. |
| Fragrances | Variety available. Pre-mixed scents can be used or candle makers can mix their own. Essential oils are reputed to make the strongest and most lasting scents for candles. |
| Jars | Jars of all sizes are available, often in bulk. Do not use plastic jars. |
Finding Jar Candles on eBay
Searching through the candles section of eBay will uncover many jar candles. Browsers can also narrow their search down to jar candles in particular, and by wax type. Listings will usually indicate the size of the candles (usually in ounces) and sometimes the expected burn time. Brand names can also be specified, or look for handmade. Savings can often be made through free shipping offers, local shipping costs, or combined shipping discounts.
Conclusion
Starting a personal collection of jar candles can bring much pleasure, and browsing through listings on eBay is a good place to begin. Small scented jar candles also make ideal gifts for any occasion. The combination of colour, scent, and shape of the jar is what makes jar candles so appealing to many. At their most practical, they provide light, but for most people jar candles provide a bit of self-pampering for little cost.