The pictures below show the 7 most common Jimmy Choo fakes appearing right now (July 09) on Ebay. They are all flat and easy to spot and there are tons of them being listed! Sorry the pictures are small, email me if you want a better picture of any of them.


All of the above will come in fake boxes with fake dust bags and fake care cards. Most come with a fake carrier bag. Some of the above were never even Jimmy Choo styles. They all have silver or bronze inner soles which they should not.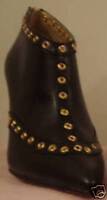 In the last few weeks (Feb-March 09) I have noticed lots of pairs of fake Jimmy Choo Tier Ankle Boots (shown above). These are still available at exactly £582 from authorised dealer websites. If any seller is claiming they cost any less or shows a label with a different price, you can be sure they are fake. These fake boots also come with a fake carrier bag and a poor quality box. These boots look to be very poor quality particularly if you study the eyelets. Look at the real thing on an authorised website and you will see the difference.
Real Jimmy Choo boxes are made of high quality solid cardboard and not corrugated board They are light lilac pinky colour and not pink pink!
This is a real box

Look at the size and quality. An older style genuine box will be the same high quality and size but a very dark brown/purple colour.
These are fake boxes

Jimmy Choo shoes would never come in such small poor quality boxes. The real boxes are wide enough to stand most shoes up in side by side and, as said above, are not made of corrugated board and should be more lilac than pink. All the fake boxes seem to have a label that says £425. This is too high. A pair of real Jimmy Choo flats, even with diamantes. A real pair of flats would be around £300-£390. Presumably the hike up the RRP to make you think you are getting a real bargain, when actually you could pay £15 for the same poor quality in Primark! The recent fake Tier Boots have very similar boxes and labels to the one shown above. The fake boxes will always say something like "Diamonte Flats" or "Satin Diamonte" or something descriptive. Real boxes will always have a style name like Choi, Juliette, Macy etc. Check the Jimmy Choo website you will see that all styles have an actual name.

The dustbags inside the box should be either the same light lilac or the dark purple of the older style. They will never be pink or white. They are made of high quality soft fleece material.
The inner sole will fit perfectly like this

and not extend nearly to the toe post like this

Look how ill fitting that inner sole is! Note the real ones also have stones on the ankle strap. Jimmy Choo shoes always have cream inner soles like the first picture above, never silver, gold, pewter etc like the second picture.
The label on the inside should always look like this

Accept no variation on the way the label is inserted, it should be stitched into a slit top and bottom and not sewn on top or stuck on.
On every style even flat shoes, the undersole will aways be smooth, soft, very light in colour and matt when new like this

Never shiney and/or ridged like this

The stickers on these shoes are totally fake, I have never seen a stickers like this on a real pair. The Vero Cuoio (real leather) sign should be much bigger and filled with the words "Vero Cuoio".
Jimmy Choo never put temporary protective sponge around the toe posts or wrap the shoes in plastic bags inside the box.
Most of the current fakes come with a fake "Jimmy Choo Carrier Bag" in white with string handles.
It may be that you don't mind having a pair of fake shoes and possibly if you pay £30-£40 for them fair enough. But, loads of these fakes have been selling for £150+ You could easily pay this much for a genuine pair at a Jimmy Choo outlet store in the UK, during sale times at Department Stores, at a Jimmy Choo shop or on Ebay.
Beware of perfect pictures with no background. Sellers often steal pictures from authorised retail websites. Are you sure the seller actually has the shoes he/she is selling?
Also have a look at the quality and styles on the Jimmy Choo website, of course they will only have current styles. Some styles saying "Brand New" or Recently Bought" never existed as real styles. Look at detail. The Choi sandal (very top right hand picture on this page) is heavily faked. The real style is still on the Jimmy Choo website. Notice that there should be a toe post underneath the diamante detail. The toe post is not in the fakes. There are lots of real Jimmy Choo bargains on Ebay, just do your research to make sure you get a genuine pair.
If there are too many of the same style from different sellers on Ebay be suspicious. Jimmy Choos are not mass produced. Look at the seller's feedback. Have they got 100% positive from selling lots of this same style? This could mean a genuine seller but it could just mean that other buyers do not realise they have bought cheap fakes. When the poor quality of the shoes shows after a few wears, they will realise!
Beware the "Unwanted gift" or "Bought as a gift for me but don't fit" or "My ex bought them for me" or "I bought them for my ex". Who do you know who buys/receives such expensive gifts and then needs to sell them?
Beware the seller who claims they are 100% authentic but "don't fit". Think about it, if they bought them in a shop and they didn't fit they would have taken them back for an exchange. If they bought them on Ebay and they don't fit, fair enough, however, since they didn't buy them from a Jimmy Choo retailer they therefore cannot guarantee they are authentic.
Some of the guides on here say that most Jimmy Choos on Ebay are fake and the more I look, the more I think that may be true. There are some real Jimmy Choos on Ebay, just make sure you get a pair! Lots of the basic court shoes and high heels are faked. Look on wholesale websites and if they have the style you are looking at they are probably fake. Things like The Glenis Gladiator are heavily faked and you cannot buy a real pair for under £300.

When buying high heeled Jimmy Choos, look closely at the shape of the heel and try to find a real pair on an authorised dealer website to compare. Often the heel shape is a dead give away, the fakes often have fatter more clumbsy looking heels than the real things.

Louboutins are far more likely to be faked because of the smaller number of styles. If you are buying a pair of Louboutins on Ebay I recommend that you check every detail against the same pair on an authorised dealer site or post the auction on one of the forum websites where other experts can advise you. Do your research! If there is even the smallest thing that strikes you as anything other than perfect, do not buy. Real Louboutins, like Jimmy Choo, are very expensive and therefore will be perfect in every detail like stitching and inner sole fitting.
Manolo Blahniks are also heavily faked. If you look on ioffer you will find huge amounts of fake Sedaraby's, Something Blue shoes and Mary Janes. The sellers on there offer wholesale prices and once they appear there they will be bought and sold on Ebay. It is very, very unlikely that you will find a real pair of unworn "Something Blue" shoes for under £400 - its just not possible when they are still a current style. There are loads of these on Ebay and hardly any are real. Ask for photos of the underneath of the "Something Blue" shoes. The "Hand Made in Italy" horizontal stamp should be at least two inches away from the end of the "Manolo Blahnik" vertical stamp.
Please vote for this guide to help make it more visible to others. Thank You.