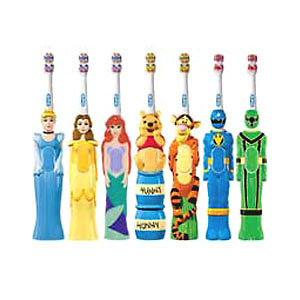 Electric toothbrushes are popular with a growing number of adults who find that the technological advances in toothbrushes are making them more effective at fighting plaque build-up. Many parents are also considering whether electric toothbrushes can offer significant advantages in keeping their children's teeth and gums clean and healthy. One of the more daunting challenges for a parent is finding ways to get kids thinking about brushing their teeth on a regular basis as well as brushing for the right amount of time when they do.
Many parents find that an electric toothbrush can increase the amount of time a child spends in brushing, because they are a unique and appealing item for children. It helps to consider the many advantages an electric toothbrush has over a traditional one when it comes to caring for kids' teeth. Prior to purchasing an electric toothbrush, parents should consider the various features and benefits that this type of toothbrush offers. One can find kids' electric toothbrushes in mainstream shops, including grocery stores and chemists. However, consumers may take advantage of the wide selection that an online retailer such as eBay offers.
Features in Kids' Electric Toothbrushes
Unlike electric toothbrushes made specifically for adults, electric toothbrushes made for kids are specifically designed to be effective in maintaining the smaller mouths of children. Special care must be taken when choosing electric toothbrushes for kids, and there are some specific features that should be considered.
Brush Heads and Handles
Kids' electric toothbrushes are smaller than adult versions in order to be easier for children to handle. The brush heads on kids' versions are smaller in size in order to make it easier to reach the smaller spaces in a child's mouth. The handles on these brushes are shaped in a way that is comfortable for a child to hold. Handles usually incorporate unique patterns and shapes that are attractive to children and encourage them to brush longer.
Soft and Rounded Bristles
The bristles on the brush head of a kid's electric toothbrush should always be soft and rounded on the tips. If the bristles are too firm, then they can easily damage a child's gum line and the enamel on the teeth. All electric toothbrushes are designed to be used with very light pressure because the rotation or oscillation of the brushes do the work, not the force of pushing against the teeth with hard bristles. Soft and round bristles ensure the child has a safe and comfortable experience with an electric toothbrush.
Brushing Timers
Brushing timers are included on some electric toothbrushes, and they are a wonderful feature for children. Timers give a child a set amount of time within which to brush teeth, and children usually accept that time period as part of their routine after they have become accustomed to the timer. This helps children develop a sense of how long one should brush the teeth, and this can carry over into their adult lives.
Unique Colours and Themes
Nearly all kids' electric toothbrushes feature colour schemes or a theme that is attractive to children. Kids' electric toothbrushes are brightly coloured or display popular action figures or cartoon characters that children are fond of. If parents find electric toothbrushes that are based on what their children enjoy, then this can promote longer brushing times as well as more frequent usage of the toothbrush.
Appropriate Power Levels
Electric toothbrushes that are made specifically for children have reduced power levels compared to those made for adults. Reduced power ensures that children do not damage teeth or gums if they are not paying proper attention to their brushing habits. Reduced power also ensures that children enjoy a comfortable brushing experience without fear of hurting themselves.
Use of Disposable vs. Rechargeable Batteries
Another consideration for the parent is whether to purchase an electric toothbrush that is powered by replaceable batteries or a rechargeable one. Toothbrushes that feature replaceable batteries are generally less expensive and appropriate for children who are just starting out with the electric toothbrush. Parents should monitor the battery levels of these types of units because they do not offer a warning for when the battery is getting low. Purchasing replacement batteries can also become expensive over the long term, so that is an added consideration.
Rechargeable electric toothbrushes are more expensive than replaceable battery units, and they tend to be of higher quality and usually last longer. Although they might not be the ideal choice for a beginner, they are an excellent choice if a child really enjoys using an electric toothbrush. Rechargeable electric toothbrushes are placed in a charging cradle every night, therefore parents do not need to worry about the state of charge in the toothbrush. The drawback to a rechargeable toothbrush is that it should be charged constantly. If the child is absent-minded about placing the toothbrush into the charger every night, it can stop working.
Building Better Brushing Habits
A favourable argument for using a kid's electric toothbrush is that the features in a toothbrush are designed to make brushing an enjoyable experience that children can repeat every day. Because of its uniqueness, an electric toothbrush can help a child develop good brushing habits from an early age. These habits are usually carried on into adolescence and adulthood and can potentially last a lifetime. Kids who develop the right brushing habits from a young age are less likely to face dental issues later in life.
While electric toothbrushes are an excellent way to start a youngster on the path towards acquiring good dental hygiene habits, there is such a thing as being too young to use these toothbrushes. Prior to two years of age, kids should use manual toothbrushes because they are not yet at a developmental stage where use of an electric toothbrush is appropriate. Toddlers between two to four years of age can begin using electric toothbrushes with adult supervision. Kids five years and older may begin to use electric toothbrushes on their own, if they are able to. At this age, electric toothbrushes can help develop excitement within the child about brushing and promote frequent use.
Getting Kids' Approval
It is important that parents allow their children to have some input toward the decision making process regarding electric toothbrushes. When children are allowed to have a say in the toothbrush they want, it empowers them and helps them achieve a sense of the responsibility towards taking good care of their teeth. When children are involved in the decision, they are more inclined to use the electric toothbrush more regularly; much in the same manner as the favourite toys that they have picked out.
Buying a Kids' Electric Toothbrush on eBay
Once you have made the decision to purchase an electric toothbrush for your child, the next step is to utilise the advanced and powerful search tools available on eBay to find and select the right unit.
Begin your search by visiting the eBay home page and entering a basic term such as "kid's electric toothbrush &" in the search box. A list of available auctions is displayed that features electric toothbrushes designed specifically for children. At this point, you can browse through the listings until you come upon the toothbrush that seems right for your child, or you can select from various subcategories that help refine the search criteria and narrow the results. If you have a preference regarding the brand and style of toothbrush, then you can also simply enter those specific terms directly into the search box.
Once you have found the listing that contains the electric toothbrush you want, it is recommended you take a few moments to research the seller's feedback rating and history. Sellers who maintain positive ratings and good feedback may be counted on to conduct business in a professional manner. Dealing with these sellers can increase your confidence in the eBay buying process.
Conclusion
Finding ways to help a child improve dental hygiene habits is one of the reasons for the surge in popularity of kids' electric toothbrushes. A great way to teach a child good habits and have him or her act on those habits as part of a routine is to introduce some fun and enjoyment into what they are learning. Electric toothbrushes are designed to meet those challenges through creative and unique representations of the things that children enjoy, such as cartoon characters and superheroes. By melding fun and playful imagery with the practical necessity of brushing teeth on a regular and consistent basis, electric toothbrushes are a great tool that parents can utilise to teach their children dental habits that can last them the rest of their lives.
Features to look for when choosing an electric toothbrush include the brush head, bristles, handle, and type of batteries used. A timer function is also a useful feature and an important consideration. eBay's large selection and numerous features can be helpful in selecting the right electric toothbrush for a child. With the input of children, parents can help children find and use electric toothbrushes to develop routines that they want to repeat every day.