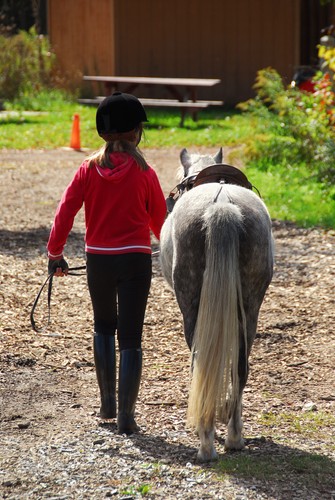 Even kids need the right gear when they are going out to ride. The right pair of boots is made to protect small ankles and keep kids' feet warm and dry no matter what the weather is like. Whether kids are hanging out in the stables or on their horses, the right footwear is necessary, just as it is with any other sport. Boots for kids come in many of the same styles as riding boots for grown-ups, such as tall, long boots, or shorter ankle boots.
Boots should be selected for durability, comfort, fit, and style. Riding boots for kids come in a variety of brands and colours, but are mostly made of sturdy leather with non-skid soles that hold up well in inclement weather. Most riding boots for kids are slip on as opposed to lace up, and they should be padded and quite comfortable. Buyers should know children's exact sizes before purchasing riding boots to ensure they fit properly, because boots stretch out a bit while they are being broken in. Find riding boots that little riders love by selecting from all of the affordable options on eBay.
Types of Kids' Riding Boots
There are special riding boots for boys and for girls, but the essential styles are really the same. The only difference is the way the boots fit. The two most popular styles of boots for both genders are short, ankle boots, which are called jodhpur boots, and taller, more traditional riding boots, which are called long boots. When selecting a boot style, it is a matter of personal preference, price, and comfort.
Boys' Riding Boots
Boys' riding boots come in three distinct styles. Of the three, lace-up boots are less common, but they can be worn for working in the stables due to the high comfort level they offer, and they are a bit more casual than other riding boot styles.
Jodhpur Boots
Boots which only come up to the ankle are called jodhpur boots. These boots offer easy, slip-on styles and a range of colours and materials. Jodhpur boots are also called stable boots, and they are perfect casual boots to wear for either stable use or for riding. Jodhpur boots offer ankle support, but do not offer the same level of leg support for the calves that taller boots offer. However, they are generally easy to put on, comfortable to wear, and stylish.
Jodhpur boots are either slid on with the aid of elastic sides, called gussets, or they offer zip-up styles. Jodhpur boots for boys are typically either black or brown and made of either real or synthetic leather or suede. They are made to accommodate boys' larger and wider legs and ankles so they fit bigger in those areas than girls' jodhpur boots.
Long Riding Boots
Long riding boots offer the optimum support and protection for young riders. When selecting a long riding boot, it is always best to opt for real materials as opposed to synthetic, which ensures the boots are long lasting as well as waterproof and supple. Real leather long boots offer everything young riders need in boots: flexibility, sturdiness, and comfort as well as elegant style.
Long riding boots do need to be cared for, and there are polishes and waxes that are made to keep long riding boots looking shiny as well as prevent and eliminate scuff marks that sometimes happen. Professional show riders usually choose long riding boots instead of paddock boots, so for young boys who are involved in competitive equestrian shows, long boots are the traditional choice.
Lace-Up Boots
Lace-up boots come in both styles, but they are not as commonly seen as slip-on or zip-up boots. However, lace-up boots are a laid back alternative to ankle boots when mucking out stables or riding casually, and some of them are quite padded and comfortable, almost like work boots of sorts. Lace-up long boots are typically only seen in competitions or shows, and are called dress boots, and these are worn by boys or girls.
Girls' Riding Boots
Girls' riding boots offer the same basic styles as boys' boots, but the fit may vary since girls have slimmer ankles and calves. Also, girls' boots tend to be curvier and made to fit more feminine frames as well as look a bit more girlish, with a wider colour selection and other options to suit girls.
Jodhpur Boots
Girls' jodhpur boots are also made of leather or suede and come in a variety of colours. Jodhpur boots are a great everyday boot for girls and are lightweight and comfortable. Jodhpur boots are a good option for growing kids because they tend to be more affordable than long riding boots, and they are also durable, even during bad weather.
Jodhpur boots are referred to as paddock or ankle boots, and go great with jodhpurs and short chaps. Kids may not wear jodhpur boots in formal settings such as shows or races, but they are the perfect practise and general, daily boot for kids to ride and much around in.
Long Riding Boots
Long riding boots for girls are lovely and classic. They offer various lengths, with some long boots going only up to mid-calf and some all the way to the knee. Many colours and materials are available as well. Leather is recommended for easy care and comfort, as well as the fact that over time the boots conform to girls' bodies, making them customised and comfortable.
A popular brand of girls' long riding boots is Toggi. Harry Hall also makes well-known riding boots for girls and boys both. Long riding boots cost more than jodhpurs, but they provide the most support of any riding boots and are also nice enough to wear to a contest or show, and not just for practise purposes. Girls' long riding boots come in dark colours such as black or brown.
Mucker Boots
Mucker boots are meant to be worn in the rain and mud. They are made of rubber, so they do not offer the support that other types of riding boots offer. They are also not made of breathable material so if they are warm outside, the child's feet may become very hot. They are meant to be worn on certain occasions when the weather is bad. Since they offer little to no support, they should be worn mostly in the stables and outdoors as opposed to actual riding, but they can be worn for riding as long as they are not worn as often, and the child has another pair of more sturdy riding boots.
A pair of muckers, also called wellies, should have non-skid soles so the child does not slip and fall while wearing them. Muckers are made for both boys and girls to wear and come in many different colours, brands, and styles.
Boot Care
When buying boots for kids, consumers should also take note of some other items that are needed to care for boots, such as wax, shoe polish, boot brushes, and soft cloths. Items to care for leather in particular should be purchased too, such as conditioner and buffing wax to create a high sheen, which is preferable for shows or competitions for the boots to look their best.
How to Buy Kids' Riding Boots on eBay
Find the perfect pair, or two, of riding boots for your child for a great price on eBay. Search for riding boots and narrow down the options to either boys' or girls' boots. You can look for boots based on the child's shoe size, a brand preference, such as Ariat or Toggi, or the style of boots you are looking for such as jodhpurs. Ensure that the boots meet all the specifications you are looking for, and ask the seller questions about the riding boots if you need to, or ask to see more images. Purchasing riding boots from a Top-rated seller should ensure that you receive excellence and satisfaction during the buying process.
Check the seller's feedback to ensure that he or she has had many happy customers before you purchase the riding boots, and always go back to leave your own feedback after the transaction is complete. This helps the seller perfect his or her own selling process and know what he or she may need to do differently, and it can help future buyers make a wise buying decision.
Conclusion
Just like golf, basketball, or football, horse riding is a sport which has its own specific equipment, including footwear. For growing kids, it is important that they have the right support and comfort in riding boots whether they are jumping their horses in competitions, having lazy rides, or mucking out the stables on rainy days. For buyers on a budget, a used pair of riding boots can also be a good way to go, and kids do grow fast, so spending a lot on riding boots for young children can be impractical for the long haul.
For buyers who live in places where it tends to rain, a pair of inexpensive mucker boots is a great option for a second pair of boots, especially for kids who love to ride no matter what the weather is, and spend a lot of time in the stables. With eBay, riding boots are so affordable that buyers may be able to buy a second or even third pair of riding boots for budding young equestrians.