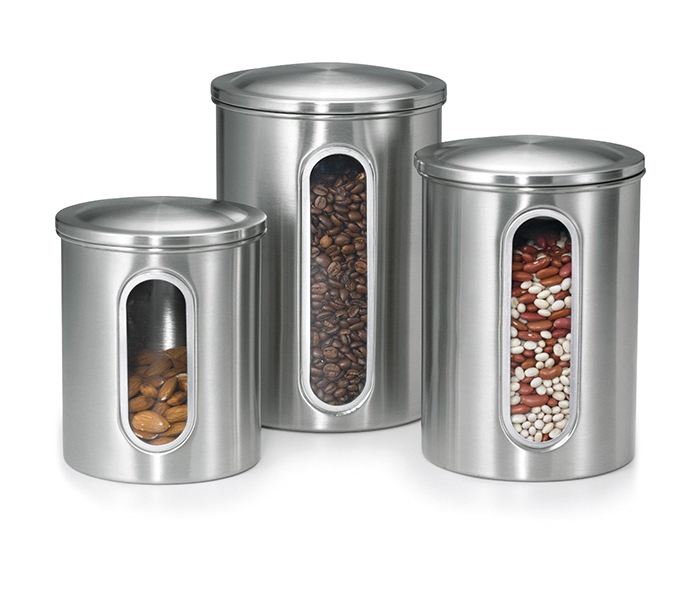 Being one of the simplest yet most effective ways of standardising kitchen storage, canisters are not only functional, they're also delightfully decorative. Individuals will often go to considerable trouble to find the best quality canisters for their kitchen, choosing styles and colours to match the type of kitchen (e.g., contemporary, or farmhouse) and the colour theme (e.g., towels, curtains and mats). They can also add a splash of vibrant colour to a dull or neutral coloured kitchen.
About Canisters
The word "canister" comes from the Latin word "canistrum", meaning basket, and the ancient Greek word "κάναστρον", meaning either wicker basket or earthenware container. It refers to what is probably the most ancient vessel for storage created by the human species. Today, it generally means any form of cylindrical container, and it is hard to imagine a kitchen which doesn't have a collection of them for storing anything from biscuits to flour to tea, coffee, sweets, sugar, rice - the list is endless. Because they've been around for rather a long time, the range of styles available is now quite astonishing, stretching from quaint floral designs for a country kitchen to plain glass, to incandescently coloured Mexican-style versions. Here is a quick guide on the different types of canister and how to buy them on eBay.
Types of Canisters
As already noted, the range of styles and colours available today is vast. Therefore, it's probably more practical to describe the different types of canister according to the materials used in their manufacture.
Glass Canisters
Perhaps the most widely used of all, glass canisters show instantly how much of the contents inside are left. They are also available in a huge range of shapes and sizes, from modestly plain cylindrical jars to vintage and ornate designs with elaborate ribbed surfaces, and from cut glass crystal designs to beautifully retro "Honey Pot" biscuit canisters, to mention but a few.
Ceramic Canisters
As with their glass counterparts, ceramic canisters come in a multitude of different shapes and sizes, from spaghetti-holders to jam pots to biscuit barrels. They're exceedingly pleasing aesthetically, whether they are simple, plain and white, boldly and vibrantly coloured, or etched with exquisitely designed scripts. In sets, they can make an eye-catchingly unifying statement about a kitchen, and they are extremely hygienic and easy to clean. From vintage to ultra-modern in design, they're an exceptionally popular choice.
Enamel Canisters
Also enormously popular and equally diverse in design and size, enamel canisters are often themed in vivid colours and make a stylish (and practical) adornment to all kitchens - modern, farmhouse or traditional. Choose from vintage/retro designs right through to state-of-the-art contemporary. In turns charming or voguish, they are all hardwearing, hygienic and highly functional.
Stainless Steel Canisters
Depending on the kitchen they're destined for, these rustproof, durable canisters can be stylishly contemporary, through to the fashionably retro designs of the 1950s and 60s. Often available in vibrant colours, many people prefer stainless steel canisters precisely because they are virtually unbreakable and exceptionally easy to clean. Also, they happen to be very pleasing on the eye. These are merely the most popular materials used in the manufacture of canisters. On eBay, canisters can also be found made out of other materials such as terracotta, earthenware, and wood
Buying Canisters with Confidence on eBay
To enter the vast auction room known as eBay and begin searching and bidding, first-time customers simply need to sign up for an eBay account. Fast, easy and secure, it's accomplished in moments simply by visiting the homepage and selecting the "Register" link. Fill in the required fields and start shopping around.
Research Before Buying or Bidding
People often come to eBay with very specific ideas in mind about the design, style, and condition of the product they are searching for. In fact, it's a good idea to write down a checklist of "must have" features for the sought after item because eBay has all the tools to help visitors thoroughly research the product to their precise specifications by using the categories that appear on the left hand side of the page. Simply click the various categories - canisters, remember, come in a veritable kaleidoscope of different styles, designs, colours, and sizes. The categories help narrow the search down to exactly the kind of canister the bidder has in mind, so that customers are spared the chore of wading through thousands of images that aren't remotely like the item they want. It's also possible to check that the seller is asking a reasonable market price for the item - no one wants to begin bidding at a ridiculously inflated price, and both sellers and consumers soon discover this when they become used to eBay.
Don't be Afraid to Ask
Once customers have found the product they are looking for, it's not at all uncommon for them to want to know more. The details included on the eBay listings pages are fairly abbreviated and give a basic description only. Thankfully, potential bidders can find out everything they need to know before making a bid simply by clicking the "ask a question" button on the listing page. This enables prospective bidders to ask the seller any questions they wish to have answered before proceeding to auction. In fact, it's quite customary on eBay to do this because its suits the interests of buyers and vendors alike - no one wants to end up with a product that fails miserably to live up to expectations, and sellers don't want to find items returned to them with requests for refunds from disappointed customers.
What's the Seller's eBay Reputation?
Beside the seller's name on the listing page, there is a number in parentheses. This represents the total number of feedback comments from previous customers. Click on it, and all the feedback comments come up, ensuring that potential bidders have a good idea of how reliable the seller has been to date
Look Out For Top-Rated Sellers
The most experienced eBay sellers who have successfully completed the most transactions and have always resolved customer issues quickly and efficiently get awarded the eBay equivalent of the quality "kite mark" - the "Top-rated seller" icon (a gold rosette). Bidders seeing this symbol can rest assured they're dealing with a seller who has established the highest level of repute.
How to Keep Bids Realistic
Newcomers to eBay may be wary about bidding and how it works on the site. Happily, with its automated bidding technology, eBay ensures that no one is tempted to spend above a predetermined upper limit on a bid. Sellers often place items for sale with a reserve price attached - the minimum value they are willing to consider bids on. To ensure a customer maintains an optimal position and shows the seller that he or she is sustaining interest in the product, eBay automatically increases the value of the bid as other bidders notch the value up. This carries on until the auction closes, provided the bidder has set a maximum limit (don't forget to take into consideration additional costs for the item when doing this, like postage and packaging or delivery fees). If other bids exceed the customer's upper limit, eBay stops bidding any further. It's also worth looking for an item using the "Buy it Now" or "Best Offer" options on eBay.
Find Canisters On eBay
Although it's easy to simply enter the word Canister into the eBay search box, it may be not be the best way of finding a particular style or design. Narrowing the search process down is easy to do on eBay. Simply find the All Categories tab next to the search box, scroll through the drop down menu and select Home, Furniture & DIY. Click Search and look at the list of categories on the left of the new page. Select the Food & Kitchen Storage link, then select Canisters & Jars. eBay's entire range of canisters will appear. But this can be refined according to the list of features and categories on theft of the page. Just tick boxes under the various headings to refine the search. Categories include characteristics like Material, Style, Condition, Price, Brand, Colour and so on. Customers can also select whether they want products from the UK only, or whether they are willing to go further afield (EU or Worldwide). It's even possible to be specific about the seller's distance from the bidder's home and the type of seller (e.g.private, business or Top-rated).
Conclusion
Despite the fact that there are enough designs, sizes, materials, and colours to send a one's head into a spin, eBay simplifies and streamlines the business of searching for canisters, allowing customers to pinpoint the item they're most interested in, from the exhilaratingly retro to the coolest of contemporary designs. Try looking for Canisters by celebrity chefs such as Jamie Oliver and James Martin for up to date designs.