Breathing new life into your kitchen needn't mean ripping out the whole thing. A new set of chairs could mean an instant uplift. Here are ten of the best tips to inspire you.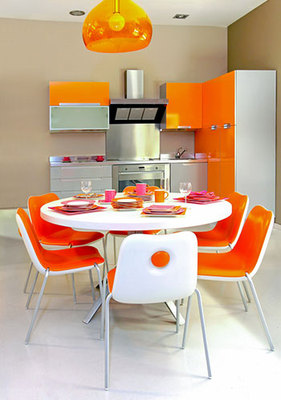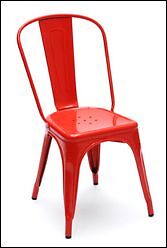 If you think retro chic and industrial design don't go together, then check out the Model A chair by Tolix. Constructed from galvanised sheet metal, it is rustproof, lightweight, sturdy and stackable, and perfect for creating a raw look in your kitchen, particularly if you team it up with a low-hanging Coolie light shade. You can pick up replica Tolix-style chairs for a fraction of the cost of the real thing.

Go for it if: you want a dash of Parisian street café culture in your kitchen without the accompanying hustle and bustle.
---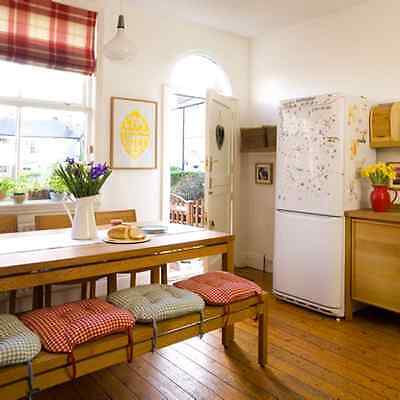 Nothing beats a communal meal at the end of a hard day's work, so how about a set of chunky wooden kitchen benches? They can give your kitchen a hearty, rustic air, and they often take on a pleasing, characterful look as they start to wear. You could attach a long, leather cushion or custom-covered padding to the top for extra comfort.

Go for it if: you have a large family or a group of friendly flatmates; it'll bring you a little closer together.
---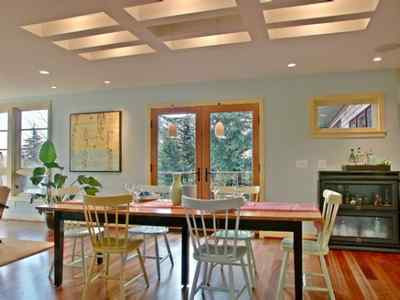 Bored with your current kitchen chairs? Then why not brighten up breakfast time with some easily applied rainbow colours? Pick some bright pastel blues, pinks, yellows and greens and give those chairs a multi-coloured makeover. If you don't own anything suitable, plain wooden chairs can easily be found and are ripe for your paintbrush.

Go for it if: you want to start your day with a smile.
---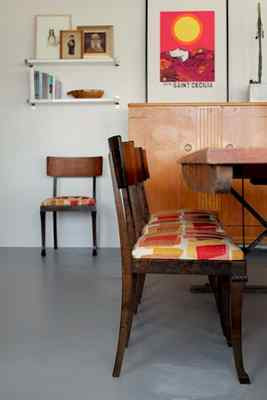 It's always hard to say goodbye to a favourite, comfy chair. It might look great but it's a real pain to sit on, so an alternative to junking it is reupholstering it. With a bit of foam cushioning and some well-chosen fabric, you can feel at ease again while you sit. Use hard-to-find vintage fabrics to give your kitchen a one-off look.

Go for it if: you want to save money as well as a much-loved chair.
---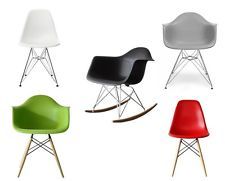 Wipe-clean, often stackable, light and durable – oh, and stylish too – plastic chairs for your kitchen needn't be flimsy eyesores. A Philippe Starck Louis Ghost-style chair will bring some baroque hotel glamour to your kitchen, while the classic 1960s Tulip design is an all-in-one tub chair that will look stunning in a white dining space.

Go for it if: retro-futuristic seating with a science fiction twist is your thing.
---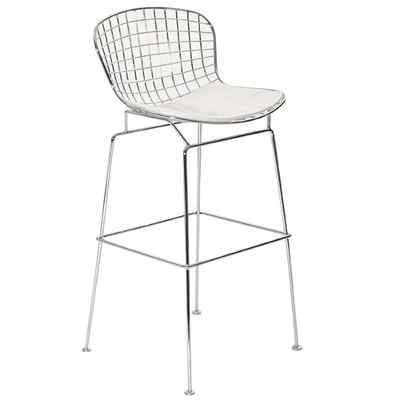 If you have a breakfast bar installed, a set of cool stools could make a real statement, since they'll often be on show instead of hidden under a table. A wire-framed bar stool or classic General Store stool will spark conversation well before anybody gets a chance to sit on them.

Go for it if: you're after a stylish, knockabout seat that's versatile enough for breakfast and bar snacks.
---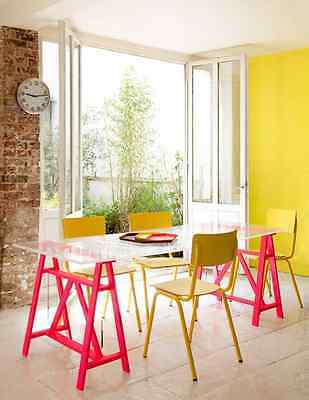 If you have some random, unused stools and chairs lying around the house, use vibrant neon colours to bring them back to life and spark up your kitchen in the process. Pinks, oranges, yellows and greens will work especially well in white or grey kitchens; in one stroke you'll put a bit of fizz back. Be careful not to overdo it – one or two pieces is enough to give the desired impact.

Go for it if: tired old chairs need to be jolted out of their dusty corners.
---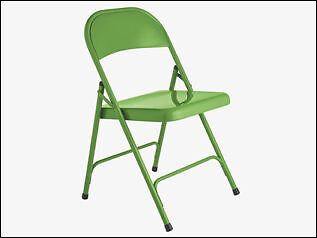 Folding chairs can look clunky and cheap, but they don't have to. Take the Macadam chair, sold by furniture company Habitat since the 1970s. Simple in design, the metal frame comes in a variety of happy colours – you could try a number of chairs in different hues – and it can be folded flat and stored out of the way until the next big gathering.

Go for it if: you want style without sacrificing the space.
---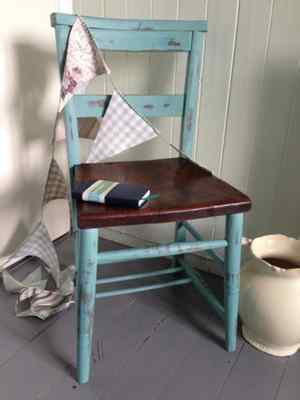 If the thought of metal and plastic seating has you coughing into your Royal Crown Derby teacup, a homely, country kitchen chair might ease your shock. Its spindle-back design and traditional simplicity will be right at home next to a wood-burning stove and handsome Welsh dresser.

Go for it if: you long for the crow of a cockerel to replace your morning electronic alarm call.
---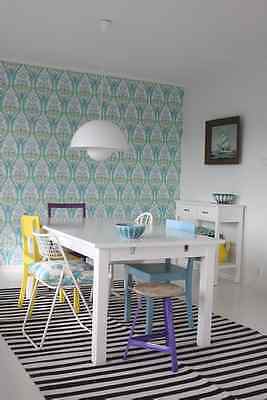 Still not made up your mind? Then how about a bit of everything? Jumble up your style with chairs of all types: modernist, vintage, wood, metal. Eclecticism never gets old, and if one chair gets damaged beyond repair you can simply get a different one without worrying about whether it matches.

Go for it if: you have enough space in your kitchen – it might look a bit cramped and cluttered otherwise.
---