Normally replacing kitchen hinges is a fairly straight forward affair. Most British manufacturers stick to a British standard 35mm hole in the door fascia, and twin M4 holes in the carcass. If your kitchen is from one of the high street names (other than IKEA) then you should have no problem replacing hinges.
An example for 100 degree hinges is set out below.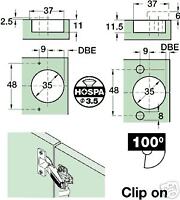 The problem comes sometimes with foreign kitchens sold in this country as they do not work to a British Standard and this is no world standard. Some foreign manufacturers deliberately adopt their own specifically to make you buy their own over priced products.
These hinges can be made to fit with a little drilling and adjustment, but be warned you must be absolutely spot on or difficulties with opening doors and aligning them correclty can occur. You will also need a special kitchen hinge 35mm hole saw to cut out the holes in the door fascia, and this is also a tricky operation to get exactly in the right place and square.
If in doubt buy just one hinge and try it. It is above a 90% chance it will fit. If the new hinge doesn't fit then seriously consider seeking professional advice unless you are an accomplished joiner / cabinet maker etc...