Easy Instructions
You can express various creativity with different colors, image plates and positions.
Please keep in mind, do all actions quickly before polish on the plate dries.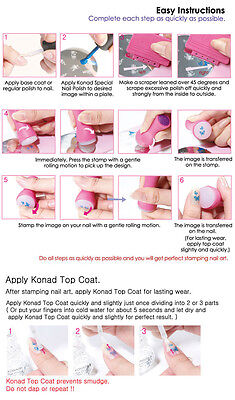 Stamping Nail Art Tips & Recommendations
- Use the same procedure to apply designs to other objects.
- Use the special nail polish for stamping art only.
- Use any clear or color base coat before stamping to fill ridges on natural nails.
- Hand lotion, some of regular pearl polishes and oily nails could make your nails be oily and it could be the reason not to make images on the nails. So before you do stamping nail art clean your nails with polish remover.
- If image plate is covered with plastic, remove it.