We now supply a great range of 12 and 24 volt LED marker lights and lamps. In a great range of Amber, Red and White clear lenses and with either black or chrome surrounds. This a new range and is an excellent quality product and a very afforable price compared to its competitors.
Most of our items come the relevant technical details i.e. amp draw, voltage draw, number led's per units, items included i.e. length of cable etc.
Also availble are flashing units for use by recovery companies, traffic management units etc...for warning other road users of their presence. A control unit for using these lights is also available meaning that you can use several of these at once and control the beat rate from side to side and speed control.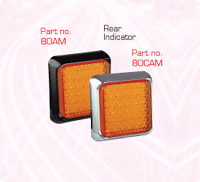 For more details and information on this product please see here