Loving & Caring For Your Leather Jacket
Leather is an expensive material and for this reason extra care should be taken to ensure your leather jacket looks its best all year round. Leather is animal skin and you should treat it as you would your own skin. It requires moisture to maintain its supple richness. MDK has listed below a series of tips to help you ensure that this is the case.
First & foremost, always check the care label (manufacturer's instructions) located on the
inside of your garment before you undertake any cleaning process.
Apply a small amount of special leather cleaner (foam) directly onto the area of the leather garment you wish to clean.
Use a dry clean cleaning cloth and lightly scrub until all the foam has disappeared then use the other side of the cleaning cloth and scrub the same area with the dry side. If in doubt we recommend to take your leather garment to a specialist leather cleaner. Usually your leather jacket will only get better with time as the natural skin continues its character further due to its natural properties.
Use wide, padded hangers to hang your jacket so the leather does not lose its shape.
Naturally, wrinkles will drop from your garment this way, if there are any.
Do not store your leather garment in plastic bags or other nonporous covers.
Instead use a breathable garment bag or leave it out in the open for ventilation.
In the event your leather jacket becomes wet let it air dry naturally. Do not use any sort of heat dryer or vents during the drying process.
This will avoid "over-drying" your leather jacket to the extent that cracks appear as a lot of the moisture in the leather's skin is depleted
(you do not want this to happen).
Remove stains from your leather jacket as soon as you see them by wiping it gently with a damp sponge and letting it air dry.
Excessive humidity damages leather jackets. Do not let your garment stay in such environments for too long.
Do not use any cleaners you may have at home on your leather jackets. Only use cleaning products specific to your leather garment.
An easy way to clean your leather jacket at home:
Use a rough towel and gently scrub off any dirt on you can see on your leather jacket.
Wipe down the jacket using baby wipes. These are made so as to gently care for a baby's skin which is why it is also good to use on animal skin.
Use a soft, absorbent towel to polish and shine your leather jacket.
Written by Executive Tea Server (June 2012)
MDK Mens Jordan Retro Genuine Leather Vintage Style Bikers White Stripes Jacket
---
MDK Womens Stella High Quality Waxed Asymmetric Front Zip Bikers Jacket Black
---
MDK Mens Derek Genuine Stylish Real Leather Bikers Jacket Black S-3XL
Stylish Real Leather jacket featuring stand collar with Zip Fastening, creatively designed panelling to front; back and sleeve, two zipped flap patch pockets to chest, two welt pockets and front zip closure.
Vintage Look

Front Zip

Pockets
---
MDK Hazel Womens Ladies Napa Real Leather Bikers Black Jacket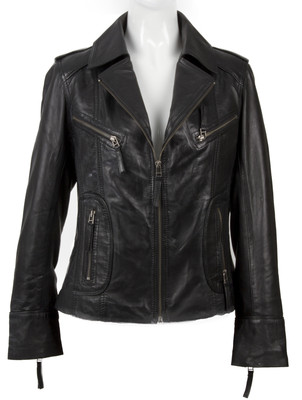 Product description.
Biker inspired jacket crafted in soft Sheep Napa leather, featuring notched lapels, zip through front closure, creatively designed panelling with decorative topstitching, piping detail to front shoulder panel; back yoke and back waist panel, epaulette to shoulder, two zipped slanted pockets with stitch detail to chest, two zipped patch pockets with piping detail to waist, piping detail to cuff with zip fastening, striped lining with two inside pockets.
---
Pro-speed 100% Lightweight Waterproof Sport Racing Motorcycle Biker Boots
Latex Foam Paddling Provide Greater Comfort
External Protection for Gear Shifting
Internal Polyurethane Ankle Protection
Adjustable Velcro Closer
Memory Foam
Air mesh Lining
Velcro & Zip Closure
Membrane 100% Waterproof
TPU Moulded Protection Panels
Internal Protections in the Fingers and Heels
Light Weight
Anti Slippery Oil/ Rubber Sole
Stainless Steel Toe Sensor
Anti Bacterial Replaceable Footbed
TPU Duel Flex Midsole
Made in Neutral Leather
High Abrasion Resistance
---