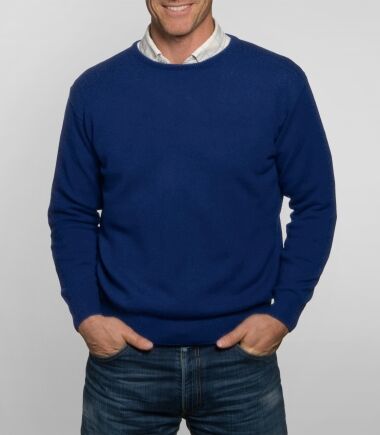 The heritage and history of golf is inherent in the clothing that accompanies the sport. A golf jumper is as much about the clothing heritage of golf as it is ensuring warmth on the course. There are plenty of lambswool golf jumpers available to browse on eBay.
Golf Clothing History
Golf originated from Scotland, where the Royal and Ancient Golf Club of St Andrews remains the home of the sport. The Scottish shepherds who invented the game probably wore attire such as animal pelts and skins for warmth on the Scottish hills. Once the nobility began to play golf, the fashions changed to reflect the attire of the noble classes. Modern golfers wear clothing that enables them to play the game with enough flexibility and movement in clothing whilst staying at a suitable temperature to enjoy the game.
Golf clothing consists of a variety of garments specifically intended to be worn whilst playing golf, and each item of clothing has different properties designed to make play easy, comfortable and stylish. Golf trousers, socks, golf polo t-shirts, shoes and jumpers are all part of the golfing wardrobe and vary according to personal tastes and budget. Fabric plays a major part in the golfing wardrobe, as golfers need to ensure their body temperatures are regulated and that comfort is maintained whilst playing a long game of golf.
Lambswool sweatersare a staple part of the golfing wardrobe due to the properties of the wool itself. They can be found on eBay in the golf clothing section.
The Properties of Wool
Wool has the ability to regulate the body at an even temperature since it does not trap heat. It insulates instead, thus keeping the wearer cool in hot weather and warm in cold weather.
Wool clothing does not cling to the skin like synthetic clothing. This allows the air to circulate next to the skin and is part of both the insulation benefits and comfort of wearing wool as a natural fibre.
Wool readily absorbs and releases water. This prevents moisture being trapped against the skin.
Wool is extremely strong and durable. The fibres are strong and will hold together throughout many uses, making for long lasting garments.
Wool readily accepts dye colors, since due to the natural off-white colour of raw wool, it can be easily dyed with vibrant colours.
Choosing a lambswool golf jumper is an investment in a quality garment that will provide comfort over a long period of time. Lambswool golf jumpers are practical, classic and the preferred choice of the gentry and noble classes who played golf in the exposed hills of Scotland. Golf jumpers are designed to allow the golfer to swing their clubs comfortably whilst staying warm and comfortable. eBayhas a wide range of lambswool golf jumpers in a range of budgets and styles.
Styles of Lambswool Golf Jumpers
Lambswool golf jumpers come in a range of designs and styles.
| | |
| --- | --- |
| Seamless V-neck Golf Vests | Seamless golf vests are ideal for times of the year when the seasons and temperature can be changeable. By insulating the central part of the body they allow for the arms to be less covered and for temperature to be regulated between changing weather conditions such as in spring or autumn. |
| Zipped Jumpers | Zipped jumpers feature a central zip down the front of the jumper, and can be easily removed on the golf course. |
| Long Sleeved Jumpers | Long-sleeved jumpers are perfect for colder months when a layer of warmth is needed at all time. The majority of lambswool golf jumpers are long sleeved. |
| Argyle Jumpers | Argyle jumpers are commonly associated with golf. "Argyll' refers to the diamond lozenge pattern, and is derived from the tartan of the Campbell Clan of Argyll in Scotland. Argyle knitwear became fashionable in the UK and the USA after the first world war; Pringle of Scotland made the design iconic within fashionable society. It was notably adopted by the Duke of Windsor who wore the pattern on his golf jumpers and long socks. The association between the Argyle pattern and golf have been firmly in place ever since. |
Fabric Care of Lambswool
To ensure that a lambswool jumper lasts for many years, proper care must be taken of the fabric. A common mistake with woollen garments is to wash at temperatures too high for the wool, which causes it to shrink and for the fibres to adhere together in a felting process.
Detergents

Lambswool is a natural fibre and despite durability can be fragile in nature when paired with washing solutions designed for modern synthetic fabrics.
Biological detergents should be avoided, as they contain enzymes which destroy the structure of the wool fibres and may lead to holes in a garment.
Bleaches and bleach activator solutions should also be avoided; since these are of an oxidative nature they can also be reductive and too harsh for natural fibres such as wool.
There are several products available specifically for hand-washing woollen items, or a homemade solution can be made with a small amount of laundry soap, castille soap or hand soap and water. Optionally, a drop of essential oil such as lavender can be used.

Airing and Spot Cleaning

Woollen items can be aired in between being worn, and do not necessarily need to be washed as often as other garments.
They can be aired, or also spot cleaning is a possibility to prolong the life of a sweater.

Handwashing

Be sure to use the correct product.
Dissolve the cleaner in water first to minimise agitation of the fabric by dissolving in hot water.
Add a similar amount of cold water to reduce the temperature of the solution in preparation for the wool.
Simply soak and gently push the garment in and out of the water.
Avoid rubbing the wool against itself as felting will occur. The aim is to use the water to rinse the dirt out of the fabric.

Machine Washing

Machine wash with caution.
Ensure the woollen cycle does not agitate the fabric too much or shrinking and felting will occur.

Drying

Use a towel to gently remove excess water after removal from the sink or machine.
Lay flat to dry.
Re-shape while still damp.
Choice of Size
Different brands and manufacturers will have slightly differing sizing of their jumpers.
Be careful to read any reviews on the particular brand with guidance to sizing.
Golf jumpers need to fit so that the player is kept warm but able to swing the club on the pitch.
When buying on eBay, ask the seller of an item for more information on the measurements and size of the garment if required.
Look for information from the brand and reviews for information on the sizing of the jumper.
Buying a Pre-Worn Jumper
Woollen jumpers usually have a long life, but it's worth considering the following factors when purchasing a pre-worn lambswool golf jumper:
A garment may become misshapen over time when washed or from being stretched during use. If watching an item on eBay ask the seller for any extra details that may be unclear.
Check for any holes in the garment. There may be holes from use or from washing that has caused damage to the fibres of the wool.
Check information carefully for older garments or vintage woollen jumpers, since sizing can differ between older apparel and more recently made jumpers.
Although a jumper may be labeled as a certain size, it's always wise to check the measurements are indicated in case the jumper has changed size from washing care.
How to Buy a Lambswool Jumper on eBay
eBay sellers offer many lambswool golf jumpers in a range of designs and sizes for both men and women. The eBay marketplace is full of sellers renowned for their competitive pricing and wide range of products alongside flexible payment options available by buying on eBay. To search for golf jumpers, type in specific searches directly into the search feature on the homepage of the website. When searching through listings, carefully review all the data. Make sure the item matches the product required. Look over the photographs a couple times, and feel free to ask the Seller a question. When ready to buy, either place a Bid, Buy it Now, or put down a Best Offer. Buying with PayPal will ensure the transaction will go smoothly. eBay users are protected by the Buyer Protection Program.
Conclusion
Golf jumpers come in a variety of sizes and designs, and require specific washing care. Whether buying new or pre-worn, there are many jumpers available to buy on eBay simply and easily to suit a variety of budgets, sizes, and in many different designs and colours. The style will depend on personal choice for ease of wearing, weather conditions and of course personal taste and design.