*LANCOME FACE CREAMS*
PLEASE READ THIS GUIDE IT MAY SAVE YOU SOME MONEY AND YOUR LOOKS TOO
The reason why I have decided to write this guide is to make buyers aware that there are some potentially dangerous creams that are sold on here as authentic!My workmates and my sister have bought these so called "GENUINE"BNIB Lancome creams hence this guide.
1)All Lancome products ALWAYS have BATCH NUMBER STAMPED somewhere on the actual BOX and the jar,the batch code consists of series of letters and numbers for example CA286.This is to identify the product in case of any problems( allergic reaction from customer etc.Even the GWP/TRAVEL size creams have the batch number!
2)The HYDRA ZEN,which my workmate bought was the worst copy I have ever seen.The INFO LEAFLET had spelling mistakes,was dirty and the PRINT was very SMUDGED.Quality of the paper that was printed on was very poor too!
3)Fakes texture is never like the authentic Lancome cream.The PRIMORDIALE and ABSOLUE BX,that my sister got was very runny in texture. It is very hard to tell from just looking at the photo if it is a fake or not.The only way YOU can be sure is TO take it to your nearest department store and have a good sniff ,try the product on your hand to COMPERE IT to the one you bought.PLEASE do this BEFORE you USE the cream on your FACE!
4)The fakes outer packaging is of very POOR QUALITY.IE:THE foil wrapping appears to be very thin.The actual paper that the BOX was made of was again of poor quality.AUTHENTIC Lancome,BOX when you remove the plastic foil has almost silky feel to it.The COUNTERFEITS foil wrapping felt very thin under my fingers!Also the LANCOME ROSE LOGO on the AUTHENTIC BOX you can almost feel the contours of the ROSE!On FAKES it feels sort of flat under your fingers!The WORSE was the SPELLING MISTAKE !Obviously the forgers being from parts where english/french is not their language manufactured the whole batch of boxes and jars with that spelling error! Please know this Lancome is very reputable company and they would NOT allow ANY product to be sold to general public if it had spelling mistake!
5)Counterfeits actual writing on the JAR is EASILY SMUDGED!The actual LID with the older types of Lancome cream came apart in my sister hands!The LANCOME FAMOUS LOGO the ROSE ,looked very smudged and when rubbed it seemed to totally disappear! On the authentic one you can RUB as much as you want and the writing will NOT be smudged!
6)SMELL! Fakes NEVER EVER SMELL like the real McCoy!The ones my sister bought smelt NOTHING LIKE the authentic Lancome ABSOLUE BX!.The fake ONES smelt faintly of cheap baby lotion!AUTHENTIC Lancome ABSOLUE BX,has very FAINT smell that I would describe as slightely lemony.FAKE ABSOLUE PREMIUM BX,also had weird colour which was pure white!Authentic HYDRA ZEN,(normal skin )day cream smells like dewy roses.The genuine PRIMORDIALE OPTIMUM is very pale,pale pink in colour! My sister bought all these 3 FAKES mentioned ABOVE and they all LOOKED,SMELLED the SAME!As above PLEASE go to your nearest department store or Boots ,the chemist has Lancome counter and test it against the one you suspect is counterfeit!
7)The best way if you want to buy one of these creams is to purchase them in the GWP/TRAVEL size.These are handy especially if you go away to hot climes.I use the Primordiale both versions,and the little GWP size lasted me (with daily use)for over 3 weeks!
IF THE PRICE IS TOO GOOD TO BE TRUE THAN BEWARE...LQQK @THE sellers feedback to see what comments others left .Lancome does not sell seconds ,poor quality creams to the GENERAL public.ASK prior to the purchase for the BATCH NUMBER!Genuine sellers will always find time to provide this INFO for you.
I actually came across this FEEDBACK recently which is very disturbing!
Seller offered refund for cream with mould/bacteria on it but no refund received!!!
BNIB Lancome Absolue Replenishing Cream SPF 15 50ml :200220033956
I'm certain this is a fake product. Packaging texture of cream is wrong
NEW LANCOME ABSOLUE YEUX EYE CREAM 15ml BNIB :260233460763
YUKKK that's all i can say!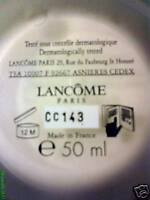 above genuine Lancome Cream Batch code clearly etched onto the sticker


This last one packaging is very cheaply made!Too shiny box,cheap ,thin foil wrap!NO BATCH NUMBER ANYWHERE ON THE BOX/JAR!
300234001708
SPELLING MISTAKE ON THIS BOX IT SHOULD SAY " SOIN DE NUIT UNDER THE NEUROCALM,BUT IT SAYS "SOIN DE "NUIR"!Such obvious fake!It says made in France..most likely China or who knows where!
Lastly I have not written this guide to upset genuine sellers.Genuine seller would NOT sell YOU some counterfeit cosmetics that could possibly harm you.These creams have some NASTY,UNTESTED INGREDIENTS and usually involve the use of child labour too!!Trademarks,copyright theft are all illegal too!
Thank you for taking time to read this guide and please don't forget to vote.Happy ebaying
Chiara
PS.Just a quick update I asked one seller for the batch number of the Primordiale creams that she is selling ...her reply "Im selling these for someone else ..is there a reason why you asking this "?GENUINE seller would be willing to give YOU info to help you with the purchase !If in doubt don't buy!