Camel Trophy 1990-1997
This is one of many illustrated classic car guides I've created for the community. I hope you enjoy it and if you would like to find out more about the classic Land Rover Discovery art featured in this guide please click here.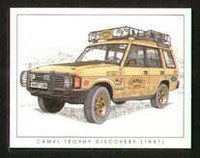 From 1981, Land Rover provided the vehicles for the Camel Trophy, an annual competitive adventure-safari run in exotic and remote territories with teams from a wide variety of nations. Usually the Landrover product used by the te4ams was the one most recently introduced, with the Discovery making its first appearance in 1990.
If you would like to see more guides on Land Rover Discovery please click!
Thank you for reading my guide and I hope you found it interesting!