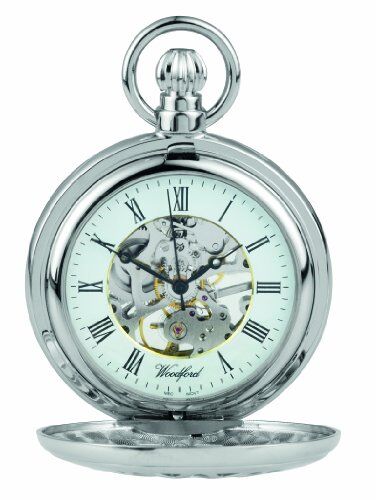 Many people think of the large pocket watch as a historical accessory that has no place in the modern world. For several years, it remained relegated to collectors and history buffs but it is now seeing a comeback as a useful tool and nostalgic device. Pocket watches make unique gifts and can be used in a variety of ways. Whether for wearing with overalls to tailored suits, by men or women, pocket watches are making a comeback.
Large pocket watches can be purchased at several different locations, including jewellers, estate sales, pawn shops, specialty stores, some regular retail stores, and private sellers. The online marketplace and auction sites such as eBay are also convenient places to search for the ideal watch among thousands of private and commercial sellers.
For those who are considering purchasing a pocket watch, there are a few things to learn to ensure only the best quality is obtained. There are many designs, types, and movements to choose from, as well as styles to fit the buyer's personal taste and preferences.
History of Pocket Watches
Pocket watches of all shapes and sizes have long held a place of respect and nostalgia in history. They have been worn by both famous and infamous historical figures, graced notorious events, and have appeared in the modern world on celebrities, politicians, and laymen alike.
Originating in the 16th century as pendant-like accoutrements worn around the neck, pocket watches did not become the popular accessory known today until the 17th century. At that time, the oversized pendant watch shrank and was put on a chain that could be placed in a pocket. This was also when watches were becoming more reliable.
These early pocket watches were expensive to manufacture. They contained tiny gears, painstakingly handcrafted by early jewellers known as movements. Due to the expense, only the very rich could originally afford to own a pocket watch. This lent an aura of sophistication to those who used pocket watches, which carried down throughout history, even to modern times.
How Large Pocket Watches Are Secured
Pocket watches are secured to their wearers by a long chain to prevent accidental loss or theft. There are three different types of watch chains that can be acquired.
Belt Chains
Belt chain pocket watches contain a clip that attaches to a belt to secure the chain. The chain itself is long enough to enable the wearer to slip the watch into a trouser pocket.
Buttonhole Chains
A large pocket watch with a buttonhole chain is the classic version referred to in many movies and pictures. Buttonhole chains attach to a button on the shirt, allowing the pocket watch to dangle from the button. It is secured when the button is pushed through its hole.
T-bar Chains
T-bar pocket watch chains function much the same way buttonhole chains do with the exception of a flat, T-shaped piece that fits through a buttonhole. Securing the watch without having to button the shirt, this is a popular choice amongst those who wear vests since the pocket watch can be tucked into a vest pocket, along with the chain.
Fob Chains
The fob chain does not attach to its wearer in any way but is meant entirely for decorative purposes. As with the other chains, one end is fastened to the pocket watch. The other end contains a fob or decorative end. The wearer tucks the watch into a pocket and allows the fob to dangle outside the pocket for display.
Chain Type

Use

Belt

Clip fastener

Attaches to belt

Long chain for pocket storage

Buttonhole

Loops through buttonhole

Attaches to shirt

Average chain for vest storage

T-bar

Flat t-bar "hook"

Loops through buttonhole

Average chain for vest storage

Fob

No fastener

Decorative chain

Dangles from pocket
Buyers should consider how they intend to use the pocket watch. This can help them determine which chain is most appropriate.
Pocket Watch Designs
Buyers may choose from one of two pocket watch designs: open face and hunter case. An open face pocket watch offers no outer cover to protect the transparent, crystal watch face. This enables wearers to quickly read the time but, without a cover, they are more susceptible to damage and accidents. The chain stem is located above the 12 o'clock position.
A hunter case pocket watch is also known as a savonette pocket watch. This has a shell on a hinge that covers the watch face. When the wearer wishes to read the time, he opens the cover via a spring-release mechanism located at the crown of the watch. A hunter case pocket watch tends to receive fewer scratches and wear due to its protective cover. The chain stem on this pocket watch is located at the three o'clock position.
Buyers looking for something extra should look for modern pocket watches that feature glow-in-the-dark watch face displays or military time displays.
Selecting a Pocket Watch
Buyers have many choices when choosing the ideal pocket watch. In many ways, it is much like selecting a piece of fine jewellery. Unlike jewellery, however, a pocket watch is meant for everyday use, so it should be durable and able to withstand daily wear and tear.
Stainless steel cases are the most common, since they tend to be the most durable and tarnish-resistant. Gold is also a good choice to avoid tarnishing but, being a softer metal, can bend or show tiny scratches. Silver has the tendency to tarnish quickly and easily but is scratch-resistant. Buyers should consider how and where the pocket watch is to be used to choose the best case material.
Durability
Another consideration that buyers should be aware of is the durability of the crystal watch face. Synthetic sapphire crystals are the best choice for scratch and shatter resistance but it is expensive. Another acceptable choice that isn't as durable as the sapphire crystals are acrylic crystals. Acrylic crystals do not shatter easily but they can receive scratches.
Most pocket watches are water resistant up to 100 feet, which should suit most buyers as this is more than enough for the average user.
Buying a Large Pocket Watch on eBay
Buying a large pocket watch on eBay is effortless thanks to the tools eBay makes available to all buyers. If you already know what you would like to search for, simply enter the keywords into the search field that is located on every eBay page. For example, if you want to view those listings that include gold pocket watches of a certain size, enter "large gold pocket watch&" into the search field. Depending on the search term and how common it is, you may receive thousands of results. eBay features convenient search tools to make it easy to sift through these listings quickly and efficiently. You can use any of the category or organisational filters to narrow your search results to a manageable number.
Once you have found a few pocket watches you may be interested in, click on the title or picture to be taken to the product page. This is where buyers can read a full product description of the watch, check its condition, and view pictures of the product. Occasionally sellers may also list bundle deals here, which typically provide reduced shipping costs if more than one item is purchased from the same seller.
To find out more about the seller, buyers should click on his or her name to be taken to the seller's profile page to view other customers' feedback, the seller's location, and his or her selling history on eBay. You can also contact the seller with any questions you may have.
Conclusion
The history of the large pocket watch known by many is especially useful knowledge when looking for the ideal gift or personal tool. Buyers should consider where they plan to wear the watch and for how long since these answers help determine what type of pocket watch should be purchased. All pocket watches are secured to a pocket or button hole by a chain, which is meant to be draped for easy access, as well as a fashionable look.
When a buyer has chosen the pocket watch they would like to purchase, it is time to begin shopping. Pocket watches can be found at jewellery stores, estate sales, pawn shops, private sellers, and from online marketplaces and auction sites like eBay. Featuring thousands of used and new listing from both private and commercial sellers, eBay makes it easy to find exactly what a buyer is looking for. If the search results return too many choices, buyers have the option of narrowing the listings for a more precise shopping experience.
Each listing has its own product page which buyers can visit in order to view the product description and the condition of the item. They can also look at pictures, ask the seller questions, or learn about any applicable shipping charges. Using all of these available tools, buyers are assured of finding the ideal large pocket watch.