Latest Blackberry Buzz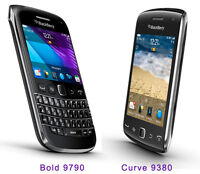 The latest Blackberry buzz has set the hearts of many of its lovers aflutter. Its much awaited models Blackberry Curve 9380 and Bold 9790 are to be launched very soon.
Both mobile phones are set to display the pride of BlackBerry 7 OS and will also support Near Field Communication (NFC). NFC allows users to read smart tags on signs and posters, and connect with other NFC enabled devices — all with a simple tap.The 9380 model is the first full touch screen in the curve range. It follows RIM's previously revolutionary touch models like the Storm and Storm 2 and the Torch 9850/60.

The Curve 9380 offers a 3.2-inch with a surprisingly low 360×480 pixel resolution, an 806MHz processor, 512MB RAM, 5MP rear camera with LED flash, 802.11 b/g/n Wi-Fi, HSPA connectivity, and microSD expansion. However,the Bold 9790 features a more powerful 1GHz Marvell Tavor MG1 chip, 768MB RAM, 8GB of internal storage, the same 5MP shooter, 802.11 a/b/g/n Wi-Fi, and a 2.45-inch 640×480 touchscreen display.Despite having a 2.44 inch, the Bold 9790 will feature a touchscreen interface which makes it similar to the Nokia E6 that has 2.46 inch touchscreen and also to the

BlackBerry Bold 9780 with 2.44 inch display. The 9380 smartphone also offers BlackBerry's Social Feeds bonanza. With this feature, you can update your social networks at once, and new messages from your friends pop up at the top of the screen so you can check them quickly and easily.However, according to certain market sources, Curve 9380 is the watered down version of Torch 9860,the handset which failed to carve a niche for itself in the market.
For latest Accessories Please visit http://stores.ebay.co.uk/Cyber-World-UK-LTD