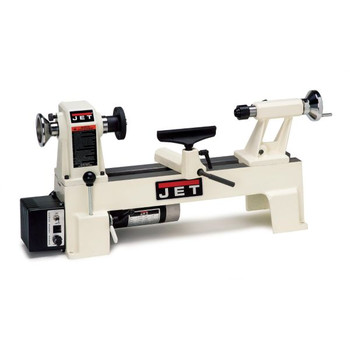 For professional metalworkers, lathes are one of the most essential staples of the trade. There are different kinds of lathes, varying by size, operation, and features. As a professional, it is important to purchase a lathe that yields beautiful results while still being comfortable and safe to use. When looking for the right lathe for a workshop, it is important to consider several factors, including budget, functionality, and necessary accessories. Lathes are large investments for a metalworker because various accessories and attachments are needed in order to have a capable workroom.
Lathes and their necessary attachments can be purchased in brick and mortar stores where tools are sold, such as home improvement and some hardware stores. Alternatively, buyers can shop online at sites like eBay. Used lathes are also available for purchase online, and they tend to be inexpensive alternatives to investing in brand-new models. Whatever one's specialty, be it metal works of art or metal doorknobs, there is a lathe for every metalworker's needs.
What Is a Lathe?
A lathe is a rotational machine that uses drill bits to remove layers from a metal object's surface to create patterns and shapes. Lathes are also used in shaping wooden objects, as well. Workpieces of all shapes and sizes can be crafted with the help of a lathe. Workpieces are either rotated or held in place while the different drill bits cut into the metal surface.
There are two main categories of lathes: manual and computer numerical control-operated machines. The computer numerical control lathes offer metalworkers more functionality and capabilities when working with metals because operation is more precise and quick. There are various kinds of lathes that offer different capabilities, from multiple spindles for multi-tasking metalworkers to the basic engine lathe for a jack-of-all-trades.
Types of Lathes
Because not every metalworker produces the same pieces of art or other products, different lathes meet different needs. Some lathes are more affordable than others, while other lathes are designed for very specific functions.
Lathe Type

Description and Use

Also known as a popular engine lathe or bench lathe

Default machine in every metalworker's shop

Metal object is set in a fixed position while two drill bits move towards the workpiece to be shaped

All-purpose; used for turning, boring, facing, thread cutting, knurling, grinding, spinning, and spring winding

More expensive than the centre lathe

Prioritises quality work

Good investment for professional metalworkers

For professionals who need to produce duplicates of their workpieces

Excellent for using multiple cutters simultaneously

Several tools are set in a cross slide

More functions in a single lathe

Allows for multiple spindles to operate at the same time

Good for time efficiency

Short for "computer numerical control" lathe

Electronically operated

Gives the metalworker consistently precise results

Easier to use than the manual lathe

More costly
Not all lathes are created equally, which means that shopping for a lathe can become a difficult choice. Fortunately, lathes use various accessories and attachments to bring versatility to a heavy-duty machine. Whatever one's preference, there is a lathe that meets every metalworker's preferences.
Accessories and Attachments for Lathes
Lathes can do so much more than they seem if they have the right accessories and special attachments to do the job. Various attachments can be mounted onto the lathe to give the machine more capabilities, from milling to taper cutting. There are also different types of accessories that allow the lathe to work safely on metal workpieces of all shapes and sizes. Depending on the needs of each professional, only some or all of these accessories may be required for a lathe to yield beautiful pieces.
These accessories and attachments, among numerous others, are used as supplemental pieces to the worker's lathe. Some professionals need all of these attachments, while other professionals may only need a lathe for one type of work, like boring metal. These various accessories are used for specific functions with the lathe, and the individual metalworker should determine if these tools are needed for his or her own workshop.
Toolposts and Toolholders
A toolpost provides more support to the tool on the rest of the lathe. This gives the lathe's head more stability, which yields consistency and precision in the workpiece being cut. Toolholders allow for the drill bits of the lathe to work at various angles to provide a wider range in which the machine can work. Besides the common toolholder, threading and knurling have their own specific toolholders. The threading toolholder is defined by a formed cutter, while the knurling toolholder has two knurled rollers that roughen the surface of the metal workpiece.
Turning Tools
There are different types of turning tools that can be purchased for a lathe machine. There is a left-hand turning tool that is a must-have for the left-handed metalworker. It allows workpieces to be worked on from left to right, as the cutting edge is located on the right side of the tool, rather than the left. There is also the standard right-hand turning tool, which only allows for work to be fed from right to left. Ambidextrous turning tools are also available, and they are noted by a cutter bit that has no angle on top to allow for the work to be cut regardless of the direction the metal is fed. A round-nosed turning tool is another essential accessory for every metalworker's lathe. It is used for finishing cuts and creating rough cuts in the metal.
Lathe Chucks and Faceplates
Chucks are mounted on the nose of the spindle and are used to hold the workpiece in place while the bits cut into the metal. Lathe chucks are characterised by jaws that hold the metal in place. There are different types of lathe chucks. The four-jaw independent lathe chuck is used by most metalworkers, as the various jaws can be individually adjusted to hold differently shaped metal workpieces. The three-jaw universal chuck, also known as the scroll chuck, is used to hold round or hexagonal workpieces. The draw-in collet chuck holds small workpieces and is intended for precision work. For workpieces that cannot be held with centres or chucks, faceplates can be mounted on the nose of the spindle.
Lathe Centres
Centres are used to hold the workpiece and rotate it on its axis. The live centre rotates with the workpiece, while the dead centre remains fixed while revolving the work. Dead centres are characterised by a hardened and tempered build that absorbs the wear of the work being done to the metal attached to it. Because live centres revolve with the workpiece, these centres are characterised by a soft design. Centres are attached to the headstock and tailstock spindles.
Lathe Rests
Centre rests are also known as steady rests, and they are used to support skinny shafts or bars that are being worked on in the lathe. Because the workpieces are long and slender, they require the centre rest to maintain control of the object during cutting. Follower rests, on the other hand, are used as a buffer for small workpieces that may spring up while being cut. These rests are ideal for workpieces with small diameters.
Taper Attachments
Taper attachments are bolted to the back of the carriage on a lathe, and they are used to turn and bore tapers into the workpiece. These attachments slide at an angle to create a taper on the metal, and the angle can be set by adjusting the guide bar, which is clamped to the lathe bed.
Carriage Stop
A carriage stop is helpful for preventing the carriage from continuing its movement when turning, facing, or boring duplicate workpieces. By manually attaching the carriage stop to the lathe bed, the operator does not need to measure the dimensions for each workpiece. Instead, the carriage is automatically stopped at the exact same place on each metal work.
Shopping for Lathes and Their Accessories on eBay
With all these choices, it may seem complicated to find the right lathe and all the necessary accessories for one's shop. Fortunately, eBay provides a wide selection to its users by showcasing an impressively large database of industrial tools for every metalworker's needs. Specific results can be brought to one's screen within seconds by inserting keywords, such as 'engine lathe' or 'follower rests', into the search box found on every page at eBay. Both the machine and its compatible accessories can be bought at the same time and delivered.
It is important that shoppers thoroughly research the reputation of those selling industrial machines like lathes on eBay by looking at the feedback left by previous customers. By doing so, eBay shoppers can feel more confident about the quality and condition of the lathes they purchase. Buyers can also leave feedback of their own for a seller after the completion of their transactions.
Conclusion
Whether creating beautiful masterpieces with rusty metals or mass-producing doorknobs and metal lamp stands, metalworkers rely on the quality and efficiency of their equipment. There are several different types of lathes, from the general purpose engine lathe to the more efficient turret lathe. For the professional who needs to perform many functions with a single lathe, accessories and attachments are also available to add greater functionality to the machine. These accessories include, but are not limited to, carriage stops, turning tools, boring tools, and centre rests.
While lathes and accessories can be found and purchased in various home improvement and hardware stores, comparing prices and finding the right machine and accessories for the job is made simpler by shopping online at sites with search engines, such as eBay. eBay provides an impressive variety of industrial tools and accessories for professionals in numerous fields, including metalworking. Finding the right lathe to yield beautiful work may only take a few clicks of the mouse.