Le Creuset casseroles
are simply the best. I am passionate about food and cooking and I am writing about my favourite cooking equipment - Le Creuset enameled cast iron cookware.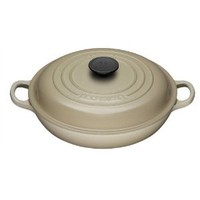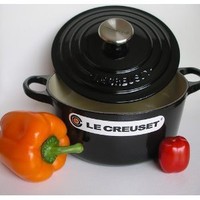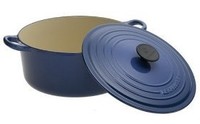 This is one of the best cooking equipment know to man.
Not only it is durable, it is also sleek and classy and fits easily from the kitchen to the dining table. Le Creuset is French and has been going since 1925. The head office is in a little-known town called Frenoy-le-Grand.
Le Creuset is available worldwide. To most people when asked about the Le Creuset, the first colour that comes to mind is
volcanic
(also known as volcanic or flame). But Le Creuset has many other colours,
blue
,
almond
, granite, cerise and more recently cassis and Lavender. Some colours like
pink
are only available in certain countries like Japan
Their range of cast iron cookware products comprises:
*
Casseroles
(oval or round shapes)
* Skillets and grills
*
Saucepans
* Roasters
Over the years the range of products has greatly expanded. Nowadays it also includes the following items:
* Wok
* Tagine
* Fondue
* Pate terrine
* Crepe pan
Le Creuset is very flexible in embracing different cultures and different cuisines style. It is a vibrant company that is aware of the latest trends. Famous cooks like Gordon Ramsey have displayed their brand on their culinary shows on TV.
Le Creuset does not advertise on TV nor on radio. Its reputation speaks for itself. It is considered to be a high end luxurious item and can be found in top department stores like Macy's in the US and Harrods and Selfridges in the UK. Once a cast iron cookware item is purchased it is important that a proper care routine is followed in order for it to last a lifetime.
Whether you are looking for a gift for that special cooking enthusiast, or just want it to for yourself,
Le Creuset
will quickly become an essential piece of cooking equipment in your kitchen.