Le Creuset dishes
have been around for many years and the traditional volcanic colour with its eye catching deep orange design has been constant in many kitchens. All the best chefs use Le Creuset cookware for very good reasons as it enhance the flavor of their cooking.
They look great, they last and last and make any kitchen look stylish in. They simply epitomize French cooking at its best!
Le Creuset stoneware
Did you know that Le Creuset produces more than just cast iron cookware? Indeed it also has a huge range of stoneware items.
Stoneware is exceedingly old and has been used for millions of centuries. However, traditional stoneware would never been able to withstand today's modern life. Think about it for a minute: Le Creuset stoneware can handle all type of ovens, microwaves, freezers and dishwashers. Additionally it glazed so it doesn't scratch or crack!
You can find a large selection of Le Creuset stoneware items in my ebay shop including their latest colour coastal blue alongside colours like blue, volcanic, almond, granite, black, red, orange and purple.
In keeping with Le Creuset's ethics every stoneware item is beautifully made and can be served straight on the table.
From rectangular roasting dishes, oil and vinegar sets, utensil jars to adorable petite casseroles – you'll love them all! One Le Creuset item is never enough: to be honest I find their stoneware range dangerously addictive. Before you know it, you will have started your own collection!
Le Creuset sale
In my Ebay shop Le Creuset stoneware is on sale and the following items are available immediately in various colours/sizes: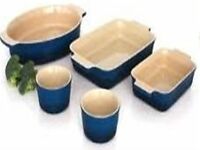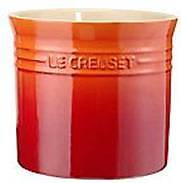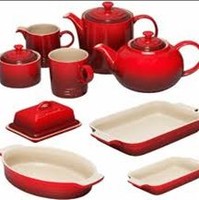 Roasting dishes
Salt Pig
Petite casserole
Oil and vinegar set
Salt and Pepper set
Utensil jars
Heart shape petite casseroles
Tea pot
Gift sets
To go straight to my Ebay shop,
click this link here
Please Vote Yes if you've found this guide helpful