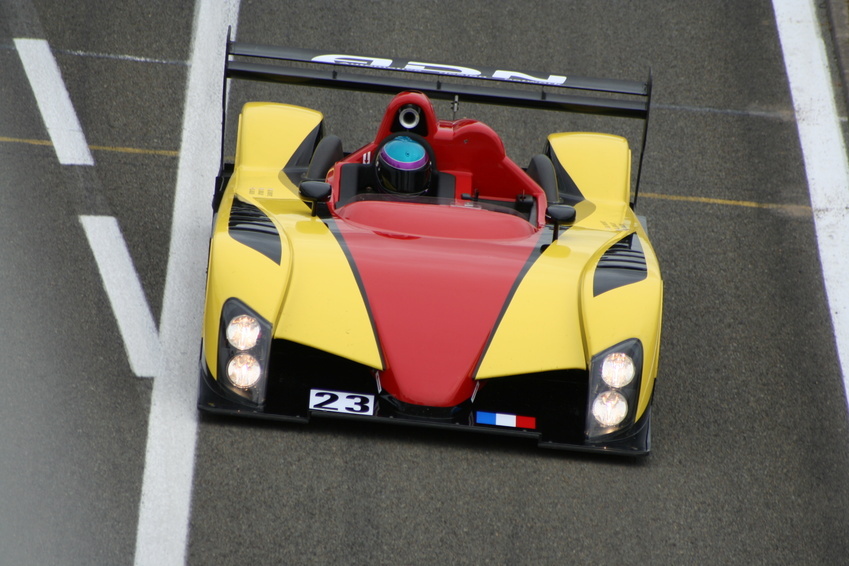 The 24 Hours of Le Mans, or 24 Heures du Mans as it is known in French, is the world's oldest endurance car race and has been held literally every year since 1924. The race lasts exactly 24 hours and is a feat of speed and endurance for both the driver and the car as each three-man team must race for two hours before switching out with another driver. This pattern proceeds over the 24 hours until one car passes the finish line.
Anyone who would like to see the Le Mans 24 Hour race should decide where they want to see it, where to travel, and what sort of tickets to buy. Le Mans covers a 13.6 km circuit, so there are plenty of options for different tickets and purchase areas. Grandstand seats at the Circuit de la Sarthe are typically the most expensive, but there are plenty of buying options. Most buyers can save money, ensure a great seat, and buy safely by following the tips below.
Check the Route and Decide on a Location
The first thing that most race fans should do is take a look at the racetrack and decide where they would like to see the race. Le Mans 24 Hour tickets usually include both general entry or grandstand tickets. The latter, while more expensive, tend to offer a better view, which is better for the race. However, grandstand tickets are limited and often sell out well before the Le Mans race is about to begin. As a result, it might be necessary to purchase entry only tickets if grandstands are sold out, and then simply stand at a chosen location. If grandstand tickets are available, look at any map of the arena provided and choose grandstand tickets accordingly. The grandstands are as follows.
| Grandstand Name | Number on Map |
| --- | --- |
| Panorama | 4 |
| Dunlop | 5 |
| Benoist | 12 |
| Sommer | 16 |
| Lagache | 19 |
| Leonard | 20 |
| Tavano | 21 |
| Wolleck | 22 |
| La Sarthe | 23 |
| Paddock | 34 |
Most of the grandstands are situated right around the race start and finish lines. However, grandstands are also sometimes placed around bends where the view might be exciting, so it is also possible to purchase tickets there. Most people prefer to purchase tickets at the finish line and then watch the rest of the race without the seating. This does of course require a general entrance ticket, which can be purchased in advance as well.
Le Mans 24 Hour Ticket Types
There are many options for anyone who wants to purchase tickets to the Le Mans 24 Hours. In fact, there are more than ten places to stay, more than ten grandstands, and almost any combination of tickets is possible. Depending on the time of year and ticket availability, the following basic options should be available for purchase and, if not, might be available on auction websites such as eBay.
Package Tickets
Package tickets are one of the most popular options for anyone who has to travel to see Le Mans. These can include ferry or canal tickets and sometimes even plane tickets, main entrance tickets, sometimes grandstand tickets, and usually camping or hotel as well. Packages do vary but, for the most part, the following types are used as a placeholder by ticket sellers.
On-Circuit Ticket Packages
These include any ticket packages or tickets that include camping or parking on the circuit. Options include camping with a tent, which is usually possible due to warm summer weather, camping in a motorhome or caravan, or staying in a bed and breakfast or self-catering apartment for the duration of the race. Each of these is a great option, although not suitable for everyone. Typically, camping tickets are the cheapest as they require little to no amenities. There are four main campsites around the grandstands race finish and starting point, and these are very popular options.
Off-Circuit Options
Off-circuit ticket options mean that any camping or staying at the race is done off the circuit. These tickets are usually sold to people who want a hotel instead of a tent or when the on-circuit options have sold out. Both camping and hotel options are available in this case, and hotel stays do not necessarily have to be purchased as part of a package, although it may be cheaper to purchase a package.
Special Packages
There are usually special VIP packages available to either members of clubs or those willing to pay more for tickets. Popular VIP packages at the race include the Michelin Race Weekend, which comprises VIP bus, shuttle, and drinks throughout the weekend. Members of the Porsche Club GP can also take advantage of preferential treatment with their tickets in the form of private showers, a bar, and privately fenced enclave.
Full Week Packages
It is sometimes possible to purchase a full week package for the Le Mans 24 Hour. These tickets are rare and include a tour of the premises starting from the test races that typically take place on the Monday preceding the race. These are much more expensive than the simple weekend packages that are the most common because they typically require VIP and pit entrance passes. While not always available, these packages are certainly an experience for anyone who can afford them.
Grandstand Seats
Grandstand seats are usually the first to sell out, but can be frequently found when purchased in advance or on an auction site. Buyers should remember to check the location of the grandstand to see what sort of view it has before making the purchase. Most buyers tend to prefer finish line seats, although some simply prefer a single seat and do not mind where. Whatever the case, find a map of the race online or in a brochure and check the location of each grandstand before buying the ticket. For example, most of the grandstands are grouped around the start and finish line, but some such as Panorama are near to the Dunlop.
Camping Permits
Anyone who plans on parking or bringing a caravan or motorhome needs a camping permit for the premises. These are usually relatively affordable and mostly include a space large enough for a tent. However, it is also possible to purchase a motorhome or caravan spot as well with a longer space, and sometimes connections for water and other amenities. Most spaces are limited and are sold on a first-come-first-served basis, meaning that the spaces are sold out, it is necessary to purchase off-circuit camping, hotel, or caravan spaces.
Finding a Better Deal on Le Mans 24 Hour Tickets
Le Mans 24 Hour tickets frequently sell for a great deal of money, and can sell out quickly. Buyers who either want to purchase tickets for a better deal or find last minute tickets that may have been sold out can always look around online for either a deal or other tickets. While every ticket option is not guaranteed to be available, tickets can retail for less than their value on auction sites, but can also be much more expensive if sold out elsewhere. The following tips can be used to find cheaper tickets to the Le Mans 24 Hour race.
Buy with Friends
It is sometimes possible to get a discount rate of as much as 10 per cent or more per person when buying multiple tickets. Tickets sell much more cheaply in bulk, which is one way to save money on bulk purchases. Another consideration is that any shipping and administration costs that might be very expensive on a single ticket are going to be cheaper for multiple tickets, which can help to alleviate the cost.
Compare Multiple Options
While there might not be a significant drop in the price per ticket across different venues, it is always a good idea to compare multiple options. Remember to check administration cost, cost of shipping if applicable, as well as price and value of ticket. If shopping on eBay, compare multiple sellers, and remember to check the listing details to ensure that each ticket being compared offers the same features. Comparisons can help with finding the best deal or the best value ticket.
Purchase Packages
Packages are always a great way to save money because most campsites and tickets are cheaper when purchased together. Buyers can of course compare the cost of individual camping, entrance, or even transport tickets ahead of time but, for the most part, packages are much cheaper than individual tickets. Remember to check the package to ensure that it has everything required for the trip before buying.
Find Le Mans 24 Hour Tickets on eBay
eBay is a great place to purchase Le Mans 24 Hour tickets. Venues, ticket resellers, and individuals who have purchased tickets that they cannot use often resell them on eBay for either the recommended price by the official vendors or below market value. If tickets are almost sold out, it may also be possible to purchase them on eBay, although prices should be expected to be a little higher due to the rise in demand. Usually, it is a good idea to check shipping time as well for physical tickets, especially if the race is only a few days' away.
Buyers can search for tickets by package, grandstand, or simply by the ticket. 'Le Mans tickets' or 'Le Mans grandstand tickets' should both come up with good options. It is possible to search for specific tickets as well, although options are more limited. Remember to read the description, ask the seller any questions, and then purchase your tickets through eBay.
Conclusion
Le Mans 24 Hour tickets can be a great deal of fun and, in many cases or for many people, an exciting adventure. Purchasing them can be a little tricky, especially if the tickets are already sold out through most of the official vendors. Buyers looking for tickets have to decide where to purchase the tickets, when to buy, which grandstands, if any, that they would like to have tickets for, and what sort of accommodation they need.
Tickets to the Le Mans 24 Hour race range from full packages that include everything from transportation to camping facilities to smaller packages. Ticket packages can also include the basic entrance tickets or only entrance and camping or parking. Buyers must carefully decide on tickets based on their needs, budget, and what tickets they might already have. Using these tips, most people can purchase tickets as quickly, cheaply, and as hassle free as possible.