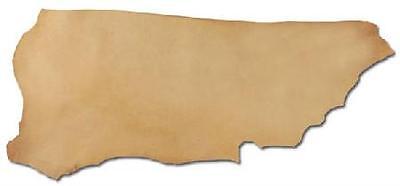 Types of leather:
There are three main types of leather available for purchase on eBay.

The best leather available is called vegetable tanned leather. This is tanned using plants and bark and other naturally occurring materials. This is the type of leather that top design houses use to make their products. For example, Mulberry bags or Paul Smith wallets. This leather is soft to the touch, gets better with age and is the best money can buy. However, it will set you back a pretty penny.

The next best type of leather is naturally tanned leather. This type of leather is tanned using natural agents, for example the animal's brain or oils and fats from the carcass of the animal. This type of leather is the type found on shoes, for example, Clarks desert boots. This type of leather is hardwearing and gets better with age. Parts of the leather will contain tell-tale signs of the cows life. Scars, blemishes and marks make every piece of this leather unique. This is the type of leather that Lithe uses for it's products.

Unfortunately, the majority of products on eBay and the high street in general are made of chrome tanned leather. Chrome tanning is the tanning of leather with chemicals. The reason it is used is that it is quick and cheaper to mass produce. Unfortunately, it means that most of the UKs products are made from a process that is bad for the environment and does not keep the traditional tanning methods alive. Chrome tanned leather is shiny and will often wear away in places, whereas vegetable tanned or natural leather will not.

'Genuine' leather or 'real' leather mean nothing but are overused by sellers on eBay. Look out for these words as they can be misleading. Unless the retailer states vegetable tanned leather or natural leather then it is more than likely that you are buying something substandard. When you buy your leather, be responsible. Check to find out what kind of leather a product is made from and don't be afraid to ask the seller directly.

Choose your leather responsibly. Not only that, choose the best quality leather, the leather that will last the longest and age the best so that you can really get the most out of your item.

Keep traditional tanning alive, and vote with your pound.