Once synonymous with bike messengers, messenger bags found favour with students and eventually moved into the mainstream. Men, and some women, turn to leather messenger bags to serve as replacements for briefcases, given that carrying these bags is much easier. Brown and black leather messenger bags make for popular choices, while mixed fabrics like a canvas leather messenger bag strays from the ordinary.
Size
A small messenger bag works well when the contents are basic essentials like a phone, a wallet, a few books, and other small items. More women tend to look for smaller variants, and they often serve as replacements for handbags. A mid-sized bag can fit a small laptop or a tablet, a few books, a bottle, a small umbrella, and other such items. This size best suits office goers who do not carry too many things. People who carry large laptops, large books, a number of files, or just a lot of paperwork should consider large leather messenger bags. A large messenger bag can also accommodate items like snacks, over-the-ear headphones, and travel mugs.
Design and Functionality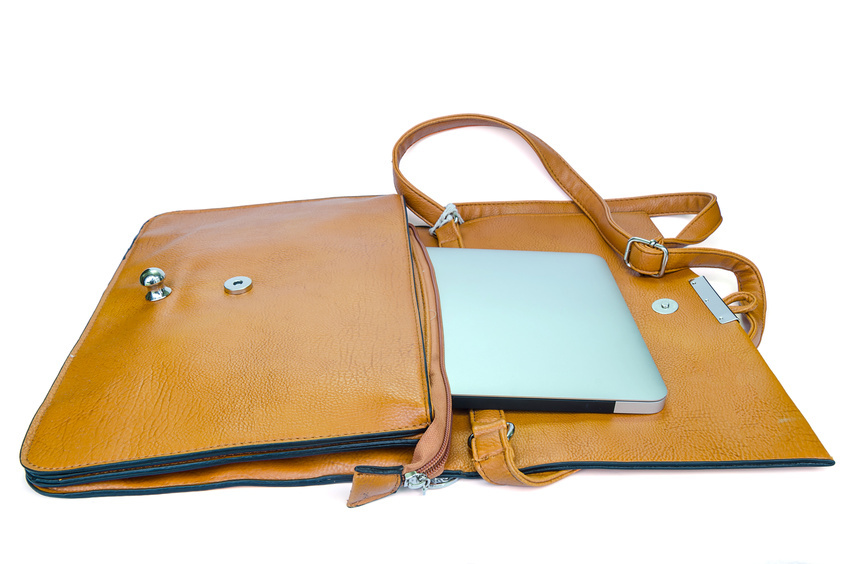 Multiple compartments give users easy means to segregate the things they keep in their bags. Since some such leather bags offer no more than two compartments, this aspect requires a buyer's particular attention. Some bags come with special laptop or tablet sleeves, compartments for mobile phones, and bands for holding bottles in place. Bags that come with a number of zips, buckles, and hooks are more prone to damage than ones that do not. This is because transition points between leather and fixtures are invariably more vulnerable than the leather, increasing the chances of tears. Besides, if a bag uses sub-standard fixtures, they might break before the leather wears out.
Leather Quality

As with other kinds of leather bags, messenger bags also sell in different types of leather. A bag labelled "genuine leather" requires that buyers find out exactly what kind of genuine leather the bag uses. Split leather is the lowest grade and also the cheapest. It comes from the leftover fibrous part of the hide after separation of the top grain. Buyers looking for increased durability and better texture should look for messenger bags made using top grain leather. This leather comes from the outermost layer of a hide, usually without its natural markings owing to sanding or other processes. Full grain leather also uses the outermost hide layer, although it retains all its natural markings. This is the strongest of the three, people prize it for its appearance, and it is also the most expensive. Last but not least, find out what animal the leather came from. In order of increasing quality, they rank pig, goat, sheep, and cow.