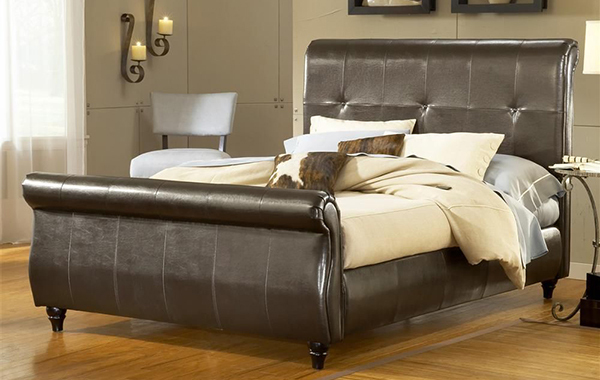 Contemporary and stylish, a sleigh bed design typically combines a headboard and a footboard to create a visually interesting bed which looks similar to a sleigh. Though sleigh beds come in many styles and materials, there is something sleek and modern about a leather sleigh bed. Purchase a leather sleigh bed on eBay and add a chic, updated look to your bedroom.
Leather Sleigh Bed Styles
Though the inherent design of the sleigh bed is the same from bed to bed, styles vary when it comes to leather sleigh beds. A wave design has a low dip in the headboard and the footboard, and scrolls on each end to create a cool embellishment. A standard sleigh bed has a rectangular headboard and footboard, and some offer a quilted, padded Chesterfield style headboard. Sleigh beds come in several sizes, from single size beds to double beds and larger queen and king styles. Leather varies in colour from cream to brown and black, and tufted headboards add texture to a sleigh bed. Some sleigh beds offer additional storage in the form of trundle drawers underneath the beds, and some even feature added enhancements like sparkling crystal buttons.
Bed Brands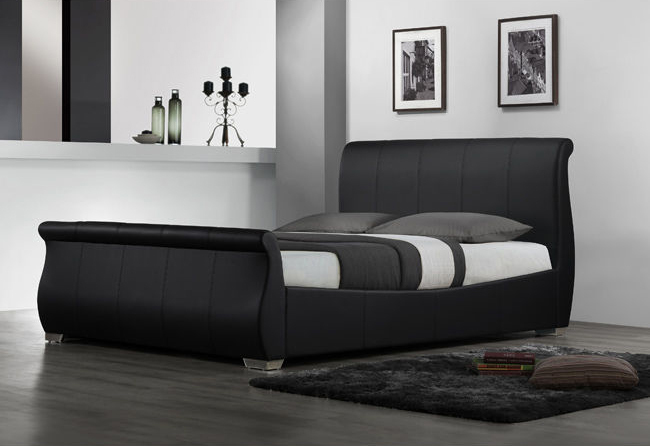 Choose a curvy swan neck sleigh bed from Feather and Black or a king-size leather bed from Argos. Check out contemporary brands like The Sleeping Cloud for fashionable faux leather choices, or Italian-style faux leather sleigh bed options. Hyder International makes sturdy and durable leather beds crafted from brown and black faux leather, and GFW creates cool white leather beds in the Atlanta style, which complements all types of existing decor. Choose a Habitat leather bed with storage, or select a padded, fancy swan bed frame in the Elegance collection of leather sleigh beds.
Matching Pieces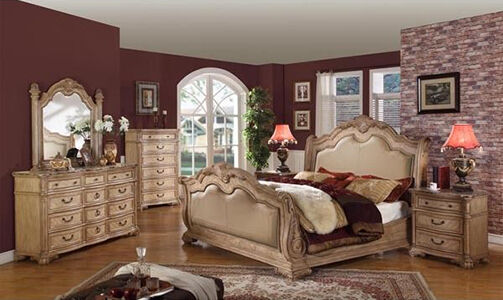 A leather sleigh bed makes an excellent addition to your bedroom, and buying an entire matching set of bedroom furniture not only ensures your bedroom looks complete and polished, but it is also an affordable way to stylishly furnish your bedroom. Your leather bed looks chic with dark, polished wood, so purchase a wooden wardrobe and nightstand to complement your bed. Finish furnishing your room with a cherry wardrobe, or opt for black lamps to blend well with the leather decor. Polished black wood accessories work with black leather, such as black bookshelves or decorative black trunks for storage. Use brown furniture with a brown or cream sleigh bed, and stick to cherry wood or black wood items if you have a black leather sleigh bed.
Sleigh Bed Mattresses
Find out if the bed you choose comes with a mattress, box springs, rails, or anything else you may need to install your bed. If you have to purchase the mattress separately, ensure it fits the bed, and choose the best mattress for you. Choose a classic coil spring mattress, memory foam for support, or an orthopaedic mattress for a bad back.