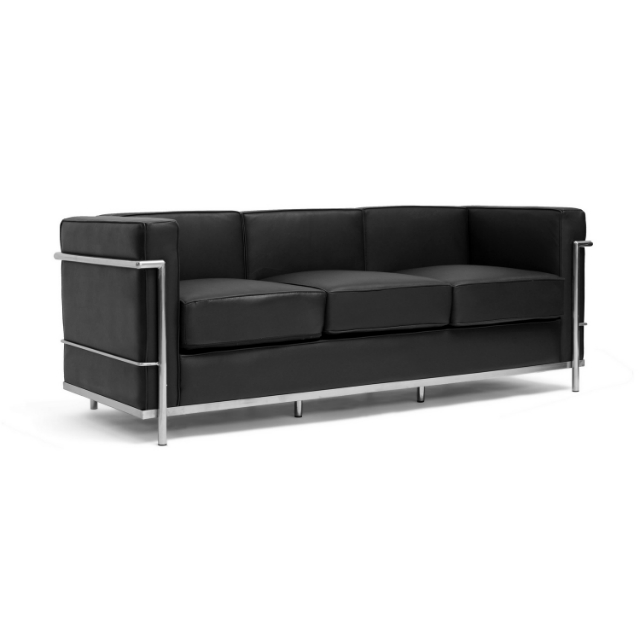 A leather sofa adds a touch of elegance and luxury to any room, whether it is for the living room, study, or even a teen's bedroom. There are a variety of styles to choose among, from the contemporary minimalist sofa one might find in an office to a plush sofa set perfect for the den. As far as materials, a shopper is likely to come across a bewildering array of options from microfibre suede to Italian full-grain leather and faux leather. Understanding the wide range of options in materials and styles as well as careful planning in the layout of a room are key to choosing the perfect leather sofa. When purchasing a leather sofa, one should consider room planning, leather sofa materials, different styles and types of leather sofas, and how to buy a leather sofa online with confidence.
Room Planning: An Important Prerequisite to Finding the Perfect Sofa
A genuine leather sofa can be a major expenditure. For this reason, it is important to do some careful planning before buying. To plan a room, start by drawing a scale model of the room. Take note of the location of the door, windows, power outlets, light switches, phone jacks, and anything else that might affect the placement of furniture. Then draw all the furniture or appliances that have a fixed position. For example, the TV or entertainment centre is usually fixed by the location of the cable connection. Lamps and side tables are fixed by the location of the power outlets. Of course these can be changed if necessary, but it takes more work to hide unsightly cables or wires. The remaining space dictates what kind of sofa fits in the room.
Focal Point
Another thing to take into account is the focal point of the room. It could be a large window with a beautiful view, the entertainment centre, or a fireplace. The sofa should lead the eye to the focal point, not call attention away. Sofas in unusual colours, styles, or materials are ideal in rooms with no clear focal point.
Doorway Opening
When planning the layout of a room, take special care to measure the doorway opening. As far as furnishing a house is concerned, there are few things worse than falling in love with and buying an expensive piece of furniture only to find that it does not fit through the door. For those who change houses frequently, a sectional sofa is a great idea.
Measurements
The measurements of a sofa are equally important. Some sofas have legs that screw in while others have built-in legs. The advantage of screw-in legs is that the sofa can fit through a smaller door opening, but the advantage of built-in legs is that they are typically stronger. For sofa beds and recliners, make sure there is enough space behind and in front of the sofa for it to fold out. The vendor should be able to provide exact measurements to ensure that the sofa fits through the opening without problems.
Types of Sofa Leather
Before sofa buyers begin browsing, many intuit that one type of leather is more or less the same as any other type. Such shoppers soon find, however, that there are a mind-boggling number of types of leather to choose from. Each kind of leather has certain qualities that make it appealing, whether it is the ease of maintenance or the suppleness and feel. Listed below are the basics on this versatile material.
Italian Full-Grain Leather and Top Grain
Full-grain means that all the layers of the hide are used to make the leather. It is the highest quality, the most expensive, and the hardest to maintain. Over time, however, full-grain leather develops a patina; that is, like wine and violins, high quality leather actually improves with age. Leather upholstery can last 30 years or more without wearing out, if cared for properly. Italian full-grain or top grain leather is renowned for its quality.
Top grain leather is similar in quality but is made from just the top layer of the hide. Top grain and full-grain leathers are made from hides with very few imperfections and are made to show all the natural markings of a hide, including bites and scars. This is part of the beauty of a top-of-the-line leather sofa. However, because the leather is not treated with waxes or oils, these leathers are more susceptible to stains.
Semi-Aniline Leather
Semi-aniline leather sofas are treated with a clear sealant that offers some protection against stains without hiding the natural marks in the grain. As such, this kind of leather is considered a happy medium between the highest quality leathers, which are difficult to maintain, and the cheaper leathers, which do not have the same natural beauty and softness of full- or top-grain leathers.
Pigmented Leather
The chemicals used to treat pigmented leather protect it from stains and hide the natural markings. The increased durability and colour consistency are offset by increased stiffness. Pigmented leather becomes softer with time and is a great choice for households with children or pets because it is the most durable and stain-resistant of all the high-quality leathers.
Split Leather
Split leather is made from a layer of the hide other than the top layer. Because these portions of the hide are not as durable as the top layer, split leather is often used for the sides and back of leather sofas, making such models economical without a loss in beauty or feel. This kind of sofa is often advertised as "top grain with splits".
Bicast, Bycast, and PU Coated Leather
All the above terms refer to a thin layer of split leather that is coated with polyurethane. These materials make sofas very stain-resistant. They also provides a consistent texture and hide imperfections in the leather. This sort of leather does not improve with age or develop a patina, however, as higher quality leathers do. Bycast leather sofas can be a fraction of the price of a full leather sofa and look just as good.
Bonded Leather
Bonded leather is actually made from vinyl or polyurethane that is combined with other synthetic materials and leather fibres. It is not a true leather product but has a variety of benefits, including high durability and ease of maintenance. It is also much lower in price than pure leathers. Thanks to today's technology, bonded leather can look just like real leather to everyone except the expert leather connoisseur.
Microfibre
Microfibre is actually not leather at all, although sofas made of this material are often marketed and sold as leather sofas. Microfibre is a material that imitates the texture of genuine leather but is much more durable and stain-resistant. Microfibre sofas are popular with people who want the feel and look of a leather sofa but don't want an animal product.
Faux Leather
Another leather alternative is faux leather, which is made of vinyl. Famously marketed as "pleather", this material mimics the texture and look of leather without any of the maintenance problems. That said, not all forms of faux leather can be cleaned through the same methods, so it is important to follow the manufacturer's instructions.
Leather Sofa Styles and Types
After a buyer has considered where to place a sofa within a room and what type of leather constitutes the model's upholstery, he or she can turn to the issue of style. There are many furniture design styles, but most leather sofas fall into one of three basic categories: traditional, transitional, and contemporary. Traditional models like the Chesterfield typically have a formal look and fit in well with similarly ornate wooden furniture. Colours are usually neutral and serious, like brown and black. Contemporary sofas, on the other hand, generally have clean lines and fewer curves. They are also more likely to come in bold colours, such as white or red. Modern and contemporary sofas need space and an open uncluttered feeling to the room whereas traditional sofas fit in well with many accent pieces like side tables and lamps.
In addition, there are five basic types of sofas. The basic three-seater couch is just one of them. The other options include sectionals, which consist of loveseats, chaises, and sofa beds. Yet another option is a sofa set, which usually includes a three-seater, a two-seater, and a one-seater. As with the materials, each type of sofa has its advantages and disadvantages.
Three-Seater Couch
Three-seat couches are the kind of sofa one normally imagines: a single piece of furniture used by the whole family. Almost invariably placed in front of the television, this sofa variety is a bed for the sick, a jungle gym for the children, and a sanctuary for tired adults. A conventional leather couch is still the image of comfort and relaxation for most people. Buyers can choose the Chesterfield, or something more plush. Other sofa styles, however, might be more desirable for those who want more space between seated individuals, or those who need a more adventurous style to compliment the decor.
Sectionals
Sectional sofas come in modular units that can be joined together in a variety of ways. This versatility is the main benefit of sectionals. The pieces can be joined to create one large sofa, often L-shaped, or several smaller arrangements. This flexibility makes a sectional sofa a great choice for those who frequently move. Besides the versatility of layout, sectionals often fit in spaces where a larger traditional sofa wouldn't. They also permit more personal space between people seated in a room. The sectional style's only disadvantage might be that these couches don't look conventional and might not fit with a formal design style.
Loveseats
Loveseats are the perfect size for dorm rooms, bedrooms, and sunrooms. They can also serve as accent pieces. Some models fold out into beds, making them appealing, multifunctional options for those with small apartments. Indeed, in cramped spaces, a loveseat can take the place of a larger sofa to create a cosy feel.
Chaises
A chaise lounge, which was originally called chaise longue meaning "long chair", is most often a unit of the sectional sofa, though it can also be found separately. As its name implies, a chaise lounge is a chair with a long extended footrest, similar to a daybed. This piece of furniture has been all but replaced by recliners but can be a beautiful and unusual accent piece, especially in top grain leather.
Sofa Beds
Sofa beds are heavier than a traditional sofa but provide the additional latitude to change a living room into a guest room in a matter of minutes. Useful for anyone who doesn't have the luxury of a guest room, a sofa bed can maximise sleeping space without a loss in aesthetics. Modern sofa beds are as comfortable as regular beds and look as good as regular sofas.
Cushions, Frames, and Other Considerations
There are just a few more points to keep in mind when choosing a quality leather sofa. Here are some questions to ask the vendor before settling on a model:
What kind of suspension does it have? High-quality sofas have an eight or 10-way hand-tied individual coil suspension. Drop-in coil suspensions and sinuous suspensions also have high durability. Lower quality sofas have few springs, or even just foam. These are likely to sag soon after the furniture is put to constant use.
What is the frame made of? Kiln-dried hardwood is least likely to warp with time. Pine frames are cheaper but may not last as long.
What kind of warranty is offered? It is not unusual for a high-quality sofa to carry a very long warranty on the frame and suspension. Beware of warranties that are void if the sofa is moved to a different location.
Finding a Leather Sofa on eBay
To navigate to eBay's assortment of faux leather sofas, buyers should start their search on the eBay homepage. Using the search bar, buyers can type in any key terms related to the item that they are looking for. Buyers may choose to simply search for a faux leather sofa or to type in more specific keywords such as,black faux leather sofa. A more specific search narrows down the listings, although searching using this method often skips over items that may have been of interest to the buyer.
Alternatively, buyers can use eBay's advanced search feature to browse by category or price. This feature also allows buyers to search by location or to limit the listings of faux leather sofas to those available from Top-rated sellers.
Ask a Question
If not all questions regarding the faux leather sofa are answered within the item description, buyers are free to use the "Ask a Question" feature on the item's listing page. This link is designed to help buyers to communicate freely with the seller. Most sellers are more than happy to answer any additional questions to promote a positive transaction.
Conclusion
Shopping for a leather sofa can be an enjoyable experience as long as one understands the terminology involved. Careful planning is important because high-quality leather sofas are often a costly expenditure. Make sure the style of the sofa matches the decor of the room it is in, and take measurements to ensure that there are no problems getting the sofa inside once it arrives at the doorstep. Taking the time to learn basic leather terminology reduces confusion in the shopping process and ensure that the shopper gets exactly what he or she wants. The market offers a huge and potentially overwhelming variety of materials and styles of leather sofas, but by refining a search on eBay, the shopper can quickly find just the style, colour, and materials he or she is looking for.
The money a discerning consumer spends on a quality leather sofa is money well spent. The purchase can provide years of rest and enjoyment for the whole family and become a well-loved part of the home. Some legwork is required to find the right fit for one's needs, but all it takes to justify the work is a few relaxing minutes on the right sofa.