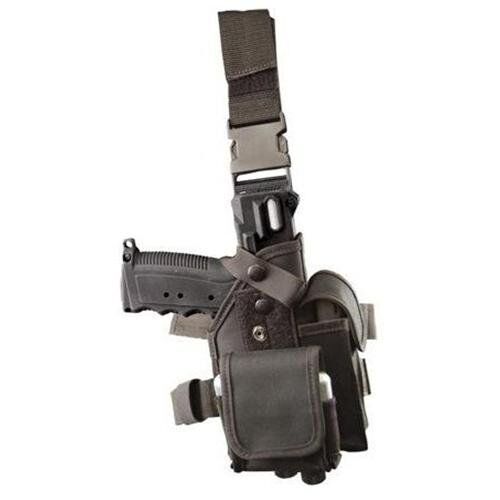 As any gun enthusiast will know, a leg holster is an essential piece of equipment. The purpose of the leg holster is to safely store your firearm in a close and accessible way. Of course, there are more reasons why someone would want to purchase a leg holster. For example, there are some highly collectible leg holsters from historic periods or conflicts – collectors of Militaria may well find some interesting items on sites such as eBay.
Those interested in either military re-creations or sports such as airsoft will also find suitable equipment. This guide aims to provide useful information about the various features to look out for when purchasing a leg holster and the steps to buy one on eBay.
Leg Holster Features
Using a leg holster is a convenient way of holding a weapon close. It allows the user hands-free movement when carrying a weapon, as well as providing a means to conceal a gun. Leg holsters in particular also allow users to carry a pistol that has a light or laser sight, as well as any extra equipment like ammunition. However, it is increasingly common to see leg holsters as collectible items. Associated paraphernalia can often be very sought after from all periods in military history. There are genuine items available, as well as replicas that can be used as part of costumes.
Some military enthusiasts and role-players, as well as gun users, will at some point want to think about purchasing a leg holster. Whether it is being used for an authentic recreation of a battle or period costume activity, or for use to holster a weapon on a range or on manoeuvres, it is possible to find a wide variety of leg holster types along with the equipment associated with them.
Types of Leg Holsters
When purchasing a leg holster there are a number of variables that should be considered. One of the main considerations is the purpose for which the leg holster will be used – whether practical use in the field or as a display item. Aside from this though, there are other factors and variables that can affect the decision to purchase a leg holder:
Category
There are four different categories of holsters - duty holsters, for police/security officers; tactical holsters, worn by military personnel; concealment holsters, worn to conceal a weapon; and sporting holsters, worn when hunting or shooting for sport. All of these types are available on eBay, and each has its own background and function.
Position
When it comes to leg holsters, there are numerous positions on the leg that they are made for. Quite popular for the range of movement and clothing that can be worn with it is the thigh holster. This gives easy access without affecting movement. There are also holsters that are made for the groin, giving perhaps a greater means of concealing a firearm on the leg. Finally, there are ankle holsters that give the best means of concealing a weapon but are also harder to draw from. The benefit of the former two is that they are closer to where the hand naturally hangs. Ankle holster are often used to house a backup firearm.
Material
There are a few variables when it comes to the composition material – often, when a holster is not aimed to be concealed or camouflaged they are made of leather. This is the sturdiest means of securing a weapon and tends to be used by law enforcement officers. They will sometimes use plastic instead. When a weapon is being holstered in the military, nylon will often be used as it is easier to camouflage and makes for easier access.
Militaria Origin
Militaria origin is particularly relevant when looking at the collectible leg holsters. It is possible to find leg holsters that are current military surplus, for example, and this gear is more often than not up to functional standard – genuine military grade equipment that would be ideal for re-creation or for use in the field. There are also original items and replicas from specific conflicts such as World War I and World War II and these may well be of interest to either collectors of paraphernalia or those looking to re-create an authentic look from those periods. There are also products available from the post-war era right up to and including present day holsters. It is worth noting that not all holsters will necessarily be military replicas or equipment, but simply divided into eras on eBay for the sake of clarity.
Leg Holster Condition
When looking to buy a holster, its condition (whether used or new) will be of particular relevance. There are leg holsters which are historic and from a particular period but which have not been used, However some collectors may want to find holsters that were used in specific conflicts. Those looking to find functional gear for manoeuvres or sports (such as airsoft) will often want to look for new military surplus gear. For others the authenticity of a holster used in conflict will be the driving factor.
Equipment Type
Pistol holders can be used in different functions. Some are used as field gear – additional gear that complements existing gear. Also available are leg holsters that form part of uniforms from specific militaries, as well as personal gear and armour. There is also webbing gear that is used in camouflage situations and available in a number of different camouflage colours.
Considerations When Purchasing a Leg Holster
After examining all the aspects and features of the leg holster, there are other considerations to be thought about when it comes to purchasing the desired gear. If possible it's a good idea to try to look at some physical examples in a military surplus store in order to get a better idea of styles, materials and position before going online to buy.
Function
Essentially it's important to outline the use that the leg holster will be put to. For those looking to add to their military equipment collection, a display case or stand might be needed. Those looking to use a leg holster either in the field or in a sports capacity will need find something robust enough to stand up to the conditions it will be put through. Military surplus equipment is renowned for being heavy duty and tough and could be ideal for situations where it is going to used heavily.
Type of Equipment
Usually pistols are stored in leg holsters, but it is possible to get those that will store modified pistols as well as extra equipment. Here are some examples:
Modified pistols – firearms that have scopes, lights, extended magazines or other equipment attached will need larger holsters
Spare magazines – many leg holsters will offer room to house spare magazines and extra ammunition for the firearm
Spare equipment – detachable extras can also be stored in some leg holsters.
Cost
This is a variable that will influence the majority of buyers. Prices can vary depending on the particular item – highly collectible ones tend to be quite expensive, whilst military surplus can be quite affordable. The condition of each example (new or used) will affect this somewhat, as will whether it is genuine or a replica. It is useful to research the possibilities by looking at listings on eBay to see what to expect.
Purchasing a Leg Holster on eBay
Once the details have been refined and decisions have been made, visiting sites such as eBay gives the buyer a wealth of options when looking for the right items.
Refinement
Leg holsters can be found on the Collectibles category of eBay under the Militaria section. Once you have navigated here, options including Military Origin, Era, Conflict and Type can be selected, as well as further refinements within. Other aspects such as price range or items that are for auction or 'buy now' can also be selected. This makes finding the perfect pistol holder easy and intuitive.
Product Description
Once the refinements have been made, a list of products that are relevant to a customer's needs is displayed. Here it is possible to click on any of the products to get a detailed description of that item, including the seller's description, images, and any other relevant details.
Seller Information
On eBay it is easy to contact the seller of a particular item to get further information or ask questions. All of the seller's vital statistics, including rating, previous customers' comments and other available products, are available to view.
Buying Options
Some products that you find will be listed as an auction. When this happens you can bid during the assigned time limit with the highest bid winning once the time has expired. It is easy to monitor the process of a particular item as well as to place a maximum bid on it (it is possible to re-bid if another customer places a higher bid). Some sellers will offer the option to 'buy it now' and allow the product to be purchased immediately.
Conclusion
This guide has covered the relevant information and buying options available when purchasing a leg holster on eBay. There is a range of different types and styles of holster and these factors, as well as variables on their condition, origin and price, mean that there are plenty of items available on eBay. Furthermore, eBay's buying process uses a method that is safe and secure, as well as being easy and intuitive to use when buying the perfect leg holster online.