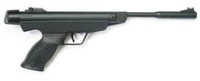 THE BSA SCORPION must surely rate as one...if not "THE" most popular air pistol of our time, I purchased mine back in the 1970's, I found it to be a heavy handful of a gun "man size" i suppose you could say, it wasn't easy to cock but it certainly was powerful and fairly accurate for a pistol, I was killing rats with it at reasonable ranges, i didn't try it out on anything larger than a rat because being a pistol it didn't have the power nor the accuracy of an air rifle, some owners made wild claims about the scorpians power stating that it was in fact a cut down BSA Meteor air rifle, this was sheer nonsense, claiming to have killed rabbits and birds etc at ridiculous distances, why people made these claims i don't know for they were certainly untrue,
In the unlikely event that you can find one of these in your local gunshop and it is in good working order and being sold at a resonable price my advice would be to snap it up as quickly as you can before someone else does!
*IF YOU HAVE FOUND THIS GUIDE TO BE OF INTEREST AND HELPFUL THEN PLEASE TAKE A MOMENT TO VOTE FOR IT!...SEE SIMPLE TICK BOX BELOW.
Guide by Ken Lambourne, June 2009.