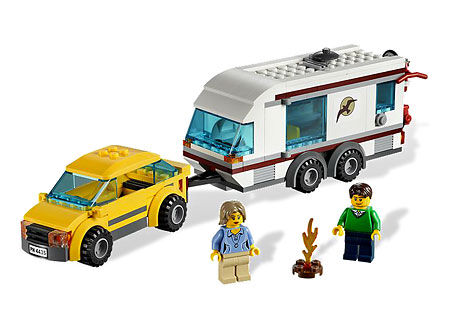 Lego has many popular ranges, but one of the best known is Lego Town, which as the name suggests, features Lego building sets themed around an imaginary townscape. There are various other names under which town-themed Lego sets have been marketed since the late seventies introduction of Lego Town, including Legoland Town, World City and Town Junior.
The History of Lego Town
Lego has been one of the most popular toy brands for more than 50 years. It has achieved and kept this position by adapting and moving with the times. Lego Town owes its existence to Legoland, a theme introduced in 1969 that featured early figures with legs that didn't move.
The Legoland range was aimed at children who were beginning to understand the wider world, and it reflected this in the range of professions and occupations featured, from everyday workers such as nurses and bakers to more exciting figures such as cowboys and jet pilots.
Lego Town replaced Legoland in 1978, with its sub-themes, City and World City, produced from 2003. At the beginning, action was confined to town life, but later, air and water-based themes such as airports, aeroplanes and seaports were introduced. These paved the way for more themes set further afield, for instance the space-themed Launch Command and the underwater themed Divers, as well as Arctic.
Many of the original Lego Town themes were incorporated into Town Jr., which was itself superseded by City Center in 1999. City Center was discontinued in 2001, but Town was brought back to life in 2003 with the launch of World City.
Lego Town Sub-themes
Sub-themes of Lego Town were many and various, including:
Airport One of the first Lego Town sub-themes introduced was Airport. This featured dozens of specialised figures and aircraft, as well as helicopters and a space shuttle. When Town was re-launched as City, Airport also became City Airport.
Arctic was a new theme in the world of Lego. It featured an outpost and Arctic explorers, aided by a variety of vehicles and machinery, such as snowmobiles and sledges. The Arctic theme boasted its own story involving meteorites that had collided with the Earth at various points around the Arctic area. Lego Arctic explorers, kitted out in fur-lined hoods and snowshoes, were despatched to locate these meteors that contained exotic alien life forms.
Divers featured a team of underwater treasure hunters. The figures also undertook submarine exploration. Some sets were produced with a realistic undersea backdrop and base plate combination, complete with rare sea creatures. The Divers sets were as up to date as possible, preceding the Aquazone theme, which was set in the future. Many seagoing vessels were included in the sets, such as the Diving Expedition Explorer and Deep Sea Bounty, as well as various submarines and exploration submersibles.
Extreme Team was based on thrilling motor sports and featured, among others, Stunt Flyers and Rocket Boat, along with hang gliders and drag racers. Centred solely on excitement, Extreme Team was first released in 1998 and explored new areas for Lego toys and themes.
Flight was a similar theme to Airport but featured a more outlandish range of aircraft. Shuttle Launching Crew, for instance, offered a space shuttle, transporter vehicle and truck with crew and motorcyclists. Also included in the range was Airport Shuttle which featured:
Monorail train
Century Skyway
Airport check-in and waiting area
Lockers
Phone booth
Observation platform
Baggage car
Tank truck
Forklift
Aeroplane with baggage compartment.
All of the toys under the Flight theme are still very much in demand on eBay today.
Launch Command took the flight theme one step further by heading into space. The Launch Command sets were set in the present-day world of space flight, although subsequent space flight-themed sets were set in the future. The main themes of these sets were the American Space Shuttle and exploring the Moon. Sets featured:
Shuttle
Launch pad
Lunar rover
Fire rescue truck
Surveillance helicopter
Figures included a crewman, scientist and fireman, along with Becky Blastinoff, a female astronaut.
Nautica boasted the largest set in the Lego Town series at its launch, the Launch and Load Seaport. The set, first produced in 1991, was built around a wharf with five raised plates. It featured a container crane on rails with a control cabin, antenna and a guard's hut complete with chair and monitor. Alongside the wharf was the container ship Atlantic, with several access hatches along its deck to load and unload cargo. In addition, there was a pilot boat, forklift and cargo containers, which could be moved with the help of the forklift between container ship and a semi-trailer truck. Nautica also offered the Coastal Cutter with:
Dinghy
Pier Police
Police station
Motorcycle
Four policemen
Dark Shark, a speedy motor boat with two minifigures.
Outback was another new departure for Lego. It was set not in a traditional town or working area, but in the Australian Outback. This sub-theme, which only had five different sets, was produced in 1997 only and consequently, its sets are much sought-after by specialist collectors on eBay. Outback Airstrip was an authentic re-creation of a small airstrip, complete with a tin shack, windmill, light aeroplane and a rare small radio. Outback Racer was a cool dune buggy, while Amazon Crossing featured a crocodile-infested river crossed by a wooden-style bridge, in addition to an off-road truck. Mountain Rescue, one of the smaller of the sets in this sub-theme, came with a helicopter with grappling hook and tools, which included a pickaxe and chainsaw.
Paradisa was part of the Lego Town series aimed squarely at girls. Coloured predominantly pink, Paradisa offered 19 different sets, all set around vacations, leisure and time spent at the beach. The new female minifigures had, for the first time in Lego history, ponytail hair, eyelashes, lipsticked mouths and strapless tops. Among the figures' occupations were lifeguard, sidewalk café owner, show jumper and waitress.
Race was launched in 1991 and featured a variety of racing cars, bases and environments. The largest set in the Race series was Fast Track Finish, which featured a start and finish line, control tower, and two Formula One type cars with drivers, as well as a tow truck and winner's podium. Other popular sets in this sub-theme included Go-Kart, Motor Speedway, Sand Storm Racer and even the Water Jet. Turbo Tiger was sold with flame obstacles and its car's driver was Chip, who later featured in the Lego video game, Stunt Rally.
Rescue and Res-Q were based around lifesaving scenarios. Rescue was focussed on the Fire and Police services, while Res-Q concentrated on water-based rescue scenarios. Children playing with a Rescue set could exercise their imaginations with sets including:
Hurricane Harbour
Rescue Chopper
Snow Scooter
Flame Fighters
Res-Q featured situations involving the coastguard and lifeguard, including:
Wave Saver
Res-Q Lifeguard
Emergency Response Center, including five minifigures along with a tow truck, speedboat, raft and helicopter.
Service & Repair was set in a multi-level garage with repair facilities attached. The theme featured a Blizzard Blazer and Crane Truck, as well as such sets as a Petrol Station Attendant, Big Rig Truck Stop and Tipper Truck.
RSQ911 was another rescue-based sub-theme. Released in 1991, it was discontinued in 1993, so sets are rare and have become valuable as collectors' items. The five sets sold were:
Trauma Team
Fire Control Center
Rescue Runabout
Flame Chaser
Blaze Battler.
Town Jr., introduced in 1997, simplified the designs and styles of the Town series. Sets in this sub-theme featured the excitement of the Fire Engine and 4-Wheeled Front Shovel as well as everyday occupations including Telephone Repair and Gas Station, Police Station and Bank. Even these relatively obscure sub-themes are still popular with both buyers and sellers on eBay.
Buying Lego Town on eBay
Lego Town products can be found on eBay under Construction Toys and Kits in the Toys and Hobbies section, or you can just type Lego Town in the search box. It's easy to search around the sub-themes for Lego Town and when you find what you are looking for, you can start bidding. These sensible tips will help you to keep your money safe:
Read the description
Take care when reading the details of the listing. Potential bidders may be misled, so be sure to check that the title of the item and the way it is described match each other.
Shipping price
Make sure that you have considered the price of delivery or shipping for an item; this can sometimes increase the overall price considerably.
Ask seller a question
The 'Ask seller a question' feature is incredibly helpful if there is anything you don't understand. Any reputable seller will be only too happy to answer your questions.
Check out the seller
It is simple to examine the seller's history and reviews as well as their Positive Feedback score. While some people are full-time traders on eBay and make a living through providing a good service, those starting off with no selling history need not be viewed with suspicion.
Keeping your money safe
It is best to act at all times with caution when bidding on eBay for a Lego Town item. PayPal is a very safe way to send and receive money when using eBay or conducting other transactions over the Internet. There is never any reason to give your personal financial information to anyone when buying or selling Lego Town items on eBay.
Security & Resolution Center
Here, you can find all the useful information you need for your protection when buying or selling Lego Town items on eBay.
Combating fraud
Everything possible to combat fraud is in place at eBay. Users make sure they look after their own interests as well as those of the rest of the community, and safety and protection for one means safety and protection for all. It is in the best interests of the eBay community to report any suspicious emails to eBay
Password
Take a look at your password. Is it as secure as it could be? You are advised to use at least six letters, mixing upper with lower case, as well as numbers. For added security, putting numbers in the middle of the letters is recommended, and it is a good idea to change your password every six months and find a way to remember it.
Once you have found a model that interests you, you can either bid for it or look for the 'Buy it now' price and purchase it straight away.