For over a year, Thaddeus Brown (Dir. Photography for The Smoking Tire) and I have talked about building a rally car. Like most ideas, it began on the internet, YouTube videos of drifting and dirt jumps planting their psychotic seeds in our brains.
An E36 M3 dropped off a curb with barely a shake of the body, and slid off into the distance.
"Look at how fun that looks!"
And that was that. Many hours would be spent discussing what platform to use, what shocks to get, and where to drive it.
Through a combination of me drooling over E36 M3s, the success of E30 BMWs in rally, and our friendship with Bill Caswell, we decided that the best car would be a BMW. The E36 sedan has a special place in my heart, and power, but it weighs 300lbs more than an E30. Weight isn't helpful to the survival of components or shock mounts. The E30 is lighter, shorter (better for rotation), and also has rear trailing arm suspension. But they're slow...
Solution: Put an E36 M3 engine in an E30 sedan. Case closed.
Obviously building a rally-ready car is much more complicated than that, so I created an admittedly elementary guide to our fantasy car. Please know that we are not trying to build a WRC-legal car but merely a rally/joy rider one. We want to be able to sling gravel, drop curbs, and wag the tail on the tarmac. It should have a cage and harnesses, because mistakes happen (*Cough* Larry King's kid.) , but I'm not going to pretend I can make a parts list for a race car build, and I'm pretty sure you don't want to read one (they're not short.)
We're not trying to win, we're just trying to have fun. Think of it as a missile for the sandbox.
So, we've agreed to build a fantasy car, and agree on what we would hypothetically do with it. Here's some of the parts we will need (there's more parts listed in
this collection).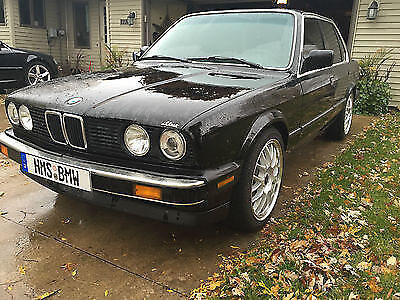 The car!
I was pushing for an E36 sedan and Thad kept saying 318ti, so we compromised: 1986 E30 325e sedan. It's lighter than the E36 but still has 4 seats, so we can bring our friends on our adventures of dirt and screaming.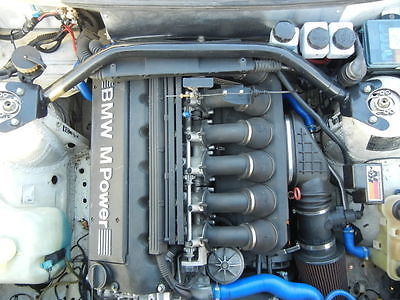 More cowbell
Our 1986 325e comes with a 2.7L inline-6 that makes a weary 120-ish horsepower. Not enough.

Why, what do we have here? An S50 M3 engine with a Getrag 5-speed and all the supporting parts to bolt it into an E30 chassis?

No, seriously. This seller has it in an E30 now. To quote his ad, " For sale is a complete, radiator to driff euro 3.0l M3 (S50B30) motor swap. Drop out your subframe, hammer the firewall in a little bit and bolt this power unit in."

Ok, Angel of eBay, we will. We will put this 282HP giant into our little 2,840b tin.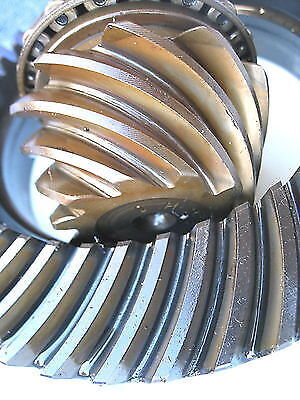 Psychotic gearing
One key thing we noticed in all the rally videos was the gears. Rally cars aren't trying to go 155 MPH or get good petrol mileage, they're just trying to GO. Every millisecond counts, and waiting for the powerband doesn't help. Shorter gears greatly help acceleration, letting you rip from corner to corner like a dog in an agility competition.

I found this set of 4.27s. That's short. I'm already stretching my eyes out so they're ready for the first day we hit the pedal.

(Before you order a gear set, make sure you have the right differential carrier for it. In case our 325 doesn't have an LSD, found one. Make sure you do the same, otherwise your new gears won't have much use beyond a really heavy bracelet. Maybe a crossfit person will want it?)
Getting the power down
Power without control is just an expensive way to make noise, so it's important we have a modicum of traction.


Wheels
We need to be able to mount rally tyres. Anything with a big, stiff sidewall and some tread. Unless HRE gives us a call, the stock wheels will do fine.

Tyres
Fitted to them will be these Cooper snow tyres, which work as a cheap rally tyre. Their big treads will grab the dirt and the thick sidewall prevents blowouts.

Differential

The limited slip differential was basically invented to help cars get out of mud and snow. "Open" differentials aren't that helpful in low-traction situations, because if one wheel loses grip, torque is cut from the other wheel. An LSD wants both wheels to spin the same speed, so it re-distributes torque from the wheel that is spinning faster to the other one.
This is also a crucial part for brake stands and drifting, both of which are part of a balanced diet.

Shocks

The suspension on a project car is arguably the most important system, and probably the one with the most options. You can change everything from control arms to spring rates, camber and toe to valving. It's like moving into a new house and realising you need to choose the plumbing system and the location of a few rooms.

Luckily, a lot of people have built E30s before, and the most common recommendation for beginners is to keep things simple: stock springs, E36 M3 control arms, and a set of Bilstein B9 HD shocks. Basically we're moving into a furnished house, we just need to buy a couch that we can jump up and down on for a few hours a day.
Boys and girls, it's time to talk about protection.
I am not a poster child of safety. I've done 125MPH on a snowy Wyoming highway, my Miata had a steering wheel that unscrewed its own mounting nuts daily, I rode a motorcycle for a year that had a headlight dimmer than an iPhone screen, and my first car -a 1965 Pontiac- had 2 out of 3 steering wheel spokes broken. I drove it like that for 5 months. I are smart.
BUT that doesn't mean I look back on those things with fondness. I was lucky. And since I have yet to attain my life goal of dating Jennifer Connolly it's important I preserve myself during my mad endeavours. The ideas we have for this car would get us dropped from our health insurance so we want to minimise our need for an ambulance.
That is why our car will have a
roll cage
,
Recaro seats
,
harnesses
and
lights
.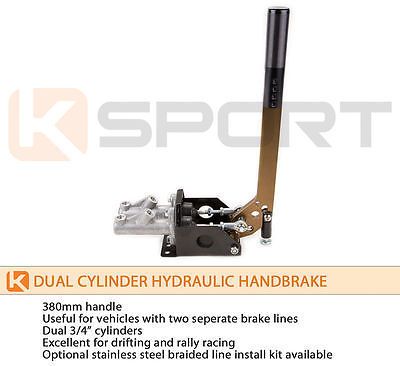 The almighty e-brak
You didn't really think we'd build a rally car without a hydraulic handbrake aimed at the sky, did you? I want to put one in my Crown Vic, for Christ' sake.

K-Sport dual-cylinder, running separate lines back. Eventually a second set of rear calipers would go in.
This concludes our brief list of what we would need to begin the fun. There's more parts in the collection,
Let's Build a Rally Car!!
and I'm sure we're still missing stuff.