After introducing our Story-Telling-Sacks we had lots of great feedback from everyone, especially the kids that we thought we'd share our ideas - here our a few ways we expanded on the theme and let it 'out of the bag' so to speak.
First we picked a story sack to share with everyone - this time it was our 'Chicka Chicka Boom Boom Story-Telling-Sack'.
This is a great book for introducing the alphabet, bright bold illustrations and repetition means this book has always gone down well with young children as they watch the letters climb up the tree!
Either prepare some of the ideas in advance or with the children depending on your setting.
Take a sunshade and make lots of leaves to cover it, wrap the 'trunk' with brown paper or felt (great if using felt letters or letters with Velcro on the back as they can really climb up the tree like they do in the book).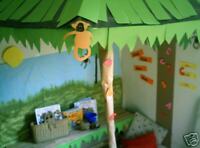 If you haven't got room for a sunshade try making a tree to fit on your wall....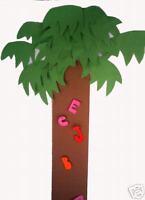 We added paper coconuts, made collage trees and glued on the letters of each child's name climbing up their tree, made handprint leaves, Boom Boom Shakers (made from small plastic bottles filled with pasta, rice etc, decorated with leaves and letters) to shake along with the story, puppet letters, a match the beginning letter of your name game, a Welcome tree where we added the words 'Chicka Chicka Boom Boom Look Who's in our New Room' and put up the letter and name of each child.....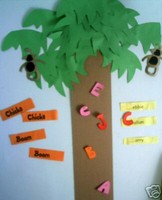 ......we added lots of buckets filled with resources and relevant books, hid letters in sand, and our favourite was HANDMADE COCONUT PLAYDOUGH!!!!
We also took parts of it outside for a summer beach party/picnic and by the end of the break it had evolved into a jungle especially when we introduced Five Little Monkeys swinging in the tree, teasing Mr. Crocodile, 'You can't catch me!'
We can't take credit for all these ideas, the children came up with a few and there are lots of websites out there with great ideas and creative schemes.
Soon the leaves will turn red, brown and orange......here we go again (I think our tree is here to stay)!
Thanks for looking - If you need any further information about the above ideas visit our shop and click on ASK SELLER A QUESTION - we'd love to here about your ideas and suggestions.......
There are lots of great stories in a sack available on Ebay.
At Jackanapes and BOOKS etc we have a range of Story-Telling-Sacks from blank drawstring bags that you can design and fill yourself, to a book and a sack, right up to a ready to go Story-Telling-Sack (as well as lots of childrens books!!)
We'd like to write more guides so please rate this if you liked (and if you didn't) - Thanks