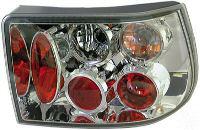 You might of seen that lexus style lights for cars are becoming very popular. You can pick up some of these lights for almost any car and very cheap here on eBay.
I did just that, they looked fantastic, well made but...
You may see differences in prices, for the same light. I bought a set for around £50, but there are some for £80 upwards.
...there were no rubber seals of any kind to make these lights properly fit to your car. If you have no seals, basically you get a car boot full of water when it starts to rain. People believe that these lights have no rubber because they are imported from hot countries (were the luxury of water tight seals isn't necessary).
Those lights that I bought for £50 went straight back to the seller and I got a refund. I suppose some poor buyer will fall for them.
I went to my local car parts retailer and picked up the same lights, costing me £80. But, they promised these were UK models and had seals. They did have seals, but only some dodgy foam. So, basically, I had to pay an extra £30 for foam.
I've looked and looked and looked and can't find any different stlye lights. All there is on ebay is exactly the same style in its hundreds.
Don't get me wrong, the lights look brilliant. But, keep it in the garage when it starts to shower.