Life in the UK Citizenship Test British 3x Items
Immigration Study Pack:
Handbook 1 : ISBN
9780955914201
Handbook 2: ISBN 9780955914218
Software CD: ISBN 9780955914249
Published: Lancaster and Coull Publishers

Pass the test confidently...
Have you booked your Life in the UK Test?
Need help to study?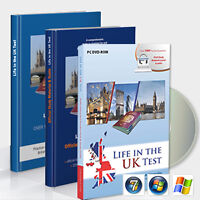 Why I think you should take a look at this product:
Great value for money - two handbooks and software CD.

All you need to pass the test.
No need for an internet connection - practice at your own pace.

Unlimited practice tests - no need to keep paying for more.

Easy to understand - not as complicated as the Home Office version.
Quick study of the material only - no messing about with reading extra non-essential text.
This quiz package contains many questions which are similar but are asked in different ways to help candidates whose first language is not English.
Includes helpful information on taking the test.
Very reasonably priced compared to similar products on the market.
Great feedback from others who have used this material and passed their test first time.