Studying for the Life in the UK Test can be quite daunting as the test material consists of five chapters from the Life in the United Kingdom A Journey to Citizenship. The chapters cover subjects such as
Migration to Britain
The Changing Role of Women
Children, family and young people
Population
The nations and regions of the UK
Religion
Customs and traditions
The British Constitution
The UK in Europe and the world
Everyday needs such as housing, services in and for the home, money and credit, health, education, leisure, travel and transport etc.
Employment - covering topics such as looking for work, equal rights and discrimination, at work, working for yourself, childcare and children at work.
Information in the study chapters are very useful to know for living everyday life in the UK. Whether you are living in England, Wales or Scotland or whether you are studying for the test or not. Some regions of the UK have their own unique character and customs and the study material gives some insight into this. Some of the questions in the test will be relevant to these regions, but be careful you should learn all of the study material or you may be caught out.
This guide aims to help candidates choose a good study tool to thoroughly prepare themselves for the test. I suggest you start with reading through the study material in this publication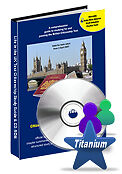 Life in the UK Test British Citizenship Book + CD NEW
The book comes with a practice test software CD which you can use on your PC/laptop to test yourself and assess when you are ready to take the test. The CD contains a whole lot of other useful information. Read more about what the
Life in the UK Test ~ Titanium Package
contains.