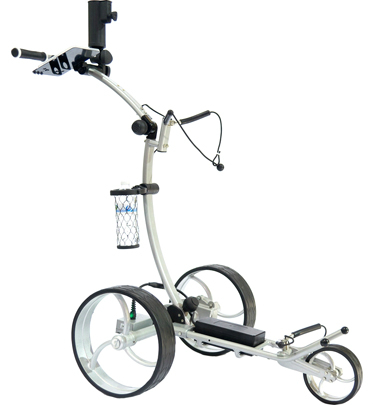 It was P.J. O'Rourke who famously said, "Golf combines two favourite American pastimes: taking good, long walks and hitting things with a stick". Mark Twain, on the other hand, wryly observed that, "Golf is a good walk spoiled". However, not everyone who loves playing golf, especially a full 18-hole course, can or wants to manage the additional exertion of the walking distances called for on a golf course between holes. There is the inevitable golf bag full of treasured putters, drivers, and wedges, which, particularly when toted for any distance over varied terrain, can be quite heavy. There is always the luxury of hiring a caddy to do the toting, however, that luxury tends to remain in the domain of the those who can afford the considerable expense above and beyond greens fees.
On upmarket golf courses, there are electric golf buggies for hire, but these are few and far between, and also quite expensive. Because of this, many golfers elect to compromise by using golf trolleys. Normally, these have two wheels and are designed to be light enough to wheel around a course. With previous advances in motor and battery design, a specific type of golf trolley is available to the delight of golfers everywhere, namely the lightweight electric golf trolley. Learning about the different types of golf trolleys and the important battery constructions of the many electric golf trolleys available makes the informed choice of just the right trolley that much more straightforward for buyers.
Types of Lightweight Electric Golf Trolley Batteries
The electric golf trolley may at first glance look very much like a standard trolley, but boasts the addition of a battery, a speed controller, and a motor to power one or both wheels. There are two types of batteries featured on such golf trolleys: lead-acid and the more lightweight lithium-ion.
Lead Acid Batteries
Lead acid batteries for golf trolleys resemble car batteries in construction, with the exception that they are what is referred to as 'deep discharge'. This means that they are designed to withstand being completely drained on a regular basis. They can do this because they sport much thicker, heavier lead plates inside, which can withstand a repeated high-discharge current. Car batteries, on the other hand, are not required to be repeatedly subjected to such an extreme level of drainage.
Whilst a car battery of similar physical size may indeed have the same amp/hour rating, which is the maximum discharge current it gives for one hour, this is where the similarity ends. If a standard car battery was used as a replacement, it would work for a while, however the user would find that, after only a few charges and discharges, the battery would no longer hold its charge for as long.
Deep discharge, lead acid batteries, such as those used on golf trolleys, are heavier and more expensive than their automotive counterparts. Lead acid batteries have been around for many years, but recent advances in battery chemistry and technology have introduced another serious, potentially more desirable contender into the race.
Lithium-Ion Batteries
Lithium-ion batteries are literally a quantum leap forward in battery technology. Not only can they be deeply discharged much more often than either standard or 'deep discharge' lead acid batteries, but they possess a much higher energy density. That means they can be smaller in size than comparably powered lead acid batteries, yet still provide the same kind of storage or 'punch'. Add to this their higher efficiency in holding their charge, and they make the ideal batteries for truly lightweight, portable electric golf trolleys.
The only downside is their relative cost. Lithium-ion batteries are nearly twice as expensive as their lead acid cousins, gram for gram. But this should not put the golfer off. Because lithium-ion batteries are that much more efficient by nature of their power-to-weight ratio, lithium-ion batteries only need to be about half the size and weight of lead acid batteries. This means that electric golf trolleys with lithium-ion batteries are not only much lighter to drag or follow around the golf course, but being much smaller, they, along with smaller motors to power the trolleys' wheels, are far more compact.
Battery Charging Times
In general, an electric golf trolley with lead acid batteries takes longer to charge than one running under lithium-ion power. Typical times are 10-12 hours for lead acid batteries and as little as five hours for most lithium-ion batteries.
Replacing Lead Acid Batteries with Lithium-ion
If the purchaser has or is thinking of buyinga lead acid-powered golf trolley and is considering replacing the batteries with lithium-ion, it is important to note that the charger itself needs replacing. In general, unless otherwise clearly stated, a charger designed for charging lead acid batteries is not suitable for charging lithium-ion batteries. A simple check with the manufacturer of the lithium-ion battery regarding proposed charger should reveal whether or not they are compatible. If a lead acid charger is used inappropriately to charge a lithium-ion battery, this can result in serious damage to both charger and batteries, and can ultimately cause a fire hazard.
Electric Golf Trolley Construction
When looking to purchase a lightweight electric golf trolley, the buyer should always consider the materials the trolley is made from. Cheaper trolleys tend to be built of tubular steel, which is much heavier than aluminium.
Tubular Steel Electric Golf Trolleys
Tubular steel electric golf trolleys are built for their ruggedness and durability. The buyer should note that these electric golf trolleys are not usually designed to be lightweight. While tubular steel may be strong, after a round of golf, even with the motor employed, the user may notice the extra weight. There are very few electric golf trolleys still manufactured in steel.
Aluminium Electric Golf Trolleys
Instead, aluminium electric trolleys are by far the most popular type of electric golf trolley. They are usually much more weatherproof, needing only a quick wipe down with a cloth after use. An aluminium electric golf trolley is generally much lighter, meaning less strain on the golfers\, and this makes it easier to put into the vehicle after an exhausting 9, or even 18 holes of golf.
Spare Parts for a Lightweight Electric Golf Trolley
Golf trolleys, particularly for avid golfers, take a bit of wear and tear and, like any other items, suffer the inevitable dings and dents, but also breakage, which may necessitate the purchase of spare parts. With that in mind, the easy availability of spare parts should be part and parcel of the decision-making process when choosing a particular make and model. A simple check with the manufacturer or doing a quick search online, such as on eBay, quickly reveals whether spare parts are conveniently obtainable or not. There is little point in shelling out money for an item that when it needs repair, cannot be easily fixed. Spare parts mean not having to replace the entire item when something goes wrong.
Speed Controller
The most common faults which an electric trolley develops are in the speed controller, normally in the handle and the big switching electronics that handle the motor. If the speed and motor controller board does malfunction, there are often a range of suitable replacements available, while not the original manufacturer's parts, often fit with only minor modifications. This tack is only recommended for the buyer who has some familiarity with electronics and who does not mind spending the extra time required to fit these parts.
As a general rule, the buyer should always purchase the controller with the highest current rating. It may be a little more expensive than the low-current version, but stands less of a chance of malfunction should the wheels become jammed for some reason when the power is on.
Extras for a Lightweight Electric Golf Trolley
Many of the major golf trolley manufacturers supply a range of add-ons or accessories for their carts. These may include wide or wet weather wheels and umbrella holders.
Wide/Wet Weather Wheels
Wide or wet weather wheels can be essential if the golf course is on a challenging terrain. These help prevent the trolley from falling over if the trolley is travelling sideways on a steep slope. Wide or wet weather wheels for golf trolleys are also particularly good for not churning up the green if the ground is saturated due to recent rain.
Umbrella Holders
Umbrella holders are sometimes also considered an essential accessory, given the British weather. These are usually universal in their fitting, so they can be easily and safely fitted to virtually any lightweight electric golf trolley. Some manufacturers make special fittings for their trolleys, so it is worthwhile the buyer check out accessories specifically for the electric trolley he or she has in mind. On the other hand, there are many umbrella holders which are advertised as 'universal', and they fit onto virtually any golf trolley.
Buying a Lightweight Electric Golf Trolley on eBay
Getting out in the fresh air to enjoy a round of golf, particularly the 19th hole, is easy thanks to the huge range of lightweight electric golf trolleys available on eBay. Go to the eBay home page and find the search bar. Type in the the description of the item you are looking to buy, such as 'lightweight electric golf trolley'. After landing on the listing page, you can buy with complete confidence after checking out a seller's ratings to see what other people have said about them.
Also, with the added security and ease of a PayPal account, you can be confident in the knowledge that you do not have to enter all your financial details, just enter your PayPal password, and everything is taken care of. Safety and security are paramount, and under no circumstances can PayPal divulge any of your personal details or save your delivery address. Soon after you complete your transaction, your new trolley should arrive. After you receive your item, be sure to find the "Rate the Seller" area on the listing page, and literally tell the world what a great seller he or she was, and how you would not hesitate to use that seller again.
Conclusion
Golf is a great way to get out and enjoy a long walk and often, beautiful scenery. However, for many, the sheer weight of the golf bags they are lugging around on one shoulder can really hamper their enjoyment. Some players, due to physical limitations, do not even have the option of carrying heavy bags, and not all can afford the expense of personal caddies or electric buggies.
With advances in small, increasingly lightweight, powerful motors, and in battery technology, particularly in the area of lithium-ion batteries, golfers are not required to drag bags of golf clubs behind them long distances, whether doing nine, 18, or even 36 holes for the diehards, unless they choose to. And not with the advent of lightweight electric golf trolleys.
A lightweight electric golf trolley is an excellent investment for the golfer who wants to stay fit without risking injury. An electric golf trolley also makes an excellent gift for that avid golfer, one which is likely to become a well-used and well-treasured item in his or her golf arsenal.