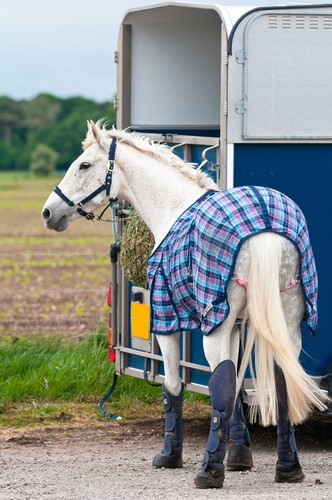 A horse rug is a material covering for horses used to keep the animal warm and dry.
Lightweight horse rugs offer protection in autumn or spring during variable weather conditions, and also provide adequate covering for hardy, hairier horse breeds through the winter months.
Why Use a Rug for a Horse?
In the wild, a horse would not be covered up. However, horses living in the wild become acclimatised to the style of living outdoors and develop much thicker coats and immunity to the cold weather. Once a horse is kept as a pet or competition animal it adapts to a different lifestyle and can become used to needing 'luxuries' for warmth, such as a rug. Different horses and breeds will have different requirements for rugs; thoroughbred types have thin coats since they generally work as competition horses and it is essential to keep them warm to avoid weight loss. By comparison a Dartmoor pony has naturally thick coats and more fat for insulation so a thinner rug would be suitable for them.
Choosing a Horse Rug
Choosing a horse rug for a horse is dependant on a variety of factors:
The type of use required for the rug.
The breed and condition of the horse.
Weight of rug filling.
The strength of the fabric.
Style.
Size.
Environment.
Cost.
Types of Rugs
There are many types of rugs available to buy for your horse which are easily found on eBay.
| | |
| --- | --- |
| | Lightweight horse rugs are also known as "Turnout rugs", and are put on the horse to go out in the field; turnout rugs are waterproof to protect the horse from adverse weather conditions and keep them warm and dry in from rain, snow and sleet. |
| | Stable rugs are available in lightweight to heavyweight fabrics and are also available with and without a neck. Stable rugs are often quilted to keep the horse warm at night when residing in the stable. |
| | Summer sheets and fly rugs are designed specifically to protect the horse from flies biting their bodies in the summer and to be protected from occasional summer rain; they do not have insulating properties to keep the horse warm. |
| | Sweat rugs allow the horses' skin to breathe and are used after a horse has been under some exertion such as a long ride or race. Sweat rugs prevent the horse from getting cold when standing still after exercise. |
| Exercise Rugs | Exercise rugs come in fleece and waterproof variants and are often used at competitions. Waterproof rugs cover the horse's back with the saddle resting on top, and fleece exercise sheets are designed to keep horses warm when travelling or when awaiting to go into the competition ring. |
When choosing a rug, the requirement for a particular breed of horse will dictate the type of rug needed. A thoroughbred horse that is kept in a stable for most of the year would need a warmer rug than, for example, a hardy cob living outside and acclimatised to the elements.
Types of Fabric for Lightweight Horse Rugs
Lightweight horse rugs, or turnout rugs, were traditionally made of waterproofed cotton canvas. High-tech materials are increasingly more common and popular; the modern fabrics are dust repellent, stain resistant, tough, and durable.
Ripstop

'Ripstop' is cotton canvas woven through with polyester fibres for extra strength.

Nylon

Nylon is available in a range of different strengths from around 600-denier upwards.

Nylon rugs are usually chemically proofed with a breathable proofing such as Poromeric or Hydrophilic which allows moisture to evaporate away from the horse's coat and away from the rug.

Nylon linings can cause problems with friction, especially if they are used in turnout rugs for active horses. However, those with anti-static properties can help draw dust away from the horse's coat.

Ballistic Nylon

Ballistic nylon, which is the material used in the outer layers of bullet-proof vests is often used for turnout rugs as is durable and strong.

Cotton Quilting

Cotton Quilting can come in a number of different thicknesses to suit different horses and weather conditions.

Flectalon

A thermal material which, when placed inside the lining, reflects the horse's body heat back, therefore trapping warmth.

Thinsulate

A synthetic simulation of the fine down animals grow next to their skin to keep them warm.
Padding, Fastenings and Surcingles
Many lightweight horse rugs have some soft padding around the neck and chest areas to help prevent pressure and friction on the horse. Alternatively a bib can be used.
The front straps of a rug are essential to check as these come into close contact with the horse. For all but the most lightweight rug, two straps are needed. Straps are known as "surcingles". The straps should be tough enough for the weight of the rug but flexible enough to be easy to use and punch holes in. The straps should fit well to keep the rug in place. Using cross surcingles eliminate the need for pressure on the spine.
When buying a lightweight horse rug on eBay, look for surcingles that start as low down as possible so that there is less stitching for any moisture to get through.
A fleece, blanket or quilted lining is ideal and can be used under a lightweight horse rug to adapt the amount of warmth needed.
Optional Features on a Lightweight Horse Rug
Back Seam

Lightweight horse rugs may be available with or without a back seam.

A back seam can chafe the spine of the horse.

Fillings

Lightweight horse rugs are available with or without a filing.

Lightweight rugs usually have a filling of up to 100g in weight.

Shoulder Gussets

Shoulder gussets are available on some lightweight horse rugs for comfort.

Withers pads

Some varieties of lightweight horse rugs may have synthetic sheepskin withers pads for extra comfort.

Adjustable Straps and Quick Release Clips

Some brands and types of lightweight horse rugs have adjustable straps and quick release clips for ease of use and fitting.
Optional additions to a lightweight horse rug will vary dependant on price. A wide range of rugs with a variety of additions are available on eBay.
Lightweight Horse Rug Sizing
When looking for a lightweight horse rug on eBay it is essential to find a rug at the correct size.
Each horse is different and different styles and types of rug may fit differently.
Lightweight horse rug measurements may appear as either imperial or metric, both are commonplace.

Imperial measurements

The imperial measurement for a horse rug is taken from the centre of a horse's chest to the point of buttock.

Imperial measurement horse rugs are available in sizes 4'0 – 7'6" in 3 inch increments.

Metric measurements

The metric measurement for a horse rug is taken from the withers along the spine to the top of the tail.

For an accurate measurement:

Ensure the correct unit is being used, or alternatively take both measurements.
Use a soft tape measure and ask for assistance.
Double check a measurement by spreading a well fitting rug flat on the floor and measure from the front of the chest clips to the bottom of the rug without including the tail flap.
An accurately taken measurement will help to ensure the best fit for a lightweight horse rug.
Washing Care of a Lightweight Horse Rug
Most lightweight horse rugs can be machine washed, but do pay attention to any fabric care labelling on a rug. Certain waterproof exterior fabrics may need special attention when washing to ensure a long life of the garment.
New or Second Hand
Depending on budget, eBay has a wide variety of sellers and thousands of lightweight horse rugs available offering a wide range of choice of both brand new and used rugs.
When Buying a Used Lightweight Horse Rug:
Check the photos of the item carefully
Feel free to ask the seller questions if further information or clarification is needed.
Check for any areas of damaged fabric.
Check if any of the components are missing and how easy they are to replace if so.
A seller may choose to sell their lightweight horse rug for a range of reasons. It is often possible to bid on lightweight horse rugs that are in very good condition but are used and available at a reduced cost from a new product.
How to Buy a Lightweight Horse Rug on eBay:
eBay has a huge range of sellers offering thousands of equestrian products which makes it easy and simple to shop for a lightweight horse rug whilst benefitting from the flexible payment options available by buying on eBay.
Type in specific searches such as "l ightweight horse rug", or a particular brand name required, and available listings that match the criteria will appear.
Check reviews of sellers and their activity when considering a bid, and check reviews of the product where possible by other horse owners to get a balanced viewpoint of a particular product.
Conclusion
Lightweight horse rugs are designed to cover a horse for mid season weather, or for winter months if a horse is a hairier breed. Many kinds of lightweight horse rugs are available on eBay and the item required will depend on size, personal style and taste, and budget.
A lightweight horse rug needs to be the correct size for the horse.
Budget may dictate whether a pre-worn or brand new lightweight horse rug is preferable.
Make sure to check the quality and condition of a used item from sellers by looking through the pictures and description.

eBay has a wide range of lightweight horse rugs available for sale in the marketplace which are competitively priced and come with a safe payment option and feedback facility for safety of mind when making a selection.